Mumbai:Video of Hospital OPD turned dance floor goes Viral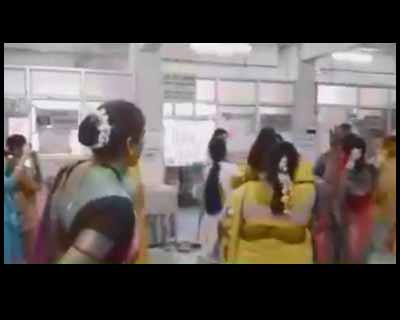 Mumbai: Officials of Brihanmumbai Municipal Corporation (BMC) have initiated an enquiry against doctors and hospital staff of the civic Diwaliben Mehta Hospital after receiving complaint from an anonymous patient, that doctor and staff did not attend to the OPDs as they were busy dancing in a cultural event that was organized in the OPD ward of the hospital
The video of the same, which is now flashing all over the media as well as social media platforms, seems to be acting as a solid proof against the medical professionals who participated in the said event.
According to the complaint, the said hospital receives around 800 patients on a regular day, yet on that day around only 300 patients were examined.
[embed]https://www.youtube.com/watch?v=6RY4yED1tkE[/embed]
(Video Source: ART LAB/YouTube)
The event actually dates back to March 2nd , 2016 when more than 20 women staff members including doctors, nurses and class IV workers were celebrating the " Haldi Kumkum" festival on the first floor OPD of the hospital. It is reported that the event generally takes place on the terrace of the Hospital.
Mumbai Mirror,
reports that the complaint alleged that preparation for the programme held on the first-floor OPD began at 10 am that day, with staff members putting up speakers, arranging for snacks and decorating the walls. By noon, the OPD had been turned into a dance floor with employees dancing to popular beats of Shanta Bai, and Rickshawala. There were several solo performances too. "Patients who came by were diverted to the ground floor OPD and asked to return the next day," the complaint said.
"Following a complaint filed with us, we set up a committee to investigate the incident and the report would be submitted in a day or two," the agency quoted Dr Pradeep Jadhav, the hospital's supervisor, as saying.
Jadhav added that initial investigations had concluded that the doctors had not done anything wrong.
A senior official at the Municipal Corporation of Greater Mumbai's health department described the allegations as "baseless", the agency added. Further an employee told Mumbai Mirror that the complaint was filed by a man who is facing sexual harassment charges and was trying to get back at the women employees who have spoken against him. "The programme got everyone together. From doctors to class IV workers everyone participated. All organisations are allowed to have such social get-togethers," she said, adding that it was a 'women's only' programme and that all male employees were at work.
"Not a single patient has come forward to substantiate the charges," the unnamed official told PTI.
"All the patients were duly attended to as it was organised during post-duty hours. Moreover, it was a ceremony only for women, and all male staff including doctors were at work," he added.