Nadda greets Vij on successful launch of PM-JAY in Haryana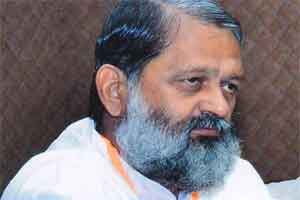 Chandigarh: Union Health and Family Welfare Minister J P Nadda on Wednesday congratulated Haryana Health Minister Anil Vij for the successful launch of Ayushman Bharat Pradhan Mantri Jan Arogya Yojna (PM-JAY) in the state.
In a letter to Mr Vij, the Union Minister said that with the collective efforts of all, the launching of PM-JAY in Haryana proved to be quite successful which has also helped Prime Minister Narendra Modi put works into action in the interest of the poor. The scheme would benefit 10.74 crores of the most poor and deprived families of the country thereby providing accessible health care to more than 50 crore people. These families will get the medical assistance of up to Rs five lakh and thus would be able to get their treatment done from reputed hospitals.
Mr Nadda also said that central government has successfully overcome all the difficulties while formulating this scheme in the interest of the beneficiaries. In future also more hard work and efforts are required during the implementation of PM-JAY in the interest of needy and the most deserving people.
Mr Vij said that Haryana is the first state in the country to launch this scheme on the pilot basis on August 15, 2018, by giving benefits to the beneficiaries. The scheme is providing benefits to 15.50 families of Haryana with around 80 lakh people. To make this scheme a success, the state has also appointed Ayushman Mitras in Government hospitals for the assistance of patients. Apart from this, 200 wellness centres are operational in the state.