Nadda reviews preparedness for H1N1 influenza in RML hospital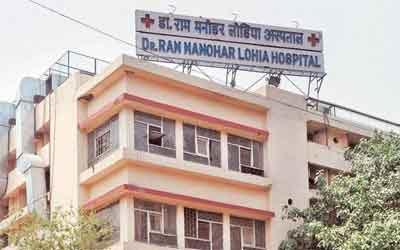 New Delhi: Union Health Minister J P Nadda reviewed the preparedness of RML hospital in tackling H1N1 influenza, saying adequate stocks of medicines and testing kits were in place and the facility is fully geared up to handle the disease.
The Health Minister also inaugurated a 35-bedded 'Dharamshala complex' at the hospital, which aims to provide free residential facilities to attendants of the poor patients coming from outside Delhi.
The complex is a 35 bedded facility having single, twin and dormitory rooms with a floor reserved for women. It is constructed with a total outlay of approx Rs 6.15 cr and offers free communication facilities for the attendants. Care taker, security and sanitation services are available round the clock.
"This hospital attracts patients from the city and from neighboring states with unwavering belief that they will get best of services available in the country. RML has been successful in balancing the quality and quantity while delivering services to the poor people," Nadda said.
The health minister said that services at the complex should be regularly inspected and monitored and asserted that the facility should also ensure proper sanitation while directing officials to personally monitor this aspect.
"We erect the hardware but not pay much attention to the software part. The hospital should look at ways and means of making the facilities at the complex self-sustaining," Nadda said.
Referring to the ICT based application 'Mera Aspataal' (My Hospital) that captures patients' feedback about their experience in the health facilities, Nadda said that the Ministry is seeking the feedback of people digitally to improve the quality of services at the health centres.
"Patient satisfaction is the ultimate test for assessing quality of services provided by a healthcare facility and we are now making a paradigm shift by seeking their views on quality of experience in a public healthcare facility. This will help us improving the experience of people at a health facility," he said.
While reviewing the preparedness of the Hospital to deal with the cases of H1N1 influenza, the Minister said that in winter season, the H1N1 influenza cases generally show a rise.
"Today's visit is to review the preparation of the hospital for this. Adequate stocks of medicines, testing kits and medical equipment are in place and we are fully geared up to handle H1N1 influenza," he said.