Nagpur: State govt to pitch 180 crore for Ayurveda College and Hospital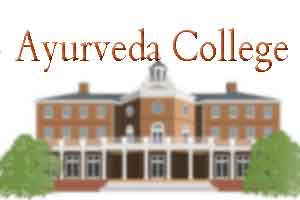 Nagpur: Rs 180 crore will be considered by the state government to upgrade the Government Ayurved College and Hospital in Nagpur.
Medical education minister of the state Vinod Tawde is implied to have said that there is an immense benefit of conducting research of ayurved for the patients. Only recently the minister inaugurated a new research unit for skin diseases in the college. The new unit is expected to be functioning soon, with the sole purpose of serving the patients with in-house medicines.
As reported by
TOI
, while talking to students during the programme, Tawde said that the entire world was looking towards ayurved now. "Ayurved is a complete treatment methodology. We need practitioners of this ancient pathy to conduct a lot more research to put a rest to a few doubts people have about it," he said, adding that he was happy to see a college and students who were ready to take up this task.
Dean of the college, Dr Ganesh Mukkawar, said that a proposal of Rs125 crore for the upgrade of the college has been forwarded to the central as well the state government. "Of this, Rs80 crore will be spent on the physical infrastructure while Rs45 crore will be spent on buying books, equipment, chemicals and furniture. Since the number of postgraduate seats in the college has been increased from 21 to 60 and those in the undergraduate section have been increased from 50 to 100, we will also be required to build some hostels for the increased number of students," he said.
Making optimal use of the funds allocated to the college, the administration has also plans to set up an e-library, herbarium hall, install CCTV cameras and a gymnasium for the students. A 800m racing tract, and a Panchakarma unit will also be set up at an additional cost of Rs 35 lakh incurred by the state government.
There were more dignitaries present at the event to support the research and case of ayurved in the college. MLAs Sudhakar Kohle, Dr Milind Mane, MLC NG Ganar, secretary of the medical education department Medha Gadgil, director of Directorate of Medical Education and Research (DMER) Pravin Shingare and additional secretary Dr Benke were also present. Senior ayurved practitioners and teachers from the city including Subhash Raut, Hari Umale, Meera Aurangabadkar, Vijay Patrikar, Manoj Gaikwad and Archana Bhad were also present. Head of the ras shastra department, Sudhir Deshpande also marked the occasion on the inauguration of the new unit.