Nair Hospital MD Gynaecology Suicide: MARD suspends 3 Doctors over alleged abetment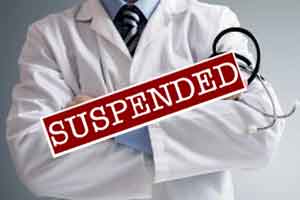 Maharashtra: BYL Nair Hospital's 3 doctors accused of allegedly abetting the suicide of the fellow doctor pursuing MD Gynecology; have been suspended by the Maharashtra Association of Resident Doctors (MARD).
According to a recent report by ANI, the administration of BYL Nair Hospital has also formed an anti-ragging committee to probe into the suicide of the MD medico.
Earlier,  the Head of Department, Gynaecology (HoD) and the unit head professor had been issued show cause notices by the hospital authorities asking as to why they didn't take any action on the complaints submitted by the doctor alleging harassment by the three accused doctors, who allegedly used to trouble her during working hours, besides, commenting casteist slurs at her.
Medical Dialogues recently reported about the unfortunate incident where the doctor has been identified as a 26-year-old PG medico pursuing MD Gynecology from a well known BYL Nair Hospital in Mumbai allegedly committed suicide by hanging herself in her hostel room.
The doctor was allegedly under depression as three of her senior colleagues allegedly used to harass her with casteist remarks.
Read Also: 
Mumbai: MD Gynecology commits Suicide over alleged Harassment, 3 Seniors booked for Abetment
"She alleged that the doctors would not allow her to meet her husband or have food during working hours as she belonged to a lower caste. They also threatened her that she would not be able to complete her MD," the medico's brother had informed.
Following the complaint registered by the mother of the medico, the three accused doctors had been booked for abetment to suicide under relevant sections of IPC. No arrests have been made so far.
Subsequent to the incident, an anti-ragging committee, comprising doctors, police officials and NGO members, had started a parallel investigation into the case.
Talking to the news agency, BYL Nair Hospital dean Dr Ramesh Bharmal said: "We have formed an anti-ragging committee to look into the matter. We have also sent a notice to three senior doctors asking them to appear before us. They are currently not in Mumbai. The committee will file its report as soon as possible."
Read Also:MD Gynaecology Suicide at Nair Hospital: HoD Gynaecology, Professor issued Show cause Notices
"Based on the report, we will initiate appropriate action against them. As of now, the MARD has suspended the three doctors," Dr Bharmal said, while denying the claims of the deceased doctor's mother that she had complained to the hospital administration against three doctors but no action was taken.
"The deceased Medico's mother claims that she had complained to the hospital about the alleged torture being meted out to her daughter are not true. We have received no complaint till date regarding this issue," he said.
Read Also:Mumbai: MD Gynecology commits Suicide over alleged Harassment, 3 Seniors booked for Abetment
"We have registered a case under SC/ST Atrocities Act, Anti-ragging Act, and IT Act, and Section 306 of the Indian Penal Code (IPC). Further probe is currently underway," said Deepak Kundal, Assistant Commissioner of Police, Agripada, informed recently.