Narayana Health plans to expand in Maharashtra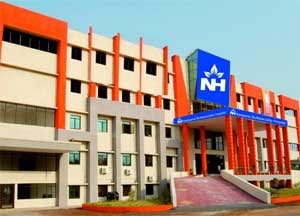 Mumbai: As part of its growth plans, multi-speciality hospital chain Narayana Health is now looking at expanding in Maharashtra after commencing operations of a children's hospital in Mumbai.
"We are looking at expanding in Maharashtra for setting up another multi-speciality hospital. We will soon finalise the location for the said hospital. We have already commenced operations of SRCC Children's Hospital in Mumbai, which is operated and managed by Narayana Health," SRCC Children's Hospital Facility Director Rupesh R Choubey told PTI here.
Founded by Dr Devi Shetty, Narayana Health group is the second largest health care provider in the country in terms of operational bed count. The company today operates a chain of multi-speciality tertiary and primary healthcare facilities across a network of 24 hospitals and seven heart centres in India and single hospital overseas at Cayman Islands with over 5,600 operational beds across all its centres and potential to reach a capacity of over 6,900 beds Narayana Health has invested Rs 50 crore in SRCC Childrens Hospital exclusively for children and may invest another Rs 8 crore in next five years period for adding instrumentation and special equipments.
Of the 207 beds currently operational, 87 have been allocated for multispecialty critical care covering new-borns to adolescents. It has qualified team of paediatric intensivists to provide Emergency Life Support (ELS) for children with failure of their vital organs including heart, lungs and kidneys. The team of specialists in cardiac sciences, neurosciences, hematology- oncology, infectious diseases, endocrinology, orthopaedics, ENT, gastroenterology, diagnostics services and nephrology are also available, Choubey said.
In the last two months, children's hospital have performed 200 surgeries and hopes to start bone marrow surgeries in 2018 and liver transplant in 2019, Choubey added.
Children's Hospital is organizing a free super-specialty consultation camp for children and adolescents between the age group of 3-18 years between July 10-15 to create awareness and enable children requiring such special care in the fold of paediatric super specialists.