Narayana Health vs Madhya Pradesh Govt: Newborn becomes casualty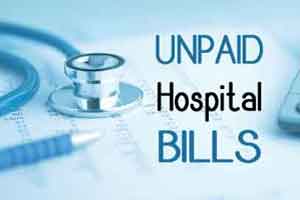 Bhopal: In yet another case of unpaid hospitals bill by the government, a newborn girl from Dhar became a casualty after one of the leading Bengaluru hospitals, Narayana Hospital allegedly refused her treatment under the scheme run by the Madhya Pradesh government. The reason for the refusal of the treatment has been cited to be the unpaid bill of Rs 6 crore, by the government. Unfortunately, the infant soon succumbed to her injuries
The deceased newborn, who was suffering from a heart problem (whole in her heart) was taken to the Bengulur's Narayana Institute of Cardiac Sciences by her parents.bAs per the Madhya Pradesh's Mukhyamantri Bal Hriday Upchar Yojana (MBHUY) scheme, of which the hospital is a part, the costly treatment free for the poor children of the state.
"However, the hospital refused to give free examination under the RBSK scheme saying that the Madhya Pradesh government owed them Rs 6.03 crore, which the government was not paying despite several reminders," Manoj Verma, the girls father said, adding that he had to pay Rs 86,000 for just the tests.He also alleged that the hospital refused to give an estimate for the operation, as required under MBHUY.
The  father of the deceased girl said that they had gotten a prescription for the treatment from Dhar collector which stated that the money was supposed to be transferred automatically under the government's scheme.
Verma told Times now, "We waited for three to four days and requested Dhar health department to transfer money, but they only assured us of money and didn't transfer any."
Chief medical and health officer of Dhar district, Dr RC Panika, who gave the authorisation letter and wrote to the Bengaluru hospital, said he was not aware of the alleged dues.
"I have informed the district collector and higher-ups in the health department about the refusal and the reason behind it," Dr Panika told HT
The administrator of Narayana Hospital said, "Yes the Madhya Pradesh government owes us money," adding that it was a shade more than Rs 6 crore.
Responding to the allegations the hospital COO Joseph Pasangha clarified to HT, "It is incorrect to say that the hospital denied treatment to the baby. We had kept her under observation. Later, the parents took her away saying that they will come back."