National Medical Commission Act provisions effective from 2nd September 2019: Union Health Ministry Gazette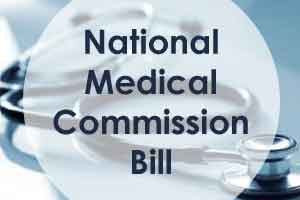 New Delhi: With confusion arising in the medical fraternity about dates from which the National Medical Commission Act has come into force, the Union Health Ministry recently issued a gazette spelling out that certain specific provisions of the Act would be coming into force from 2nd September 2019
In particular the Gazette notification states
In exercise of the powers conferred by sub-section (3) of section 1 of the National Medical Commission Act, 2019 (30 of 2019), the Central Government hereby notifies that the provisions of sections 3, 4, 5, 6, 8, 11, 16, 17, 18, 19, 56 and 57 of the said Act shall come into force with effect from the 02nd day of September, 2019.
The said sections primarily pertain to the constitution of the National Medical Commission and the various bodies under it. Section 3,4,5,6 deal with the composition, the constitution, the appointment of the search committee and the term of members of the Commission respectively. Section 8 deals with Appointment of Secretary, experts, professionals, officers and other employees of the National Medical Commission
Section 11 of the NMC Act deals with the Constitution and composition of Medical Advisory Council while section 16, 17, 18  and 19 deal with Constitution, Composition of Autonomous Boards, the Search Committee for appointment of President and Members and the Term of office and conditions of service of President and Members respectively.
Section 56 and 57 define the powers to make rules and regulations under the Act.
The move comes after the recent Delhi HC stay on the implementation of the Ministry of Health order that called for nominations from the DMC for the purpose of formation of the NMC MAC.
Medical Dialogues team had earlier reported that a medical from Delhi challenged the letter dated 09.08.19 issued by UOI seeking a nomination from all state / UT medical council for the composition of Medical Advisory Council (MAC) under section 11(1)(e) of the NMC Act, 2019 in the Delhi HC.
Read Also: Delhi HC Stays Formation of National Medical Commission MAC
The doctor in his petition had alleged that


The NMC Act, 2019, is only notified for general information on 08.08.19 and the sections/ provisions of the same have not been notified, as stipulated u/s 1(3) of the said Act, therefore, the impugned letter dated 09.08.19 is bad in law and non-est.


There is no rules, regulation, guidelines or procedure for conducting the nomination, therefore also the letter dated 09.08.19 is bad in law.


Based on the petition, the court had stayed the process of MAC nominations and asked the Central Government to file a reply on the matter. The matter has now been posted for 16th September 2019
Read Also: NMC Formation Begins: Delhi Elects Dr Harish Gupta to National Medical Commission MAC