National Medical Commission Bill Passed in Rajya Sabha With amendments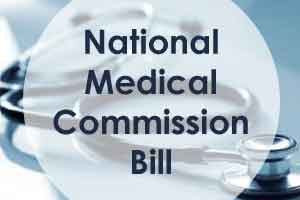 New Delhi: Following a series of debates and objections to several clauses, the upper house of the parliament today gave its nod to the National Medical Commission Bill (NMC Bill) calling for MCI replacement, albeit with certain amendments
The bill was passed after Clause-by-clause vote was taken on the NMC Bill in Rajya Sabha.
Bringing the bill to the table,Union Health Minister, Dr Harsh Vardhan termed it one of the biggest reforms in the field of medicine, pointing out to issues of corruption plaguing the MCI, and referring to the reports Ranjit Rai committee as well as the  Department Related Parliamentary Standing Committee on Health that condemned the functioning of the MCI.
Several issues plaguing the medical education system were raised during the Rajya Sabha discussions Shri Ramdas Athawale raised Payal Tadvi case in Rajya Sabha, asking the medical council to seriously look into the case.
Staunchly opposing the bill, IMA President and Rajya Sabha Member Dr Shantanu Sen stated that the government was bulldozing the bill of the children, who had taken to streets to oppose the bill
Meanwhile, MP Shri Jairam Ramesh  stated that while that the intention of the Bill was noble, the contents of the bill were killer. The MP demanded two amendments, first to the clause on the constitution of the bill and second to the percentage of seats whose fee will be determined by the government
Responding, Health Minister while not guaranteeing the amendment in the bill clarified that private medical colleges will not be allowed to fix fee randomly and there will be cap on the remaining 50% seats fee as well and this will be done via rules and regulations framed by the NMC.
Referring to clause 32 which talks about community health providers, the Jairam Ramesh questioned why this was introduced when it was not in the original bill, and not sent to the standing committee, also pointing out that this is going to open floodgates to quackery. Besides these clauses, Concerns were also raised by the Rajya Sabha MPs regarding the employment of the MCI employees after the NMC is established
After a three hour long debate, Clause-by-clause vote was taken on the NMC Bill in Rajya Sabha, and all amendments that were proposed by the members were brought to voting.
Health Minster then moved that the NMC Bill as amended by Rajya Sabha be passed, and with a voice vote the said was passed. The bill though passed, will now go back to the Lok Sabha for approval of amendments