Nayati healthcare lays foundation stone of 1100 bedded centre in Amritsar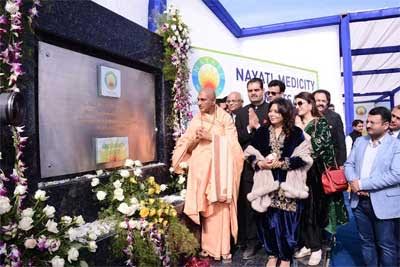 Amritsar: Nayati Healthcare announced the laying of the foundation stone of a 1100+ bedded facility in the hands of His Holiness Swami Avdeshanand Giri ji Maharaj. The ceremony was attended by over 700 people including renowned clinicians from across the country, leaders from the community, industrialists and many other dignitaries.
Built in 15 acres, the first phase of the medicity will have 561  beds operational of the 1100+ beds. Nayati Medicity Amritsar aims to be the hub of Centers of Excellence that will match the best in the world with its infrastructure, technology and expertise. From Cardiac care, Cancer, Trauma, niche orthopedic and Neuro surgeries, minimal access to organ transplant and robotic surgeries, Renal sciences and Dialysis, Mother and Child Health including IVF, Gastro sciences and Hepatology, Pulmonology, Paediatric and Neonatal critical care, comprehensive Internal Medicine, Advanced Anesthesia and Pain Care, the latest in Imaging, Laboratory and Transfusion Medicine, to Mental Health and Rehabilitation, all services will be available under one roof such that people don't have to travel to Delhi NCR or anywhere else for quality healthcare.
Appreciating Nayati Healhcare's endeavor of making quality healthcare accessible for tier II & III cities, HH Swami Avdeshanand Giri ji Maharaj stated," Human Beings are the most noble and finest creation of God and  good health is not only central to human happiness and well-being but is also a cornerstone of development. Nayati's vision of taking treatment to the patient is rather unheard of and I congratulate Nayati Healthcare who has challenged the existing healthcare system. I support Nayati in its pious thought directed towards transformation of the healthcare system in our country."
Addressing the august gathering, Niira Radia , Chairperson, Nayati Healthcare stated "It is a momentous day for us today, in our journey to bring world class healthcare close to the people. We began our journey from Mathura in the first quarter of 2016, with our first 351 beded flagship hospital getting operational in a record time of two years and we are delighted to commence the work of our first phase of super specialty Medicity in Amritsar.After world class facility at Mathura, we are convinced that World class facility no more exists in metros anymore and we today embark on our second hospital.We will carry forward the Nayati Mission of bringing world class care to your doorsteps, delivered with speed, sensitivity and cost efficiency"
 "We believe that advanced medical facilities should not be confined to metropolitan cities only and should be accessible to all particularly those in tier 2 and tier 3 cities. With this thought we've come from the birth place of Krishna to the holy land of Gurus. Amritsar is particularly special to me, as my parents were born and brought up here , this is my home.  I always wanted to serve my community. Nayati Medicity, is envisaged to be a landmark in the healthcare delivery. Amritsar was once the hub of medical tourism and through this state of art facility  we intend to cater to the region and the bring Amritsar on the Medical tourism radar of the world.." She further added.
Dr. R K Mani, Group CEO, Medical, Nayati Healthcare stated "It is our true belief that healthcare should not begin and end at the borders of metropolitan cities.This belief is what led to the successful commissioning of our first and flagship 351 bededhospital in Mathura. If Mathura has witnessed the birth of tertiary care in its midst, Amritsar will see the dawn of healthcare access with no limits - quartenary level care, no less. Our approach is holistic treatment, incorporating two key elements -  best in class infrastructure including the medical equipment's & technology and world class clinicians who are stellar in their respective areas ."
 In his closing remark, Rajesh Chaturvedi, Co-Promoter Nayati Healthcare stated "We are pleased that we have reached this important milestone and look forward to seeing the new hospital up and running, providing the best possible quality care.Our aim is to reduce the physical, emotional and economic burden of illness that blights the life of ordinary people in Tier II and Tier III towns.