Rare case of Pneumocephalus Due to a Bronchoatrial Fistula reported in NEJM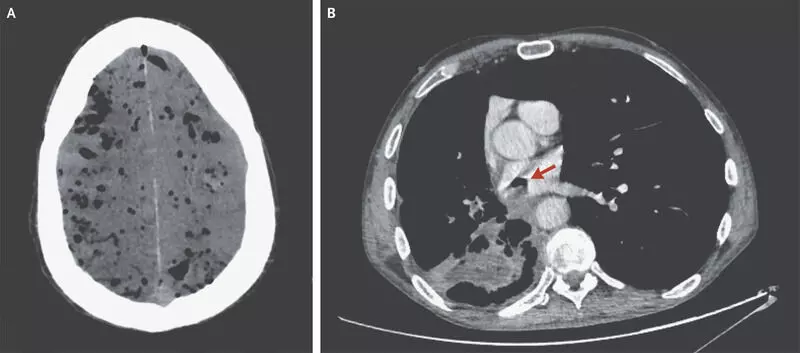 Dr Alan Zakko and Dr Hira Bakhtiar at Yale-New Haven Hospital, New Haven, CT have reported a rare case of Pneumocephalus due to a Bronchoatrial Fistula. The case has been published in the New England Journal of Medicine.
Pneumocephalus (PNC) is the presence of air in the intracranial cavity. The most frequent cause is trauma, but there are many other etiological factors, such as surgical procedures. PNC with compression of frontal lobes and the widening of the interhemispheric space between the tips of the frontal lobes is a characteristic radiological finding of the "Mount Fuji sign."
The incidence of pneumocephalus depends on the etiology and is seen in almost all post-craniotomy cases. The incidence following head injury varies depending on the series from 1% to as high as 82%.
A 61-year-old man with a history of stage IIIB squamous-cell carcinoma of the lung began to have seizurelike activity while he was undergoing restaging computed tomography (CT) in the hospital. He had a known primary cavitary lesion in the right lower lobe and had previously received three cycles of carboplatin and nanoparticle albumin-bound paclitaxel (Abraxane).
He was transported to the emergency department. Sudden respiratory failure and confusion developed, which resulted in emergency intubation. CT of the head revealed diffuse pneumocephalus (Panel A). The restaging CT scan of the chest showed that the previously identified cavitary lesion had formed a fistula between a bronchus in the right lower lobe and the left atrium (Panel B, arrow).
The pneumocephalus was thought to have been due to an air embolism that had originated from the bronchoatrial fistula. The patient later died in the intensive care unit.
N Engl J Med 2020; 382:1942
Source : New England journal of Medicine