Atrial fibrillation linked to dementia development in older adults: Study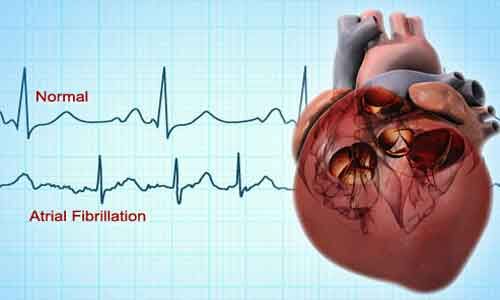 Sweden: Atrial fibrillation is associated with ventricular enlargement and accelerated progression of white matter lesions in older adults, independent of cerebral infarcts, finds a recent study. The findings of the study are published in the AHA (American Heart Association) journal Stroke.
There is a lack of investigation on cerebral small vessel disease as a potential mechanism underlying the association between AF and dementia. To fill this knowledge gap, Mozhu Ding, Karolinska Institutet, Stockholm University, Sweden, and colleagues aimed to examine the association between AF and cerebral small vessel disease markers among older adults.
For this purpose, the researchers derived data on 336 participants (age ≥60 years, mean 70.2 years) free of dementia, disability, and cerebral infarcts from the population-based Swedish National Study on Aging and Care in Kungsholmen. Structural brain magnetic resonance imaging examinations were performed at baseline (2001–2004) and follow-ups (2004–2007 and 2007–2010).
Magnetic resonance imaging markers of cerebral small vessel disease included perivascular spaces, lacunes, and volumes of white matter hyperintensities, lateral ventricles, and total brain tissue. AF was assessed at baseline and follow-ups through clinical examinations, electrocardiogram, and medical records.
Key findings of the study include:
· At baseline, 18 persons (5.4%) were identified to have prevalent AF and 17 (5.6%) developed incident AF over the 6-year follow-up.
· After multivariable adjustment, AF was significantly associated with a faster annual increase in white matter hyperintensities volume (β coefficient=0.45) and lateral ventricular volume (0.58).
· There was no significant association of AF with annual changes in perivascular spaces number (β coefficient=0.53) or lacune number (−0.01).
"Our findings show that independent of cerebral infarcts, AF is associated with accelerated progression of white matter lesions and ventricular enlargement among older adults," wrote the authors.

Reference:
The study titled, "Cerebral Small Vessel Disease Associated With Atrial Fibrillation Among Older Adults: A Population-Based Study," is published in the journal Stroke.
DOI: https://www.ahajournals.org/doi/abs/10.1161/STROKEAHA.120.031573
Source : journal Stroke