Bell's palsy linked to increased risk of ischemic stroke, finds study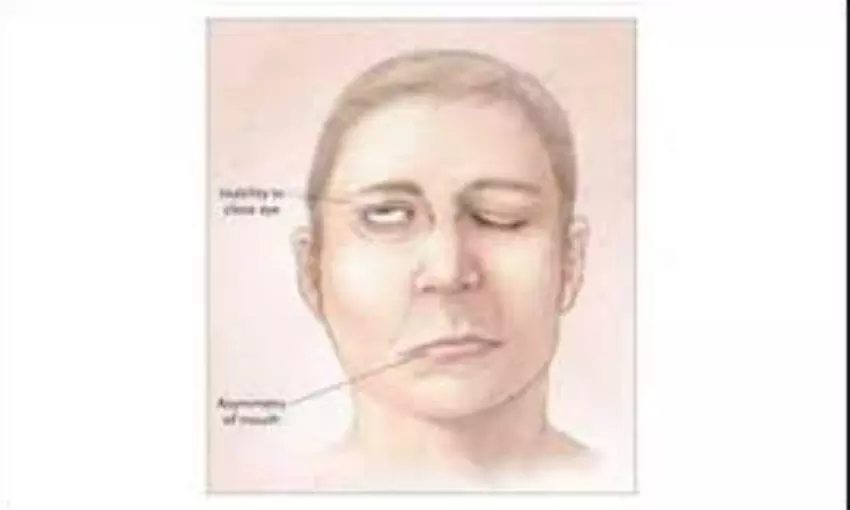 South Korea: Patients with Bell's palsy are at increased risk of ischemic stroke but not of hemorrhagic stroke, suggests a recent study in the journal Auris Nasus Larynx.
Sang-Yeon Lee, Seoul National University College of Medicine, Seoul, South Korea, and colleagues investigated the association between Bell's palsy and stroke according to the different types of stroke, using a sample cohort based on the national Korean population.
The researchers collected Individuals aged ≥ 20 years from the Korean National Health Insurance Service National Sample Cohort between 2002 and 2013. They then extracted that data for Bell's palsy patients ( n = 3658) and 1:4 matched controls ( n = 14,632). They analyzed the occurrence of hemorrhagic or ischemic stroke in both groups. Matching was done on the basis of income, gender, age, and region of residence. For bell's palsy, only those participants were included who received the diagnosis (ICD-10 code, G510) 2 or more times via ambulatory visits for the same episode with steroid treatment. Occurrences of hemorrhagic stroke (I60, I61, and I62) ischemic stroke (I63) were identified using patient admission histories.
Adjusted hazard ratios were calculated using stratified Cox proportional hazard models for the Charlson comorbidity index and 95% confidence intervals (CIs). For the subgroup analyses, we divided the participants by age, sex, and each time period after the onset of Bell's palsy (≤1 year, 1 to 2 years, 2 to 3years, > 3years).
Key findings of the study include:
The risk of ischemic stroke was significantly increased in Bell's palsy patients compared to that in the controls (adjusted HR = 1.74).
In the subgroup analyses, a significant association between two clinical disorders was observed in patients aged ≥ 50 years old, regardless of gender.
The risk of ischemic stroke was significantly increased, especially within 2 years after Bell's palsy.
In contrast, the risk of hemorrhagic stroke was not significantly increased.
"There is an association of Bell's palsy with ischemic stroke but not with hemorrhagic stroke," concluded the authors.
The study, "Increased risk of ischemic stroke in patients with Bell's palsy: A longitudinal follow-up study using a national sample cohort," is published in the journal Auris Nasus Larynx.
DOI: https://doi.org/10.1016/j.anl.2020.07.020
Source : journal Auris Nasus Larynx