New Delhi: 126 drugs cheaper by over 40% as govt fixes ceiling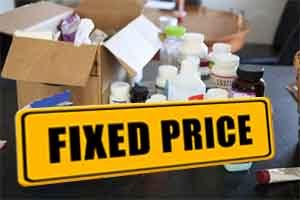 New Delhi: Government has fixed the ceiling price of 530 essential medicines that has resulted in price reduction of over 40 per cent in case of 126 drugs, Parliament was informed.

"National Pharmaceutical Pricing Authority has fixed the ceiling price of 530 medicines", out of 680 NLEM medicines (628 net medicines) that are under the scheduled category of DPCO 2013, Minister of State for Chemicals and Fertilisers Hansraj Gangaram Ahir said in Rajya Sabha.

Out of 530 drugs, above 40 per cent price reduction has happened in case of 126 medicines, while prices of 34 drugs has come down in the range of 35-40 per cent.

The drug pricing regulator has reduced the price of 26 medicines by 30-35 per cent while prices of 49 drugs have been reduced in the range of 25-30 per cent, Ahir said.

While the prices of 65 medicines have been reduced in the range of 20-25 per cent, 43 medicines have witnessed the price reduction in the range of 15 to 20 per cent, he added.

Moreover, 57 drugs saw price reduction of 10-15 per cent, price of 50 drugs were reduced in range of 5-10 per cent. In case of 80 medicines the reduction with respect to maximum price was between 0 to 5 per cent, Ahir said.

NPPA mandate is to fix or revise the prices of controlled bulk drugs and formulations and to enforce prices and availability of the medicines in the country.

It also monitors prices of decontrolled drugs in order to keep them at reasonable levels.