New Delhi: CBI indicts AIIMS director for corruption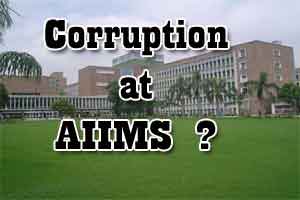 New Delhi : CBI has written to the Chief Vigilance Officer, Health ministry asking the department to investigate and take necessary action against the director, Dr MC Mishra, whose name has come in two corruption cases  of alleged illegal purchases over the years at AIIMS
The first corruption case goes back to the year 2014, when CBI wrote to Health ministry in a report alleging equipment worth more than Rs 60 lakh had been purchased without tendering from particular companies over several years in the surgery department of which Mishra was a head at that time. The CBI asked the CVO, health ministry/AIIMS to investigate the matter and refer it back to CBI in case criminality arises.
In response to this, a 4 member committee was set up by Mishra at AIIMS to look into the matter. Things went murkier when one of the committee member's name , Dr Gupta has come up in the second case of alleged corruption at the Apex Institute.
The second of the cases, which had come to highlight in October 2015, pertains to the purchase of disinfectants at AIIMS. As reported by
Business Standard
, the report alleged that  an assistant store manager of the JPNA Trauma Centre of AIIMS, T R Mahajan, with additional professor at the trauma centre Amit Gupta, illegally procured disinfectants - with the approval of M C Mishra - worth around Rs 20 lakh from a firm, Drishti Medicos and Surgicals, floated by Mahajan's son and daughter-in-law. Moreover, it is alleged that since disinfectants are generic items, are tendered and hence are procured at lesser rate, they were further declared as proprietary items insuring higher rates and exclusivity to the supplier. It is alleged both Gupta and Mishra "lapsed" in their duties and approved the "proprietary certificate" used by Mahajan without due diligence . Moreover, CBI also contains a written admission by Mahajan saying that Drishti Medicos is owned by his son, making corruption charges more likely.
India Today
reports, "Dr Amit Gupta declared Cleanex Floor Disinfectant and Aerox Fogging Solution, products of Aspetix Netherlands as proprietary in nature in an ad hoc manner without adequate care and purchases were made in spite of the existing rate contract of the main hospital. Dr MC Misra approved the use of the aforesaid proprietary certificate for repeated purchases without due diligence," the report states.
This particular case was mentioned in a complaint dated July 3, 2014 sent by Sanjiv Chaturvedi, then CVO of AIIMS.
IRONIC SITUATION
The CBI although pointing out to all the lapses in its report, has chosen to leave the matter for the decision of the health ministry,  "action as deemed fit". This, moreover has led to an ironic situation as pointed by
Times of India
. CBI forwarded the file to current CVO, Health Ministry, Mr Manoj Jhalani, who has forwarded the investigation to CVO AIIMS, who again happens to be Mr Jhalani only. Now in his capacity has CVO AIIMS, Jhalani reports to Mishra, Director AIIMS and has hence forwarded the case with CBI inputs to the director of AIIMS to investigate. So its Dr MC Mishra versus Dr MC Mishra now.
UPDATE: TOI has issued a clarification received from AIIMS CVO in this regard. Please read the clarification on the link here