New Delhi: Lt. Governor visits LNJP, GB Pant Hopitals to review health facilities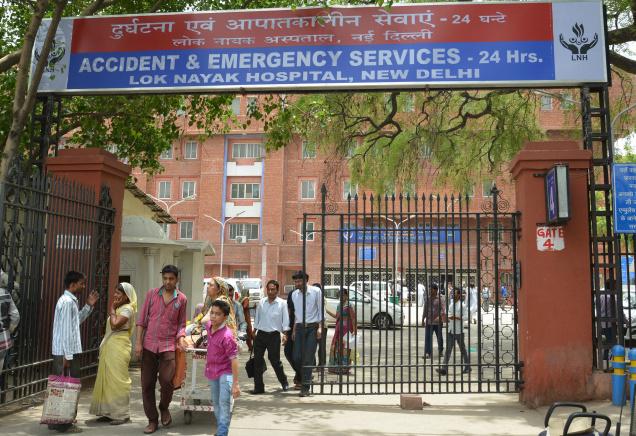 New Delhi: Lieutenant Governor of Delhi Anil Baijal visited Govind Ballabh Pant Engineering College, Lok Nayak Hospital and Guru Nanak Eye Centre to review the health facilities at the hospitals.
The Governor first visited Poly Trauma, Department of Neurosurgery OT, ICU, Pediatrics Surgery, fever clinic, children wards.
The Lt. Governor instructed that sufficient number of beds should be kept ready for them, given the anticipated danger in the coming monsoon season.
The Lt. Governor also instructed the doctors to ensure that patients with complications, particularly those who are elderly, should be attended to with greater care.
The Lt. Governor stressed on maintaining cleanliness in the hospital.
In the later part of the day, Lt. Governor visited the GB Pant Institute (GIPMER) where he inspected Cardiovascular Cath Labs, Blood Room/Microbiology Room.
The Lt. Governor appreciated the standard of care being provided by this premier super-specialty institute and desired that the capital city of Delhi must be equipped with the best of medical facilities which must structurally take care of the poorest and neediest on priority.
Lastly, the Lt. Governor visited Guru Nanak Eye Centre where he inspected the investigation lab and LASIK lab.
The Lt. Governor asked Director, Guru Nanak Eye Centre to ensure best treatment for eye patients. He further said that hospitals need to provide citizens complete healthcare, both curative and preventive, and mainstream the element of care in all their processes and procedures.
Thereafter, Lt. Governor interacted with the Medical Superintendents of these three Institutes.
During the discussion, Medical Superintendents apprised about the problems being faced by the hospitals such as shortage of staff, shortage of equipment, traffic problems and encroachment of hospital land, particularly in the vicinity of Guru Nanak Eye Centre.
The Lt. Governor instructed the Health Secretary to resolve their issues including shortage of staff and equipment on priority.
In concluding remarks, Lt. Governor said that health of its citizens was of paramount importance to any society and was one of the central responsibilities of any state. He complimented all the three Institutes for doing a great job despite all the resource-constraints and heavy patient-load, and encouraged the doctors and the support staff to continue their good work.
The Lt. Governor was accompanied by Secretary (Health), GNCTD, Medical Superintendents of the three institutes, senior medical staff and officers of Raj Niwas.