New Delhi: MCD hospitals SHUT as Medical staff goes on Indefinite Strike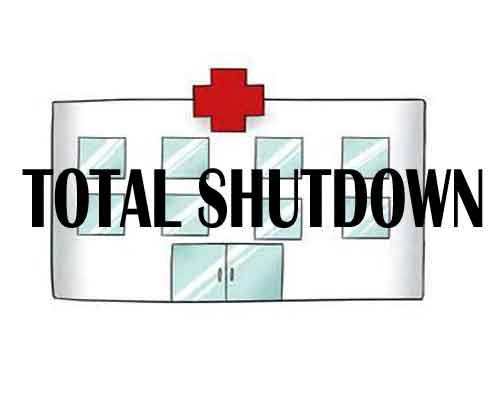 New Delhi: It would be a first time for a government hospital in the capital that it would be facing a complete lockdown since its inception. But such state of affairs, from today, have become true for many government hospitals falling under the domain of the Municipal Corporation, as  the corporation has not paid salaries to its employees for more than three months.

With all medical and allied professionals going on an indefinite strike together, Hindu Rao Hospital is facing a complete lockdown, with currently only casualty services being on. Dr Swati Upadhyay of Hindu Rao hospital informed that all patients requiring emergency admissions are being provided with emergency care and then referred to other hospitals. ICU patients are in the process of being transferred and stable patients in the ward being discharged. NO fresh admissions are happening and with this exercise, the hospital will be empty by tomorrow.

Dr Ashish of Swami Dayanand hospital, informed MD team, that currently, only emergency services are on in the hospital and like Hindu Rao, no admissions are taking place. Similar situation prevails in Kasturba Hospital, informed Dr Sirajul.

The peculiarity of this indefinite strike stems from the fact, that all employees including junior doctors, Consultants, nursing and paramedical staff as well as class IV employees are refraining from work, making the respective hospitals of MCD go on a complete shutdown.

Speaking to Medical Dialogues Dr Aditya Gupta, RDA President, Hindu Rao Hospital  said, " While the government has not paid our salaries for the past three months, the authorities had the audacity to send to all of us a notice to submit our investments to them for income tax purposes, threatening that failure to do so would mean full deduction of tax from our salaries. Do they realise, that we don't have to eat right now, let alone make investments? And what is this threat of cutting the tax from our salaries, when they are not releasing even a rupee in the name of salary to us?

MCD doctors are part of a larger indefinite strike where more than 30,000 employees failing under the ambit of Municipal corporation of Delhi have decided to boycott work from today.