New Delhi: Radiologist caught performing sex determination in a sting operation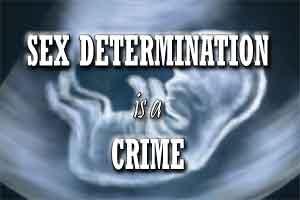 New Delhi: FIR has been lodged against a radiologist, a mediator and a nursing home owner in North Delhi, after the PC-PNDT authorities, North Delhi, caught the doctor red handed after performing sex determination on a pregnant decoy patient for Rs 15,000.
The sting operation was conducted by the Delhi and Haryana authorities with the help of a decoy patient from Haryana, named Neetu. PNDT Authorities informed Medical Dialogues team that the decoy patient contacted a  middle man who took her to Chauhan nursing home in North Delhi . At the nursing home, they gave her a referral slip of another patient whose name was also Neetu and asked her to go to the radiologist at Advance Diagnostic Centre, SBI Colony, GT Karnal Road for ultrasound. The joint team of Delhi and Haryana is reported to have been following the decoy patient right from the start at bhaktawarpur.
The decoy patient got the ultrasound done where the doctor told one munna, an employee of Chauhan nursing home, the sex of the fetus. The authorities immediately raided the premises and found the marked currency in the cash counter and also recovered cash from Munna.
After the scrutinisation of documents, it was also observed that most of the Anti-Natal ultrasound done showed malafide referral slips of Chauhan Nursing Home and other evidences of sex determination were found. The authorities have sealed the ultrasound machine and lodged an FIR with the concerned SDM against the owner of Chauhan nursing home, her mediator and the radiologist, owner of North Delhi advance diagnostics and MRI centre.
The inspection and operation is reported to have lasted for 10 hours. Speaking to Medical Dialogues team, Dr Satyajit Kr, State Program Officer, PC & PNDT,Govt of Delhi issued a stern appeal to the black sheep of the medical profession, who are engaging in sex determination, " This new year, we make a passionate appeal in making all out efforts for saving our daughters. We are intensifying our cumulative efforts ,against those cowards who feed on the coffins of our would be daughters, by engaging the best in the business. This appeal must ring fears in the hearts & minds of those who are mis-utilising  the scientific knowledge to breach the ethical fabric of this beautiful society by conspiring to kill our daughters in the womb."