New Delhi: Resident doctors fill up dried blood bank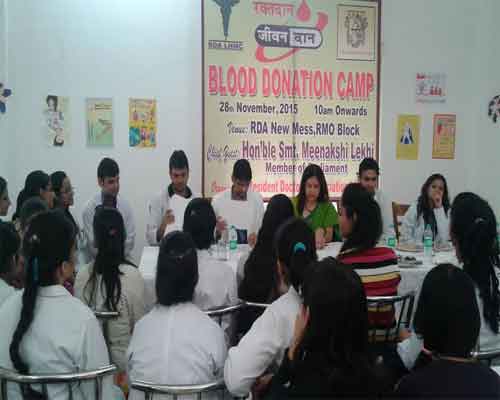 New Delhi : What happens when a blood bank dries up due to lack of donations? Such was the scenario with the Lady Harding Medical College and hospital (LHMC) Blood bank, which had seen severe fall in blood donations. The blood bank supplies to one of the busiest hospitals in the capital and is the first point of contact for hundreds of patients in need of blood. Seeing the situation, resident doctors and medical students associated with the hospital came to its rescue, by organising a blood donation camp to fill up the blood bank with donations.
Organised by RDA, Lady Harding Medical College  on 28th November, the blood donation camp saw more than 100 donations coming in just a day, by doctors, resident doctors, and medical students associated with LHMC. The chief guest at the occasion was  Ms Meenakshi Lekhi, Member of Parliament, from the New Delhi Constituency.
Here are some pictures from the drive.