New MBBS curriculum: MCI directs Medical Colleges to conduct faculty workshops expeditiously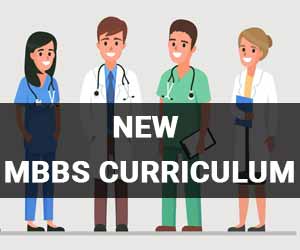 New Delhi: Noting that many medical colleges have not undertaken important workshops in order to sensitise their faculty on the new MBBS curriculum, the Medical Council of India (MCI) has now directed medical colleges as well as the regional MCI nodal centres to do so expeditiously.
The new MBBS curriculum has been brought into practice from the current academic year. In pursuance of the same, on 06th November 2019, the Board of Governors in Supersession of Medical Council of India had with the prior approval of Central Government notified in Gazette of India, Part II of the Regulations on Graduate Medical Education, 1997. These Regulations constitute the governing regulations with respect to batches admitted in MBBS course from academic year 2019-20 onwards
The Regulations give effect to the competency-based learning including designing and implementing the new competency-based Medical Education curriculum that focuses on the desired and observable ability in real life situations in order to effectively fulfill the roles of Indian Medical Graduate as (a) Leader and member of the health care team and system; (b) Communicator with patients, families, colleagues and community; (c) Lifelong learner committed to continuous improvement of skills and knowledge; and (d) professional who is committed to excellence, is ethical, responsive and accountable to patients, community and the profession.
In order to roll out the curriculum successfully the MCI and its Nodal and Regional centres had conducted "Curriculum Implementation Support Program" (CISP) workshops for sensitizing faculty of Medical Colleges about the competency-based UG curriculum.
However, recently it came to the notice of this Council that some of the Medical Colleges have not conducted the Curriculum Implementation Support Program (CISP). Reminding that such workshops are in the interest of the MBBS students and Faculty of the Medical College, MCI has noe directed Dean/Principal of all Medical Colleges as well as Conveners of MCI Regional and Nodal Centres to ensure that these workshops are conducted at every medical college
Those Medical Colleges that have till date not conducted the CISP program, are hereby directed to coordinate with the Incharge (Convener) of their respective Nodal and Regional Centres and get the program conducted expeditiously for their Medical College Faculty. The observer from Nodal and Regional Centre who will be designated to supervise the conduct of the CISP Program in these Medical Colleges, where CISP is proposed to be held now, will be paid TA/DA and honorarium by the College concerned and an Undertaking from the Dean/Principal of the concerned College has to be given in this regard to the Nodal and Regional Centre for getting the CISP conducted/supervised.
"The Council shall in due course seek report of participation in CISP from all Medical Colleges," the direction issued by MCI secretary-general further added