New MBBS curriculum: MCI appoints Expert Committee to monitor Time Table Uploading, extends Deadline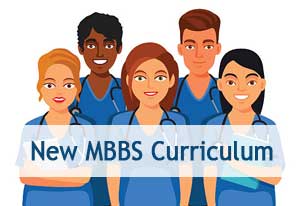 New Delhi: With the new MBBS curriculum finally coming into practice from the current academic year, the Medical council of India has now extended the timeline for medical colleges for uploading yearly time table on their official websites
Through a recent notice, the MCI informed the medical colleges about the Extension of date for uploading yearly time table for teaching revised UG Curricula.
The timeline for uploading Time table for teaching the revised MBBS curriculum has now been Revised to- June 1, 2019. Earlier, the medical regulator had set a deadline of May 1, 2019 asking medical colleges to upload the yearly time table that is going to be followed for the New MBBS curriculum
Besides the extension of timeline, the notice also informed about the  Constitution of Expert Group to monitor the uploading of yearly timetable of revised UG Curriculum teaching on respective colleges website, as under:-
Medical Council of India has constituted an Expert Group of the following members to monitor the uploading of yearly timetable on college website.


Dr. Mohan Khamgaonkar, Pro-Vice Chancellor, MUHS: for colleges in Maharahtra & Gujarat (provc@muhs.ac.in)


Dr. Dinesh Badyal, Convener, MCI Nodal Centre, CMC Ludhiana: for colleges in Punjab, Chandigarh & Jammu & Kashmir (dineshbadyal@rediffmail.com)


Dr. Devender Kumar, Convener, MCI Regionl Centre, MAMC, Delhi: for colleges in Delhi & Haryana (nttcmamc@gmail.com, devendermamc@gmail.com)


Dr. Praveen Singh, Convener, MCI Nodal Centre, Pramukhswami Medical college, Karamsad: for colleges in Rajasthan, MP & Bihar (praveenrs@charutarhealth.org, pravin_m21@hotmail.com)


Dr. R. Sajith Kumar, Convener, MCI Nodal Centre, Govt. Medical college, Kottayam: for colleges in Kerala(rsajithkr@gmail.com)


Dr. P.V. Chalam, Ex-convener, MCI Regional Centre, GMC, Andhra Pradesh & currently MCI Expert Group member: for colleges in AP & Telengana (drpvchalam@rediffmail.com)


Dr. Praveen Iyer, Convener, MCI Nodal Centre, Seth GS Medical college & KEM Hospital, Mumbai: for colleges in Orissa & Jharkhand (pbi1977@gmail.com)


Dr. John Stephen, Convener, MCI Nodal Centre, St. John's Medical college, Bangalore: for colleges in Karnataka (john.stephen@stjohns.in )


Dr. P.V. Vijayaraghavan & Dr. Pankaj Shah, Convener, MCI Nodal Centre, Sri Ramachandra University, Chennai: for colleges in Tamil Nadu & Puducherry (vc@sriramachandra.edu.in. drpvv53@gmail.com, drpankajbshah@gmail.com)


Dr. Deepa Singh, Co-Convener, MCI Regional Centre, Himalayan Institute of Medical Sciences, Dehradun: for colleges in UP, Uttarakhand, Chattisgarh, Himachal Pradesh (deepa754@gmail.com; deepasingh@srhu.edu.in)


Dr. Purnima Barua, Convener, MCI Regional Centre, Jorhat: for colleges in North East, West Bengal (drpurnimabarua@gmail.com)


Dean / Principal of colleges are requested to inform the respective member of the Expert Group of the details of the uploading, the notice added
Medical Dialogues team had earlier reported that this is not the only mandatory information that is supposed to be uploaded on the medical college website.  The Board of Governors in Supersession of Medical Council of India (MCI) recently came out with a gazette notification spelling the mandatory information that is to be visible on the websites of all medical colleges. With the gazette, important information such as the details Dean, Principal and Medical Supdt. including their name, qualification complete address with telephone and STD code, fax and E-mail, Teaching as well as non-teaching staff, details of MBBS and PG Medical Seats will have to be made public and regularly updated once a month on the official website of the medical colleges. Besides this, other information such as research publications during the last one year, details of CME programs,Details of any awards and achievement received by the students or faculty will also have to be updated on the medical colleges website
Read Also: MCI Gazette spells out Mandatory Information to be uploaded on Each Medical College Website