Initiate action against lab if not providing RT-PCR results within 24 hrs : Karnataka High Court asks govt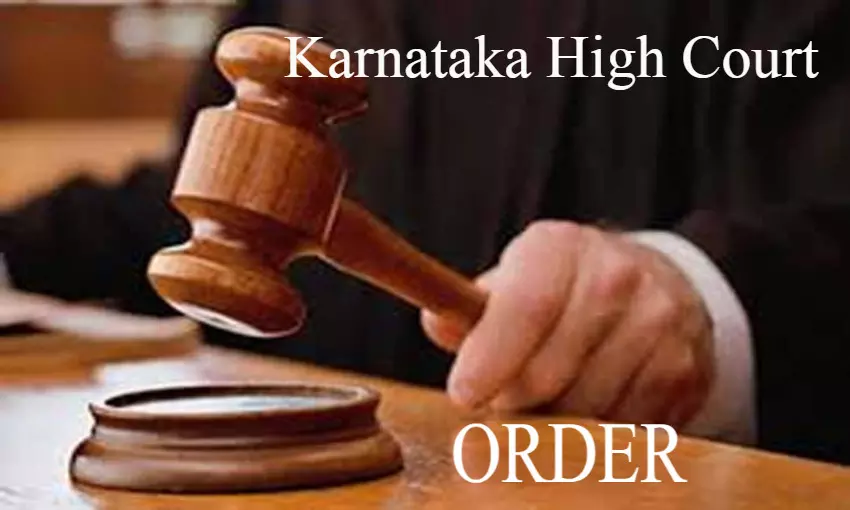 The Karnataka High Court on Thursday passed a series of orders spanning multiple areas of COVID-19 management and passed directions to the authorities to initiate action against labs that fail to provide RT-PCR test results within 24 hours of sample collection. The court also took note of various hurdles being faced in COVID -19 management and orders were passed to streamline the availability of medicines, oxygen, and hospital beds to covid patients in the state.

According to a LiveLaw report, a division bench of Chief Justice Abhay Oka and Justice Aravind Kumar passed the following directions while hearing a batch of petitions passed the following directions.

Action on labs not providing RT-PCR Test results within 24-hours:
The court has directed the authorities to take action against the labs which are not providing RT-PCR test results within 24 –hours of sampling. The court was hearing the grievances of bar members and Advocate B V Vidyulatha informed the court that she has undergone a test and has not received the result for the last 52 hours.
According to live law report, the court said "We direct the state government to enforce the direction of making the availability of RT-PCR test by labs within 24-hours scrupulously and consider taking action against those labs which are not following the directions".
Admitting non-covid-19 patients to hospitals
The court directed the state govt to postulate clear directions for hospitals to refrain them from demanding non-Covid patients to furnish RT-PCR Covid negative certificates before giving admission. Court noted that elderly and pregnant patients are facing difficulties because hospitals are insisting on a covid negative report before admission and the delays in test results are adding to their woes.
The Live Law report quoted the court as saying:
"We may note here that in absence of any clarity on part of the government, even non-covid critically ill patients are not being admitted to hospitals without producing negative RT-PCR test results. Pregnant women are not admitted for delivery unless they produce a negative report. Large queues outside labs and senior citizens and pregnant women are forced to stand in queues. One of the reasons for pregnant women made to stand is they will not be admitted unless they get negative RT-PCR test results.
State will have to seriously consider evolving policy which will ensure that in those cases where there are no symptoms compulsion should not be made of producing RT-PCR negative results. The state shall consider this issue seriously, as those who are not required to undergo tests are undergoing it and every possibility of test results are being delayed. Directions be issued to the lab to have a separate queue for senior citizens and pregnant women".
Availability of Remdesivir:
According to the report, a representation was received from S Shivakumar, President of Karnataka State Association of Management of Nursing and Allied Health Science Institution addressed to the Chief Justice. He himself is admitted to a hospital as he is infected with covid-19 he has specifically stated that life-saving drug like remdesivir is being sold in black and the government has failed to supply sufficient stock to hospitals. The second issue is the non-availability of beds and the non-availability of oxygen.
The court said "If patients are unable to procure Remsedivir in appropriate quantity due to black marketing, the failure of the state to take appropriate action may result in violation of patient's right under Article 21 of the Constitution of India".
"We direct the state govt to publish everyday quantities of Remsedivir available with all leading stockists in all cities of the state. Wide publicity shall be given about the said data. Real-time updating of the data shall be made at least after every 12 hours. Details of stockist/drug store with address and contact number shall be provided," the court said.
Availability of oxygen:

The court has asked the state government to immediately consider creating some sort of distribution system by which the state distributes oxygen to hospitals by coordinating with suppliers.
The state has produced a notification dated April 21, one IAS officer is appointed as in-charge of war for the supply of oxygen and remdesivir. The manner in which war is functioning is clarified. In what manner relatives of patients and hospitals can approach the war room, added the live law report.
Govt submitted that the war room set up for the purpose works effectively and the hospitals and relatives patients are able to get in touch with the war room so that in case of need the supply of oxygen and remdesivir can be made available on war footing.
CREMATION/BURIAL:
In the City of Bengaluru out of 13 crematoriums only seven are operating. Even the Christian community is facing a severe crisis as in Bengaluru and Mysore no place for burial and civic body have been requested to give additional space for burial.
The court said "State government will have to step in and consider the creation of additional facilities for cremation/burial in those cities where there are a large number of covid-19 cases.
Availability of beds:

The court has directed the state government and BBMP to file a report giving details of the availability of beds in the hospitals
Source : with inputs