AIIMS Rishikesh invites applications for DM, MCh January 2022, View schedule, eligibility criteria, fee, seat details here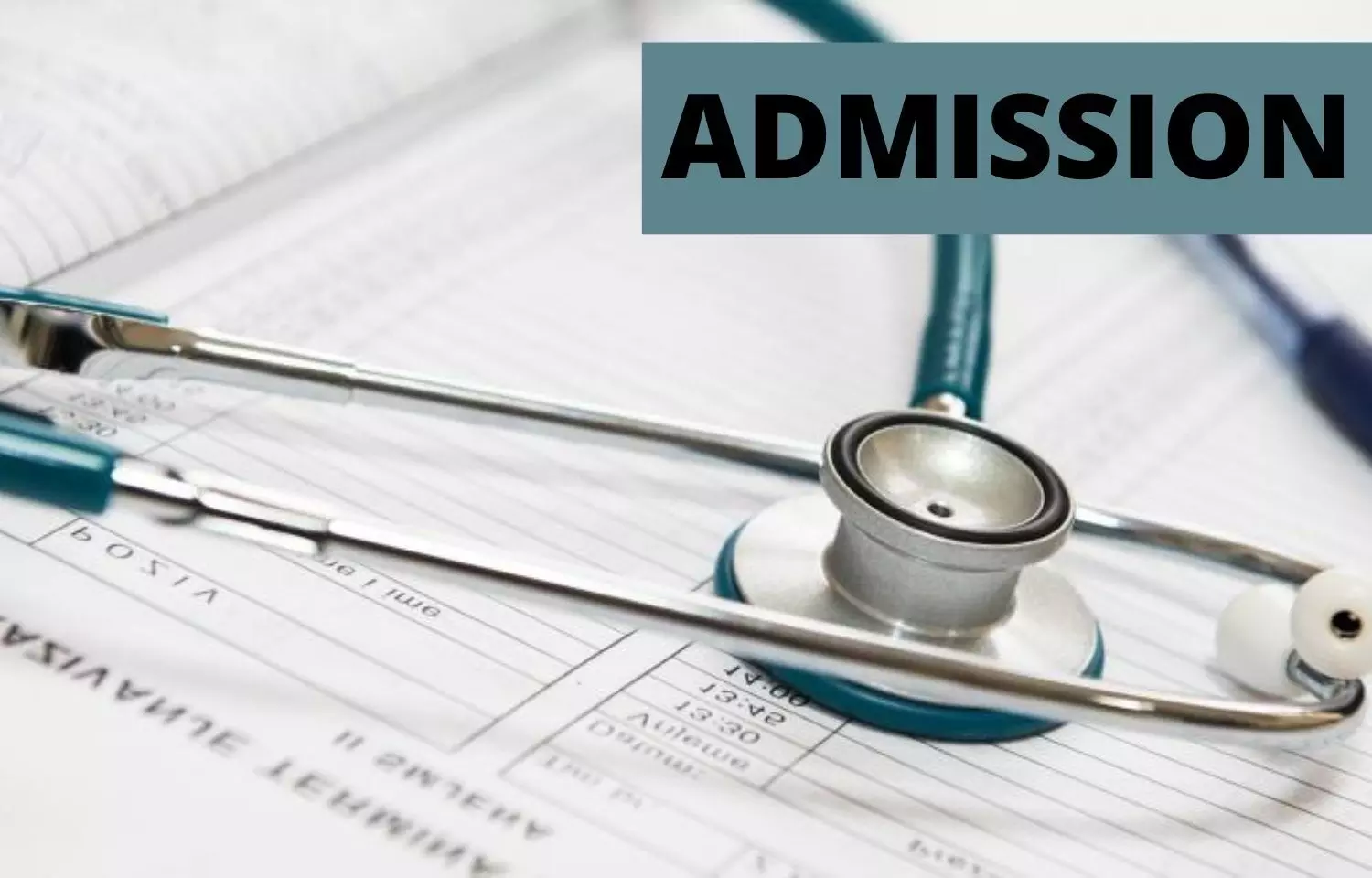 Rishikesh: Through a recent notice, the All India Institute of Medical Sciences (AIIMS Rishikesh), has invited applications from eligible candidates for admissions to Post- Doctoral course DM, M.Ch Courses in academic session January 2022.
According to the notification released on the official website of AIIMS Rishikesh, there are a total number of 10 seats for DM and MCh being offered by the institute to candidates.
All the concerned candidates who are interested in pursuing DM and MCh courses from AIIMS Rishikesh can check out the belowmentioned admission details including schedule, the application process, eligibility criteria, number of seats allocated speciality wise, fee, selection method and much more.
IMPORTANT AT A GLANCE
Last Date for

submission of Application:

The duly filled-in application along with necessary documents and applicable fee should reach "Examination Cell, All India Institute of Medical Sciences, Rishikesh (Uttarakhand)- 249203 on or before 15.12.2021 at 5:00 PM through Registered Post/Speed Post Only.

Application form sent through courier will not be entertained.

Application received after the last date or incomplete in any respect or those not accompanied by the documents/information will not be considered.

The envelope should be super-scribed "APPLICATION FOR THE DM/M.Ch., JANUARY, 2022 SESSION."
M.Ch Course
Last Date for submission of Application

15.12.2021

(5:00 PM)

Wednesday

Issuing Admit Card

21.12.2021

Tuesday

Written Test through online (CBT) mode / OMR

29.12.2021

Wednesday

Expected date of declaration of Result

03.01.2022

Monday

Departmental Assessment

10.01.2022

Monday




15.01.2022

Saturday
Declaration of Results
Results for DM/M.Ch. will be only available on website at www.aiimsrishikesh.edu.in Result of individual candidate will NOT be informed on telephone and candidates are advised NOT to 0call Examination Section for such information. However, individual result can be checked after declaration of final result from website.
Application Fee
General / OBC Category: Rs.1500/- + Transaction Charges as applicable
SC/ST/EWS Category: Rs. 1200/- + Transaction Charges as applicable
PWD Candidates are exempted from any Fee
Note 2:-OBC Caste Certificate to be produced during 10.01.2021 to 09.01.2022 (as per format attached, Annexure-1). EWS Certificate to be produced during 01.04.2021 to 09.01.2022 (as per format attached, Annexure-3).
Mode of payment: Through online only i.e.: NEFT/RTGS/UPI etc., Name of Bank: Punjab National Bank, Name of Account: AIIMS, Examination, A/c No.: 6189000100046878. IFSC Code: PUNB0618900. Candidate who will deposit fee through cash in account mention will not be considered for course.
All applicants are advised to read Prospectus carefully. In event of rejection of application form, no correspondence/request for reconsideration will be entertained.
Please visit www.aiimsrishikesh.edu.in regularly for latest notification/announcement as well any Addendum/ Dedendum/Corrigendum/Latest updates etc. regarding this Examination.
DM AND M.Ch (3 years) in Super specialty Departments
NUMBER OF SEATS
Facilities for post-doctoral courses are available in following super specialties for January 2022 Session:
S. No.

Department

Subject/Course

Open seat

M.Ch.

1.

Orthopaedics

Spine Surgery

1

2.

Paediatric Orthopaedic Surgery

1

3.

Joint Replacement & Reconstruction

1

4.

Trauma Surgery & Critical Care

Sports Injury

1

DM

5.

Anaesthesiology

Cardiac Intensive Care

1

6.

Pain Medicine

1

7.

General Medicine

Clinical Immunology & Rheumatology

1

8.

Hospital Medicine & Critical Care

3

TOTAL

10
Note:
a) Candidate is allowed to submit application for one speciality / subject only.
b) Number and distribution of seats are subject to variation based on any periodic directives from competent authority.
c) If suitable candidates are not available in the Sponsored Seats, the same will be NOT carried forward to General Seats in the respective speciality.
d) As per judgement of the Constitution Bench of Supreme Court of India Writ Petition WC No. 3501998, no reservations are being followed for the super speciality courses of DM/M.Ch./Fellowship/PhD at this institute.
All seats falling vacant before declaration of result of DM/M.Ch. entrance examination in subject seats have already been advertised and will be included.
Entrance Examination for other seats of DM/M.Ch. at AIIMS Rishikesh is being conducted by AIIMS New Delhi. Kindly refer website of AIIMS New Delhi www.aiimsexams.ac.in.
ELIGIBILITY
Educational qualification: A candidate must possess a degree in MD/MS or DNB from a University recognized by MCI in respective discipline as mentioned here under:-
DM/M.Ch COURSES

REQUIRED QUALIFICATION

Spine Surgery

M.S. in Orthopaedics or equivalent degree recognized by Medical Council of India.

Paediatric Orthopaedic Surgery

Joint Replacement & Reconstruction

Sports Injury

Candidates with MS Orthopaedics/Dip in Orthopaedics with DNB degree/Dip in Orthopaedics with two years post diploma training in any MCI recognised institution.

Cardiac Intensive Care

MD/ DNB Anaesthesia or MD/DNB Paediatrics or MD/DNB Medicine or MD/DNB Respiratory medicine from a recognized Medical University.

Pain Medicine

M.D. in Anaesthesiology or equivalent recognized by Medical Council of India.

Clinical Immunology & Rheumatology

M.D. in General Medicine/Paediatrics or equivalent degree recognized by Medical Council of India.

Hospital Medicine & Critical Care

M.D. in Internal Medicine/Geriatric Medicine or equivalent recognized by Medical Council of India.
Candidates must have completed requisite qualification, degree and tenure by 31.01.2022. Candidates who are likely to complete their 3 years requisite qualification, degree and tenure after 31.01.2022 will not eligible to appear in this examination.
AGE LIMIT:
Upper Age limit is 50 years as on 31.01.2022.
Upper age limit is relaxable for OBC Candidates by a maximum of 3 years.
Upper age limit is relaxable in case of SC/ST candidates by a maximum of 5 years.
Upper age limit is relaxable for Ex-Serviceman and Commissioned Officer including ECO, SSCO who have rendered or released on satisfactory assignment with age relaxation by a maximum of 5 years.
Upper age limit is not applicable to sponsored candidates.
Persons with benchmark disabilities shall be given an upper age relaxation of five years for admission to DM/M.Ch. for PWD candidates as per Right of persons with Disability Act, 2016.
METHOD OF SELECTION
Selections for DM/M.Ch. course is made through 2-Stage Performance Evaluation basis:
Stage I: Written test carrying 80 marks of 180 minutes duration in subject candidate has applied for. Question paper will consist of 200 Multiple Choice Questions (MCQs). Qualifying criteria for MCQ based exam shall be based on percentile/percentage scores of candidates depending on the number of candidates. In case, the number of candidates is more than 10 times the number of seats, percentile score shall be considered; else percentage score of candidates shall be considered.
Stage II: Out of candidates who have secured 50 percentile/percentage or more marks in written test(Stage-I), candidates 3 times number of seats advertised will be called for departmental clinical/practical/lab based assessment (carrying 20 marks).
Final Selection: Final result will be declared based on total marks obtained in stage-I and stage-II Examination.
Note: I) Result of written examination will be available on our website. No individual intimation will be communicated to candidates.
II) Candidates who fail to attend any of two stages mentioned above will not be eligible for admission.
Selected candidates are required to join on or before 31.01.2022. An extension of date of joining may be granted by competent authority on merit of each case.
III) Last date for admission DM/M.Ch. Entrance Examination will be 31.01.2022. In any circumstances, last date for admission will not be extended after 28.02.2022.
IMPORTANT INSTRUCTION APPLICABLE TO DM/M.Ch ENTRANCE EXAMINATIONS
1. DOCUMENTS TO BE ATTACHED WITH APPLICATION FORM:
Copy of the self-attested Certificate
1. Date of Birth and Class X and XII Certificate
2. Medical Council Registration
3. Internship completion certificate
4. SC/ST/OBC/EWS/PWBD certificate issued by the competent authority (if applicable)
5. MBBS Mark-sheets
6. MBBS Degree
7. MD/MS/DNB Mark-sheets
8. MD/MS/DNB Degree
9. Attempt certificates
10. Fee Receipt
11. Copies of any other relevant documents
SUBMISSION OF CASTE CERTIFICATE BY SC/ST/OBC CANDIDATES
After declaration of result of Entrance Examination, candidates belong to Scheduled Caste/Scheduled Tribe and Other Backward Classes should submit, along with or requisite documents, an attested copy of a certificate from any one of following authorities stating that candidate belongs to Scheduled Caste, Scheduled Tribe, Other Backward Classes or Economically Weaker Section (EWS) in prescribed form.
A. District Magistrate, Additional District Magistrate, Collector, Deputy Commissioner, Additional Deputy Commissioner, Deputy Collector, 1st Class Stipendiary Magistrate, City Magistrate, Sub-Divisional Magistrate, Taluka Magistrate, Executive Magistrate, Extra Assistant Commissioner.
B. Chief Presidency Magistrate/Additional Chief Presidency Magistrate/Presidency Magistrate.
C. Revenue Officer not below rank of Tehsildar.
D. Sub-Divisional Officer of area where candidate and his or her family normally resides.
E. Administrator/Secretary to Administrator/Development Officer (Lakshadweep Island) or as authorised in Constitution.
Candidate will be required to submit an undertaking to effect of their caste. Detection of any discrepancy in caste certificate shall entail cancellation of registration. This is as per provisions made by Ministry of Personnel, Public Grievances and Pensions vide their order No. 36033/4/97-Estt. (RES) dated 25.7.2003 and No. 36011/3/2005-Estt. (RES) dated 9.9.2005 respectively.
Candidates must note that a certificate from any other person/authority will not be accepted and no further correspondence in this regard shall be entertained. Name, designation and seal of officer should be legible in certificate.
PROCEDURE IF THERE IS ANY DISCREPANCY NOTICED:
Discrepancy, if any, in date and time of entrance examination mentioned in Prospectus, Admit Card etc. should be immediately brought to notice of Dean (Academics), AIIMS, Rishikesh through email. Complaints received after examination will not be entertained. In case any discrepancy is found in information provided in various documents, data provided on Application Form will be considered as final for all purposes.
It will be responsibility of candidate to ensure that correct address, Mobile No. & email ID in Application Form is filled. Institute shall not be responsible for any miscommunication due to incorrect address, Mobile No. and email ID given by application. Application Form or nonreceipt for any communication.
Any Change in address mobile No. and email ID should be immediately intimated to this office. Candidate should also ensure that any communication sent at previous address is redirected to him/her at new address.
If a candidate is at any stage found to have provided false information/certificate or is found to have withheld or concealed some information in his/her application form, he/she will be debarred from admission, his/her residency will be terminated with immediate effect.
If ineligibility is detected at any stage, candidature/admission of candidate will be cancelled without any notice.
Candidate must not obtain or give or attempt to obtain or give irregular assistance of any kind during examination; this will entail expulsion and cancellation of candidature for examination. Admission of candidate will be cancelled and appropriate criminal/civil proceedings will be initiated against candidates, if at any stage of examination candidate is found to have secured admission by using any unfair means.
Institute will not intimate result of Entrance Test individual. No correspondence in this regard will be entertained.
There is no provision for re-checking/re-evaluation of answer sheets and no query in this regard will be entertained.
Decision of Director of Institute shall be final in matter of selection of candidates for admission to various courses and no appeal will be entertained in this regard.
Selected candidates must join course on date stipulated in letter of selection, failing which selection/admission shall stand cancelled/withdrawn.
Selected candidates will have to submit original Permanent Registration Certificate at time of joining.
Selection of Senior Residents (DM/M.Ch.) will be subject to medical fitness. No selected candidate will be permitted to pay fee/join course unless declared medically fit by Medical Board appointed by Institute. Decision of Medical Board shall be final.
Each candidate selected for admission shall have to pay fee/dues within prescribed period failing which his/her admission shall be cancelled.
Private practice in any form during course is prohibited. Period of training is strictly full time and continuous.
Rules are subject to change in accordance with decision of Institute to be taken from time to time.
Any dispute in regard to any matter referred to herein shall be subject to jurisdiction of Dehradun court alone.
GENERAL INFORMATION
1. FEES
Each candidate selected for admission will have to pay following Course duration Fees and dues:
S. No.

Description

Amount

Remarks

1.

Registration Fee

Rs. 100/-

For 3 Years

2.

Tuition Fee

Rs. 700/-

For 3 Years

3.

Library Fee

Rs. 1000/-

For 3 Years

4.

Laboratory Fee

Rs. 150/-

For 3 Years

5.

Degree Certificate Fee

Rs. 600/-

For 3 Years

6.

Migration Certificate Fee

Rs. 1000/-

For 3 Years

7.

Pot Fund

Rs. 800/-

For 3 Years

8.

Electricity

-

Rs. 300/- per month or actual basis (whichever is higher)

9.

Recreation/Gymkhana Fee

Rs. 150/-

For 3 Years

10.

Caution Money

Rs. 1000/-

(To be deposited by every student for recovery of breakages or loss of Institute's equipment).

11.

Mess Security

Rs. 1000/-

12.

Hostel Security

Rs. 1000/-

13.

Alumni Fee

Rs. 2,000/-

14.

Examination Fee

Rs. 667/- per month for 30 months
To view the official notice click on the following link:
https://medicaldialogues.in/pdf_upload/prospectus-dm-mch-january-2022-offline-updated-finaldocx-164916.pdf