DCI directs dental colleges to furnish teaching staff list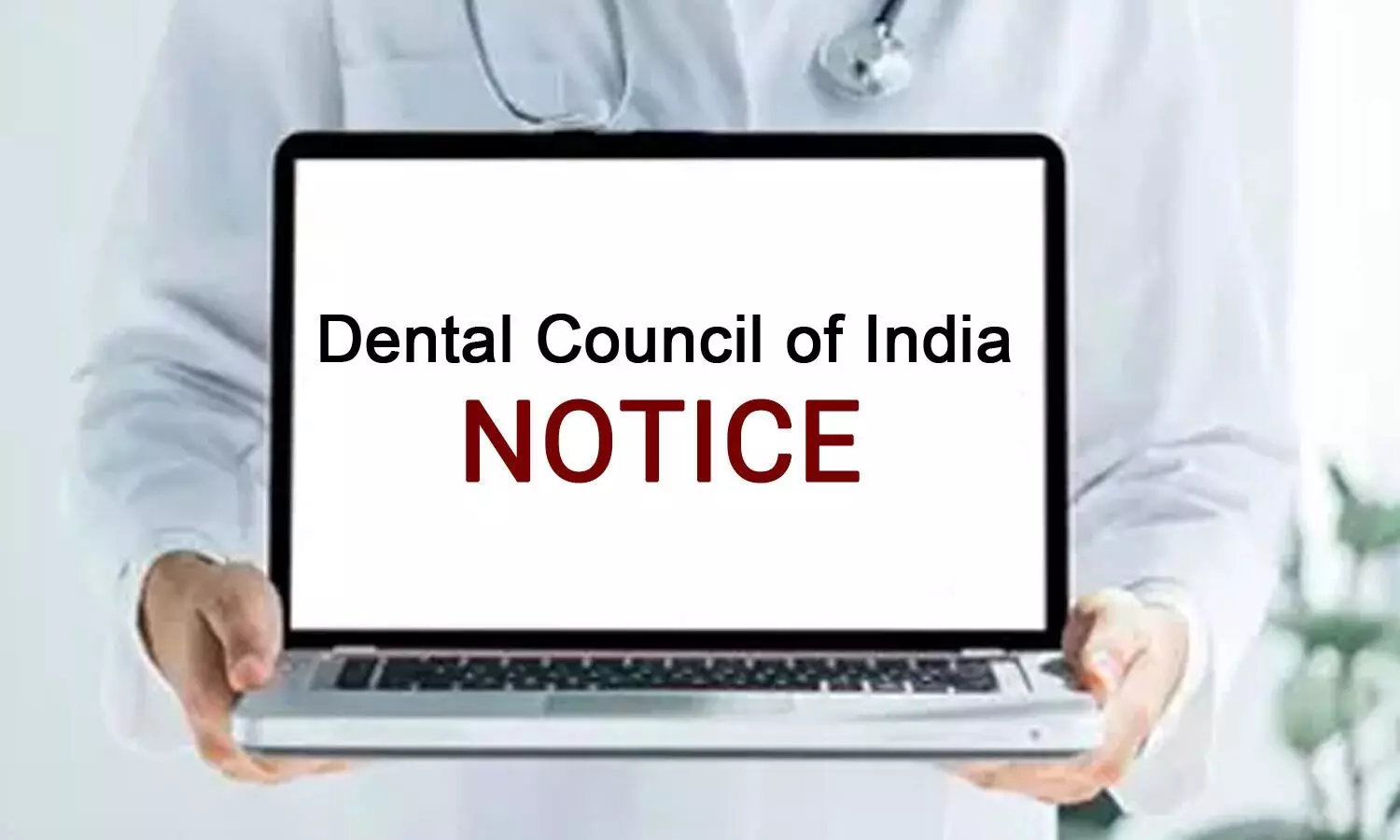 New Delhi: The Dental Council of India (DCI) has directed the dental colleges to furnish the teaching staff list of Dental Mechanic/Dental Hygienist Courses/Dental Operating Room Assistant courses in the attached prescribed format within 15 days to the council.
The colleges were asked to provide the details earlier as well in the month of July and now issuing a reminder notice, Mukesh Kumar, Deputy Secretary Dental Council of India in a letter to principals of concerned dental colleges said, "Till date, this Council, has not received such details from your dental college, therefore, you are hereby again directed to furnish the complete details of teaching staff exclusively for Diploma Courses in Dental Mechanics/Dental Hygienist/ Dental Operating Room Assistant, strictly in the attached prescribed format, within 15 days to this Council, failing which the Council shall take necessary action against the college as per law."
The said notice has been sent to 44 dental colleges.
All the concerned dental colleges under DCI can view the undertaking as per the link mentioned below:
The list for the said dental colleges is given below:
| | | |
| --- | --- | --- |
| S. No. | Name of college | Course Name |
| 1. | Govt. Dental College & Hospital, Hyderabad | DR & DM |
| 2. | Sibar Institute of Dental Sciences, Guntur | DM |
| 3. | Sri Sai College of Dental Sciences, Vikarabad | DORA |
| 4. | Sri Venkata Sai Institute of Dental Sciences, Hyderabad | DM |
| 5. | Lenora Institute of Dental Sciences, Godavari | DM |
| 6. | Mithila Minority Dental College & Hospital, Patna | DM |
| 7. | Manubhai Patel Dental College, Vadodara | DM |
| 8. | Post Graduate Institute of Dental Sciences, Rohtak | DH & DM |
| 9. | Bhojia Dental College & Hospital, H.R. | DORA |
| 10. | Government Dental College, Srinagar | OH & DM |
| 11. | Government Dental College, Bangalore | DR & DM |
| 12. | SDM College of Dental Sciences, Dharward | DM |
| 13. | Government Dental College, Trivandurm | DH & DM |
| 14. | Amrita College of Dentistry, Kochi | DM |
| 15. | Malabar Dental College & Research Centre, Malappuram | DM & DORA |
| 16. | Modern Dental College & Research Centre, Indore | DH & DM |
| 17. | Dr. D.Y. Path Dental College & Hospital, Pune | DM & DORA |
| 18. | Rural Dental College, Loni | DH & DM |
| 19. | VSPM Dental College, Nagpur | DM |
| 20. | M.A. Rangoonwala College Dental Sciences & Research Centre, Pune | DM |
| 21. | Shri Gurudatta Pratishthan Nanded's Rural Dental College & Research Centre, Nanded | DM |
| 22. | Dental Wing, S.C.B. Medical College, Cuttak, Orrisa | DH |
| 23. | Guru Nanak Dev Dental College, Punjab | DH & DM |
| 24. | Mahatma Gandhi College & Hospital, Jaipur | DH & DM |
| 25. | Jaipur Dental College, Jaipur | DH & DM |
| 26. | Saveetha Dental College & Hospital, Chennai | DM |
| 27. | Rajah Muthiah Dental College & Hospital, Tamil Nadu | DR & DM |
| 28. | Best Dental Sciences College, Madurai, Tamil Nadu | DH & DM |
| 29. | Dr. Ziauddin Ahmed Dental College, Aligarh | DH & DM |
| 30. | Kothiwal Dental College & Research Centre, Moradabad | DM |
| 31. | Faculty of Dental Sciences, Varanasi | DH & DM |
| 32. | Seema Dental College, Rishikesh | DM |
| 33. | Armed Forces, Medical College, Pune | DH , DM & DORA |
| 34. | Command Military Dental Centre, Chandimandir (WC) | DH , DM & DORA |
| 35. | Military Dental Centre, Lucknow | DH , DM & DORA |
| 36. | Commandant Military Dental Centre, Kolkata (EC) | DH & DORA |
| 37. | Air Force Institute of Dental Sciences, Bangalore | DH , DM & DORA |
| 38. | Indian Naval Dental Centre, Danteshwari, Mumbai | DH , DM & DORA |
| 39. | Government Dental College, Kozhikode | DM & DORA |
| 40. | Maulana Azad Dental College & Hospital, New Delhi | DORA |
| 41. | NIMS Dental College, Jaipur | DORA |
| 42. | PDM Dental College & Research Institute, Bahadurgarh | DORA |
| 43. | Command Military Dental Centre (NC) Udhampur | DORA |
| 44. | Command Military Dental Centre (SC) Pune | DORA |