Indian Medical Students Enrolled at Chinese Universities move UN seeking lift of border restrictions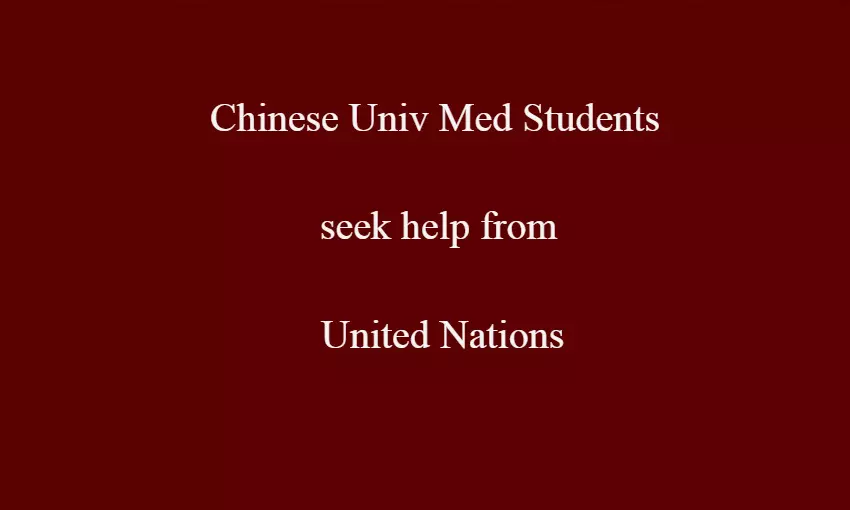 Beijing: After being stuck for almost a year now due to the Coronavirus pandemic, the Indian Medical Students enrolled at several Chinese Universities has finally approached the United Nations (UN) hoping for their intervention. This comes after the Chinese government didn't provide any positive response regarding the temporary visa ban on foreigners due to the pandemic.

Asking for intervention from the UN, the medical students have expressed their concerns related to their education. They have mentioned how they are being deprived of learning from practical surgical classes in a proper way which is not possible online. On the other hand, the Ph.D. students are failing to access the laboratories.
Medical Dialogues had last year reported that the Indian Embassy in Beijing had taken up with the Chinese officials concerns of a large number of Indian students studying in China following an official announcement that foreign students and teachers would not return to their colleges until further notice. Over 23,000 Indian students studied in different courses in Chinese universities and colleges as per the last year's data. Of them, over 21,000 had enrolled to study MBBS.

Also Read: MBBS in China: Embassy intervenes to assist 21,000+ Indian medicos stuck due to COVID-19 lockdown

The recent statement made public on March 22 by the Indian Embassy in Beijing, China, gives no clear idea about when the entry restrictions for international students would end. In fact, the Chinese Government clarified in that statement that the recent decision about visa facilitation for foreign visitors would not be applicable for students.

"Chinese authorities at various levels continue to maintain their position that, on account of last year's announcement by the Ministry of Foreign Affairs of the People's Republic of China and the State Administration of Immigration to suspend temporarily the entry of foreigners holding valid Chinese Visa and residence permits following the outbreak of Covid-19 in many countries in the world, overseas students are temporarily unable to enter China. Chinese authorities have also conveyed that they are aware of the concerns of the students and have asked all relevant Chinese universities to maintain close contact with the students and keep them informed, besides continuing with the online courses. It has also been suggested by Chinese authorities that Indian students stay in touch with their universities and pursue their studies in accordance with the suggestions and guidance of the universities" stated the Press Release.
"Recently, Chinese authorities have issued a notification relating to visa facilitation for foreigners traveling to China. It should be noted that this notification does not apply to foreign students," it added.
Also Read: Experts disapprove using Chinese vaccine Sinopharm on Sri Lankans: Report

As per the latest media report by the Hindustan Times, finding no ray of hope to get back to their schools, the students have finally approached the UN seeking help.

"We are all attending academic institutions in the said countries but, due to the current border restrictions implemented because of Covid-19 concerns, we are unable to pursue our education properly. While medical students are struggling with practical surgical classes being held online, PhD students are unable to access labs in their host countries and the language barrier is getting worse while studying online," said a statement released by these students.
"Many of us were scheduled to arrive to our host countries before the April term, and have been forced to leave our jobs, apartments and belongings in the host countries…Given the circumstance, it is wise to allow only essential travel and with proper care and quarantine, these host countries can easily bring back their students and allow us to pursue our education physically along with our batchmates from the host country," it added.
Commenting on the situation, a third-year student from Jianghan University in Wuhan, informed HT, "Most of us want to withdraw our admission from China and continue our education elsewhere. However, the National Medical Commission (NMC) of India mandates that we finish our course from the institute we got admitted to."
Expressing concerns about the practical classes being held online, she further added, "Our seniors are being taught surgery online."
Also Read: China Sinopharm's 100 million doses of COVID-19 vaccines supplied globally
Source : with inputs