JIPMER releases Theory, Practical Time Table for First MBBS exams, fee details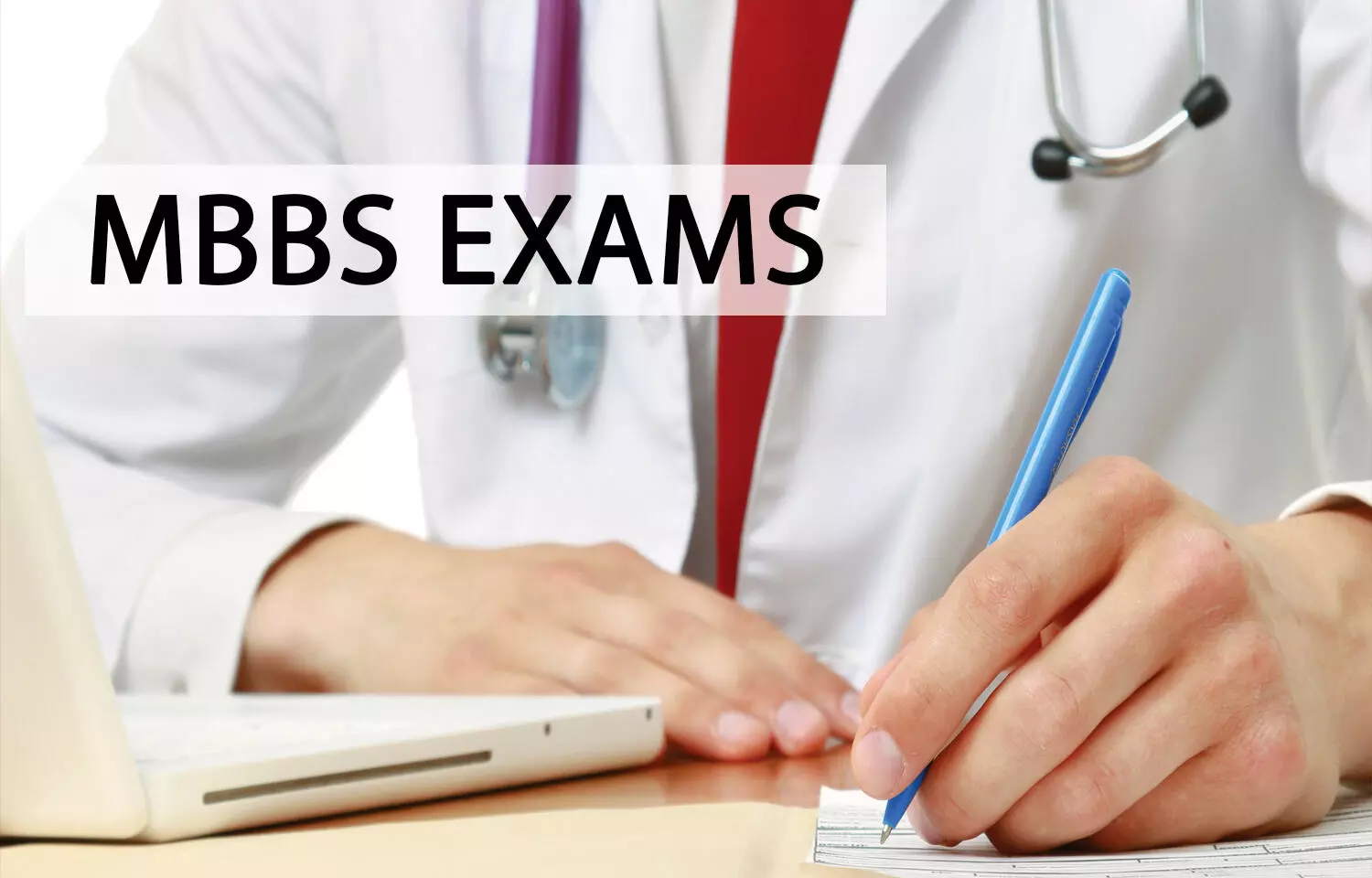 Puducherry: Through a recent notice, the Jawaharlal Institute of Postgraduate Medical Education and Research (JIPMER) has issued the Theory, Practical Time Table for First MBBS supplementary exams along with the fee details.
All the candidates who are set to appear for the said exams, view the details mentioned below:
Theory / Practical Time Table for First MBBS Examinations

JIPMER — Puducherry & Karaikal
Theory & Practical

Date of Exam.

Subjects

Subjects Code

Time

02.11.2020

Biochemistry

070402

9.00 am to 1.00 pm;
2.00 pm to 6.00 pm
Note:
Students are required to submit an Affidavit as per the prescribed format available in the Examination Wing, JIPMER.
Those who FAIL in this Supplementary Examination (November 2020) also, can appear only in May/June 2021.
All the FAILED First MBBS Karaikal students will appear the practical examination at JIPMER Puducherry campus.
The Examination Fee mentioned hereunder is to be remitted through On-Line Payment Portal only
Course

Description

Amount

First year MBBS

Theory and Practical Fee

Rs.750/-. (for each theory paper)

Rs.750/- (for each Practical paper)

25% Enhanced Fee for fast track schedule of Supplementary Examination

Rs.125/- (for each theory paper)

Rs.125/- (for each Practical paper)

Application Fee

Rs.100/-

Statement of Marks fee

Rs.250/-
Important Dates:
Application & Online Payment of Fee starts from : 22.10.2020
Last Date for application & Online Payment of Fee : 28.10.2020
Application can't be submitted after last date (28.10.2020)
To view official notice, click on the following link:
https://medicaldialogues.in/pdf_upload/pdf_upload-141262.pdf

For more details, log on to the official website of JIPMER:
Earlier, JIPMER had
issued Recall Instructions to Final Year MBBS Part II Students residing outside Puducherry
In continuation with the online meeting held with final MBBS part II students on 10th October 2020, it has been decided to commence their clinical postings from 2nd November 2020. Therefore, the students of final MBBS part II of JIPMER Puducherry and JIPMER Karaikal residing outside Puducherry are advised to report to JIPMER, Puducherry on or before 26th October 2020.
Instructions before leaving hometown
• Travel plan: Students are instructed to send their travel plan to the assigned faculty/resident/office staff at jipmerstudentshelpline@gmail.com or through an SMS/WhatsApp at 9787244859. This information should reach in advance to allow arrangements at JIPMER, Puducherry for screening/quarantine on arrival. The following details should be disclosed:
■ Parents' contact details (updated contact phone number and email ID)
■ Mode of travel
■ City of departure
■ Date and time of arrival to JIPMER, Puducherry
■ Any COVID-19 related symptoms and co-morbidities'
• Essential items to can Each student must bring along the following essential items before entering JIPMER premises:
i) For personal protection:
3 ply facemask — minimum 100 Nos,
Face shields — 2
ii) Supplies for daily and frequent sanitization:
Hand sanitizer — 100 ml (5 Nos)
Liquid soaps for personal use in washrooms — 2 bottles
iii) For following social distancing norms in the mess
Food carriers — 2 Nos and plates
• Students MUST carry the JIPMER identity card along with them. Those without a valid JIPMER ID card will be refused entry to their hostel room. No other photo-identity card will be accepted. Dean (Academic), JIPMER must be informed in advance if anyone does not have the Identity card issued by JIPMER, Puducherry.
Procedures on Arrival at JIPMER, Puducherry
Quarantine policy:
Period of quarantine: 7 days
Quarantine place:
JIPMER Puducherry male students: respective hostel rooms in Osler House.
JIPMER Karaikal male students: Lister Annexe
JIPMER Puducherry and Karaikal female students: Blackwell House I
A strict compliance is requested and expected, failing which you may be placed in isolation and may not be permitted to appear for the examinations.
All the students will undergo a COVID throat/nasal swab test on day 7. If the test result is negative,
JIPMER Puducherry male students will continue staying in their own rooms
JIPMER Karaikal male students will return to Type 4 quarters, vacate the room and shift to Lister House (rooms will be allotted there).
JIPMER Puducherry and Karaikal female students will return to their respective rooms in Curie House I and Curie House (Old) respectively.
If the test result is positive, he/she will be immediately placed in isolation with round-the-clock monitoring. He/she will be treated as advised by the COVID clinical team. Information about their health status will be communicated to the parents immediately. Covid-19 positive students will not be permitted to join the clinical postings until recovery.
Thermal & Bar code Scanning: At the hostel gate, security personnel will scan your temperature at entry.
*Screening Process for students having Covid-19 related symptoms:
Immediately on arrival, you should report to the "triage area" located in the SSB Annex (open 24 hours) ONLY IF you have any symptoms related to Covid-19. You will not be entertained if you are not wearing a face mask or do not carry your JIPMER student ID card).
Thermal scanning (temperature recording) will be done.
COVID-19 screening/testing: You will be screened for COVID symptoms, and a sample will be collected for COVID-19 testing if necessary.
Only after the above screening process, will you be able to proceed to your respective hostel room.
JIPMER follows various COVID-19 guidelines/orders issued by the Government of India/Union Territory of Puducherryfrom time to time. It is the students' responsibility to strictly adhere to the COVID-19 safety instructions and any breech may make them vulnerable to get infected. We request all students to abide by the prescribed norms at all times to keep themselves safe. In spite of our best efforts, if a student acquires COVID-19 infection, he/she will be treated in JIPMER according to the JIPMER treatment protocol. However, JIPMER will not be responsible or liable for any prosecution in any such cases.
Notice to parents of JIPMER students

JIPMER follows the guideline/orders relating to COVID-19 issued by the Government of India/Union Territory of Puducherry from time to time. The Institute also considers it as the students' responsiblility to strictly adhere to the COVID-19 safety instructions, which have been informed to them and will be conveyed in future from time to time , to keep themselves safe. All the students need to understand that any breach of these instructions is likely to make them vulnerable to infection and COVID-19.
Parents are requested to instruct their children/wards to strictly follow all precautions and instructions at all times- including in their class rooms, hostels, while using the mess facility. These instructions issued by JIPMER are aimed at ensuring the welfare and safety of all students from time to time. In spite of our best efforts, should a student acquire COVID-19 infection, he/she will be treated at JIPMER as per the Institute's treatment protocol.