MBBS, BDS admission under 7.5 percent govt school quota: TN Health releases tentative Counselling Schedule, fee details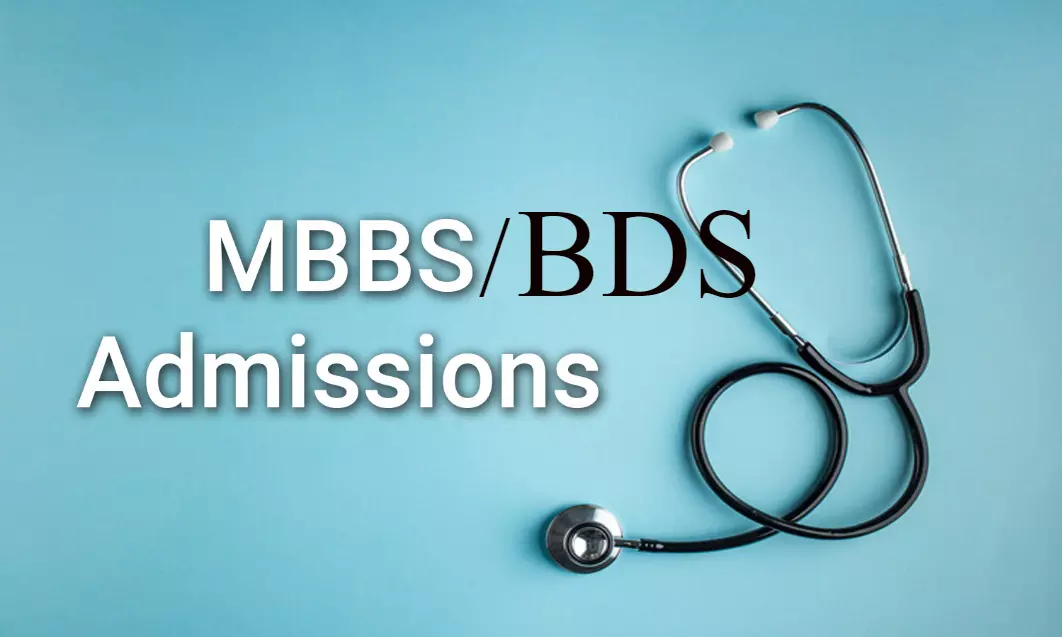 Chennai: Through a recent notice, TN Health has released the tentative Counselling Schedule, fee and instructions for MBBS, BDS admissions in Tamil Nadu-based government and private medical and dental colleges with respect to the 7. percent Seat Reservation for state Government School Students.
All the concerned Government School Students seeking MBBS and BDS admission under 7.5% Seat Reservation at Govt. Medical/ Dental Colleges Government Erode Medical College, Perundurai, Erode, and Govt. States in Self - FInancing Medical / Dental Colleges, Rajah Muthiah Medical College/ Dental Colleges (Annamalai University) and ESIC Medical Colleges & PGIMSR, K.K. Nagar Chennai 2020 -2021 Session, can view the schedule attached below
7.5% Seat Reservation for Tamil Nadu Government School Students Only
DATE

TIME

DETAILS

COMMUNITY

RANK

NEET MARKS

FROM

TO

FROM

TO

04-01-2021

MONDAY

09.00 A.M.

RE-ALLOTMENT / ALLOTMENT

ALL COMMUNITIES

GR 001

GR 397

664

163

11.00 A.M.

GR 398

GR 723

162

126

02.00 P.M.

GR 724

GR 951

125

113
GR – GENERAL RANK
VENUE: NEHRU OUTDOOR STADIUM, PERIAMEDU, CHENNAI (NEAR PURATCHI THALAIVAR DR. M.G. RAMACHANDRAN CHENNAI CENTRAL RAILWAY STATION)
ADDITIONAL DIRECTOR OF MEDICAL EDUCATION/ SECRETARY
INSTRUCTIONS:
1. Since more number of candidates are called for counseling for all categories, allotment is not guaranteed to everyone.
2. Candidates should be present in the counseling venue one hour prior to commencement of the session notified in the counseling schedule (Date/Time). Candidates should attend the counseling along with one of the parents at their own cost.
3. Re-allotment will be done only for the candidates who joined the course in the first phase of counseling within the stipulated time & date.
4. Re-allotment/ Allotment will be done based on merit and communal reservation in Govt. MBBS/SF-MBBS/Government Erode Medical College, Perundurai, Erode/ESIC Medical College/Rajah Muthiah Medical & Dental College, and Govt. Dental College/SF-BDS.
5. Re-allotment/ Allotment will be made subject to the availability of seats at their turn in all categories (Govt.-MBBS/Government Erode Medical College, Perundurai, Erode/ESIC Medical College/ SF-MBBS/Rajah Muthiah Medical & Dental College and Govt. Dental College/SF-BDS) for communities such as OC/ BC/ BCM/ MBC/ SC/ SCA/ ST. Candidates shall not claim the right of admission if seats are exhausted before their turn.
6. If a candidate has failed to attend the counseling when MBBS/BDS seats were available during the I-Phase of counseling in their respective community categories then he/she is not eligible to claim those seats.
7. No individual call letters will be sent.
8. Candidates seeking Re-allotment should bring original and a photo copy of admission slip/fee receipt/Bonafide Certificate obtained from the Head of the Institution, who took allotment in 1st Phase of counseling.
9. Candidates selected under Special Category (Ex-Servicemen, Eminent Sports persons and Orthopaedically Physically Disabled) in 1st Phase of counseling are not eligible for Re allotment.
10. Candidates who wish to retain the seat already selected need not attend the counseling.
11. Candidates who obtained Re-allotment in this counseling will not be permitted to reclaim the previous status/college after his / her turn is over.
12. Candidates already selected for Govt MBBS/SF MBBS /GOVT BDS/SF BDS, the amount already paid as tuition fee will be adjusted for the latest admission in this counseling.
13. Candidates shall only opt for the vacancies available at their turn.
14. After the second round of counseling for All India Quota seats, the students who have taken admission in All India Quota seats will not be allowed/ permitted to vacate the seats as per the orders of the Hon'ble Supreme court of India in W.P. No. 267/2017.
15. Bonafide certificates from the Candidates who have joined in any course other than MBBS/BDS Course are allowed.
16. The candidates who were called for 1st phase of counseling were automatically waitlisted for MBBS seats in Govt./SF Medical Colleges, after the seats were exhausted in the 1st phase of counseling for Govt./SF MBBS in their respective communities are eligible to participate in the counseling.
17. Mobile Phones and other communication devices are not allowed in the counseling hall during their turn.
18. Tentative vacancy position will be displayed in the official website www.tnhealth.tn.gov.in / www.tnmedicalselection.org. The candidates are instructed to see the vacancy position in the official website before attending the counselling.
19. All Demand Drafts should be drawn in favor of ''THE SECRETARY, SELECTION COMMITTEE, CHENNAI - 10." at the time of counselling.
FEE DETAILS:-

Sl. No.

Category

Community

Amount of Demand Draft (Processing fee/ Tuition Fee)

1

RE-ALLOTMENT

All Communities

No Processing Fee. Candidates should produce admission slip/Fee Receipt

/ Bonafide Certificate from the respective Medical /

Dental Colleges.

2

WAIT-LISTED CANDIDATES

All Communities

No Processing Fee. Candidates should produce the receipt received from Selection Committee in the Counselling Venue.

3

ALLOTMENT FOR GOVT. MBBS

OC /BC / BCM / MBC

Rs. 500 /- + Rs. 13,610/-

SC /SCA / ST

Rs. 500 /- + Rs. 9,610/-

4

ALLOTMENT FOR GOVT. BDS

OC /BC / BCM / MBC

Rs. 500 /- + Rs. 11,610/-

SC /SCA / ST

Rs. 500 /- + Rs. 9,610/-

5

ALLOTMENT FOR GOVT. SELF-FINANCING MBBS

OC /BC / BCM / MBC

Rs. 500 /- + Rs. 25,000/-

SC /SCA / ST/ Schedule Caste Converted Christianity (Whose parents' annual income is higher than Rs.2.5 lakhs)

Rs. 500/- + Rs. 25,000/-

SC /SCA / ST (Whose parents' annual income is less than Rs.2.5 lakhs )

Rs. 500/- only

(Exempted from Payment of Rs. 25000/-)

Scheduled caste Converted to Christianity (Whose Parents' annual income is higher than Rs. 2 lakhs)

Rs. 500/- + Rs. 25,000/-

Scheduled caste Converted to Christianity (Whose Parents' annual income is less than Rs.

2.5 lakhs)

Rs. 500/- only

(Exempted from Payment of Rs. 25000/-)
To view the official notice click on the following link:
https://medicaldialogues.in/pdf_upload/pdf_upload-145176.pdf