MSc Nursing admissions in Telangana: KNRUHS releases eligibility criteria, fee, selection details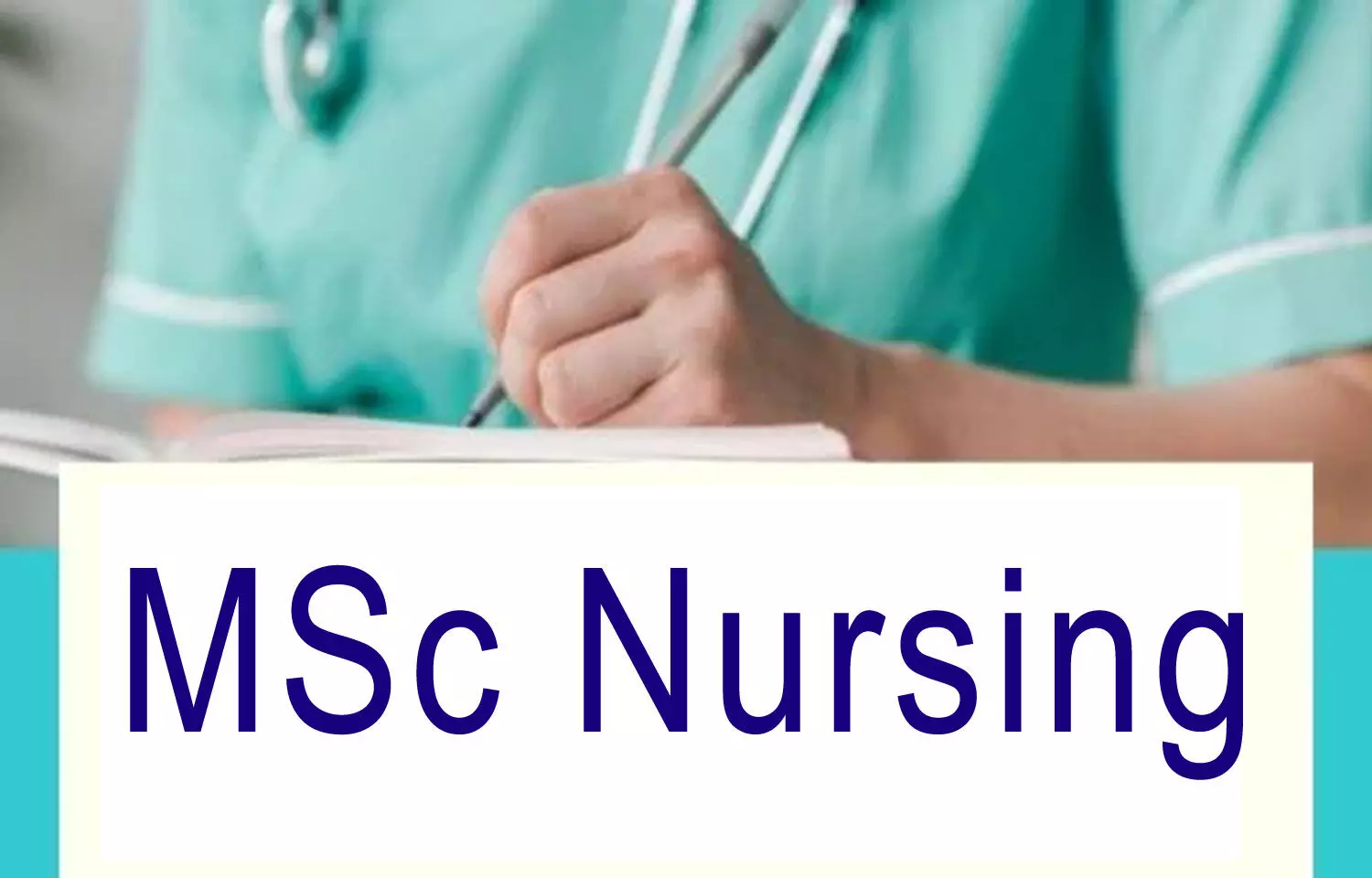 Hyderabad: Through a recent notice, the application forms through online are invited from the eligible candidates for admission into MSc Nursing courses under Competent Authority Quota for the academic year 2020-21 in Colleges affiliated to Kaloji Narayana Rao University of Health Sciences (KNRUHS) based on merit in the qualifying examination B.Sc., (N) 4YDC / Post BSC (N) 2YDC Courses.
Candidates can apply for admission into MSc (Nursing) Courses through online on the Website / http://knruhs.telangana.gov.in / http://tspgparamed.tsche.in till 27.01 .2021 upto 5.00 PM only. The online application can be filled through any computer with internet connection.
All the concerned candidates seeking MSc nursing admissions at KNRUHS are hereby requested to view the said details as mentioned below:
Important Dates to Remember

1. Notification date: 21- 01-2021.
2. Availability of online Application on http://tspgparamed.tsche.in : From 09.00 A.M. on 22-01-2021 to 27-01-2021 up to 05.00PM.
3. Date of release of Provisional merit position of candidates applied on-line: Will be notified
4. Schedule of verification of Certificates: Will be notified
5. Date of release of final merit list: Will be notified.
6. Date of counseling: Will be notified.
NOTE
1. Applications will be through online mode only. No offline application procedure is available.
2. All further Notification will be issued by the University on website. No Individual intimations will be sent. Candidates are informed to check the KNRUHS website regularly for notifications and other information.
Eligibility:
1. Qualification & Experience:
Candidates should have passed B.Sc., (N) / Post BSC (N) degree from an Institution, which is recognized by Indian Nursing council with minimum 55% of aggregate marks and a provision of 5% relaxation of marks for SC / ST Candidates.
In respect of Government College of Nursing, Hyderabad, Candidates are in Government service are only eligible for admission. Subject to fulfillment of Government Orders from time to time.
2. Experience:
a) Should be a Regular employee of the Government of Telangana/ AP shall have put in not less than 5 years service in the departments of Medical & Health Service, Vaidya Vidhana Parishad of Telangana & A.P. In any capacity in Nursing as on 30-09-2020.
Service certificates has to be issued by the Director of Health, Koti Hyderabad.
b) For Regular candidates, (Non-Service):
i. Minimum one year of work experience after registration of B.Sc., (N) course as on 30-09-2020.
ii. Minimum one year of work experience prior or after registration of Post Basic Nursing courses as on 30.09.2020.
NOTE: Experience certificate once submitted is final. No alterations / No revised service certificate will be accepted after submission of application at the time of verification. The candidates, who have not acquired relevant service and not submitted requisite certificates, such applications will be rejected and no further correspondence will be entertained. Therefore, Candidates are advised to check the application before filling.
3. Age:
Both the service and Non-service candidates should not have completed 45 years of age as on 31st December of the year of admission. For candidates belonging to SC / ST, the maximum age limit shall be 48 years.
4. Sex:
Both women and men candidates are eligible to apply for M.Sc. (Nursing) as per G.O. Ms. No. 77 HM&FW (K1) Dept. Dt; 13-6-2013. Regarding Male candidates admission will be as per G.O. Ms. No. 79 HM&FW (K1) Dept., Dt; 17-6-2013.
5. Registration with Nursing Council: Candidate should be a registered Nurse and registered Midwife of Indian Nursing Council for service and non-service candidates.
6. Physical Fitness: The candidate shall be Medically Fit.
NOTE: If a candidate is found to have concealed any information regarding this matter, the registration of such a candidate is liable to be cancelled. Further disciplinary action will be taken by the University against him/her.
Selections:
1. Provisional selection shall be made by the Selection Committee constituted by the KNR University of Health Sciences in accordance with these regulations, existing government guidelines and interim directions of the Hon'ble High court.
2. Selection Schedule:. Counseling schedule will be notified on KNRUHS, website. Candidates are advised to check the web-site www.knruhs.telangana.gov.in for notification of schedule. No Individual intimations will be sent to the candidates. All eligible candidates have to exercise web options to the course and college in which they are interested to join as per the schedule notified by the University
3. The University shall display the seat matrix one day before the date of counseling.
4. Counseling Procedure:
a. Verification of certificates and Counseling will be done as per existing Government and University Regulations and in-obedience to relevant orders of Hon'ble High Court.
b. Mere attending the counseling does not confer right for a seat.
c. As per the schedule notified by University on website, candidates have to exercise web options for the course and college in which they are interested to join. Allotments will be made based on the options of candidates by merit and following the applicable reservations
d.The selected candidate will be issued the provisional selection intimation by SMS. The selected candidates shall pay the University fee online and download the allotment order.. The selected candidates shall report to the Principal, submit original certificates, pay the college fee and submit the prescribed bond on or before the last date notified on the allotment order.
e.If a selected candidate fails to submit the original certificates and pay fees or fails to submit the bond within the specified period, his/her selection stands cancelled automatically.

f. Any person who obstructs the proceedings of the selection committee or otherwise misbehaves or causes disturbance at the selection committee meetings will be liable for disciplinary action.
5. The Selection Committee shall have power to review the provisional selection in case of any errors, misrepresentation, fraud or glaring injustice. In all matters relating to selections and admissions the decision of Selection Committee shall be final and binding on the candidates and selections cannot be questioned after closure of admissions.
Admission rules:
1. The dates of admission of selected candidates will be the dates as communicated to them in the letter of selection.
2. All the candidates joining the Post Graduate degree courses should execute the bond on a stamped paper of Rs.100/- value as prescribed in Annexure-I. They should complete the said course as per the requirements of the institute. In the event of leaving the studies in the midterm each of them has to pay to the Registrar, KNR University of Health Sciences, Warangal a sum of Rs.1,00,000/- (Rupees One Lakh only).
3. The original certificates submitted by the candidates shall not be returned to the candidates till they complete their courses of study, subject to sub-regulation 8.2 above.
4. Attendance: Candidates are required to attend a minimum of 80% of training and the total classes conducted during each academic year of the MSc Course. Provided further, leave of any kind shall not be counted as part of academic term without prejudice to minimum 80% of training period every year. Any student who fails to complete the course in this manner shall not be permitted to appear for the University examination with that batch.
Leave: The postgraduates are eligible for 30 days leave in each academic year and they can avail a maximum 10 days at a time. The balance of leave in a year, if any, shall not be carried forward to the next academic year.
Maternity Leave: Female Post Graduate students are eligible for maternity leave as per Government rules.
6. Break of study and re-admission: If a student absents continuously for a period of 91 days or more and seeks permission to attend the course, his / her application in prescribed format by paying requisite fee in favour of Registrar, KNR University of Health Sciences payable at Warangal shall be forwarded to the Registrar, KNR University of Health Sciences with the recommendation of the Principal. Regulations for readmission after break of study along with application format and fee payable is available in the university website. The candidates are advised to refer the regulations before submitting the application and paying the fee. If they fulfilled the regulatory conditions, they may submit applications through the Principal of the College by paying the fee.
7. Private Practice: No post graduate student is allowed to do any private practice or consultation and should not accept any part time employment in any state or central or quasi government or private organizations during the period of post graduate study.
8. College Regulations: Candidates are required to follow the rules and regulations of the college and should also abide by the regulations of the University. Under no circumstances should they have any correspondence with the higher authorities directly without routing through proper channel.
9. Fees:
a.Tuition Fee: All the candidates selected are required to pay the tuition fee as notified by Government of Telangana at the respective colleges
b.All the selected candidates shall download the allotment order by paying the following university fees online by payment gateway The University fees once paid shall not be refunded under any circumstance
University fee :
For competent authority quota Rs. 10,000/-
For Management Quota Rs. 20,000/-
c.As per the University Norms, it is hereby notified that the students who acquired their UG Degree at outside the state of Telangana and Andhra Pradesh shall pay Rs. 3000/- and who acquired their UG degree abroad shall pay Rs. 5000/- as equivalency verification fee while applying for admission to any PG courses as per the admission notification issued by KNRUHSWarangal
Closure of Admissions:
1. The admissions shall be closed as per INC Regulations.
2. Any vacancy as on the date of closure of admissions shall not be filled.
Commencement of the Course:
The course shall commence on the date mentioned in selection intimation. The duration of the Degree course shall be 2 calendar years (24 months) from the date of commencement of the course. The duration shall be uniform for all the candidates irrespective of their individual dates of admission
Duration of course:
The duration of MSc(N) Degree courses shall be two continuous years.
Time for completion of course:
Candidate should complete the course within the duration equivalent to double the period of course of study.i.e.,: 4 years for MSc Nursing Course.
Registration and Counseling Fee:-
The Registration and Counseling fee is Rs.5,000/- + Bank Charges for OC and BC Candidates to be paid online.
The Registration and Counseling fee is Rs.4,000/- + Bank charges for SC/ST candidates to be paid online.
6. Candidates who studied BSc(Nursing) outside the state of Telangana and Andhra Pradesh are required to pay Rs.3000/- towards Degree Verification fee In addition to Registration fee.
Procedure for Submission of filled-in online Application form:- The candidate should submit the print-out of the filled in online application form along with 1-set of self attested copies of required certificates to the Camp Officer helpline center PGRRCDE, OU-CAMPUS, Hyderabad in person at time of verification of Original Certificates as per the schedule notified by KNRUHS on University web-site http://knruhs.telangana.gov.in
Application forms received without copies of the required Certificates, Scanned Photo, pass port size photo, without signature at declaration area incomplete applications, applications of ineligible candidates will stand automatically rejected.
Note 1) The Orders issued from time to time by Government with regard to Admissions shall apply.

2) Provisional merit list will be prepared based on marks in the qualifying examination as up-loaded by the candidates. Final merit list will be decided after verification of Original Certificates at Help-Line Center as per the schedule displayed on KNRUHS web-site .
3)All further notifications with regard to merit list, schedule of verification of Original Certificates and on-line counseling will be notified on KNRUHS web-site. No individual intimation will be sent. Candidates are informed to check the KNRUHS web-site from time to time for further information on admissions.
To view the official notice, click on the following link: