GSVM Medical College 2nd Year MBBS Student Suspended over Allegations of Ragging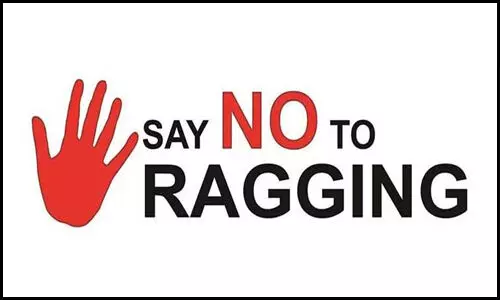 Kanpur: The authorities of Ganesh Shankar Vidyarthi Memorial (GSVM) Medical College have recently suspended a second-year MBBS student after a first-year medico (Para II) approached the Anti-Ragging helpline of the University Grant Commission (UGC) for help.

The medico has alleged that his senior used abusive language at him on Sunday night and the incident left him disturbed. As soon as he approached the Anti-Ragging helpline, UGC registered the complaint and immediate informed the Director, General Medical Education, DM, SSP, and college administration about the matter.
Taking immediate action, the college authorities have suspended the second-year student from class and hostel till the completion of the probe into the matter.
Also Read: Alleged mismanagement, black marketing of Remdesivir in Kanpur Medical College, probe ordered

As per the latest media report by the Times of India, the incident took place late Sunday night, when the senior student allegedly used abusive language on the first year medico. Anticipating problems, the medico approached the Helpline through his mobile at around 12.30 a.m.

The medico has alleged in his statement that the incident of abuse by the senior left him stressed and disturbed till late at night hours.
UGC registered the complaint and alerted the college authorities and other administrative officers regarding the same, adds TOI.
Jagran adds that soon the warden and the proctor of BH-5, the medico's hostel, reached there, and they got to know that the senior student lives at BH-1. On Monday afternoon, the anti-ragging committee of the institute including the Principal called both the students and listened to their sides of the story. Following this, the committee suspended the senior student till the completion of the probe.
"We are strictly against any form of ragging in the college and shall not tolerate such incidents," said Principal of the college, Prof. Sanjay Kala, adding that directions have been given to the anti-ragging committee for probing the matter and submitting a report regarding the same.
Back in 2019, GSVM medical college had experienced another violent incident of ragging where junior resident doctors attached to the institute's surgical department allegedly created ruckus at the campus hostel in an inebriated state.
Medical Dialogues had reported about the incident where during their drunken bid, the junior resident doctors went to the Medical College's Boys Hostel and ragged the Post Graduate (PG) medicos. They allegedly dragged the PG medical (MD/MS) students out of their rooms, beat them brutally and push them off the stairs, hurting them severely. Some of the bikes and chairs were also broken by during the incident.
Also Read: GSVM Medical College Kanpur: Junior ResidentsAllegedly Beat Up PG Medicos
Source : with inputs