Online lectures for medical students: MUHS releases schedule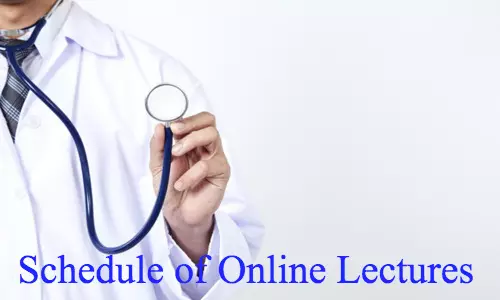 Mumbai: The Maharashtra University of Health Sciences (MUHS) has released the schedule for online lectures for medical students.
It is hereby informed to all the concerned colleges/students that Online Lectures are scheduled as mentioned below.
The participant can join the online lecture by entering the Zoom Meeting ID through Zoom App, which can be downloaded from Google Play Store and Apple App Store. As the limited participants can able to join the lecture, other students who are not able to join the lecture can view a video recording of the same lecture from YouTube Channel "MUHS Learning". The participants are also requested to "Mute Audio" and "Disable Video" while the lecture is in the process; failing which the respective participant will be removed from the lecture and another student will be given chance to participate in the lecture.

Schedule of Online Lectures
Sr.

No.

Name of Faculty

(Subject) Topic

Date and Time

Zoom Meeting ID

1

Dr Sneha Bhosale

Y.M.T. Hom. Medical College, Navi Mumbai (9322506976)

(Organon)

Symptomatology – S. Close

17/04/2020

11:30 am to

12:30 pm

2

Dr Prashant Khaire L.M.Fs Hom. Medical College, Chinchwad, Pune (9960034500)

(Hom. Meteria Medica)

Drug Picture - Lachesis

17/04/2020

1:30 pm to

2:30 pm

3

Dr Aparna Baldota L.M.Fs Hom. Medical College, Chinchwad, Pune (9270699694)

(Repertory)

Card Repertories

18/04/2020

11:30 am to

12:30 pm

4

Dr. Nimish Mehta

Smt. C.M. Patel Hom. Medical College, Mumbai (9820170918)

(Organon) Aphorism 7-8 Applied Organon about Totality

18/04/2020

1:30 pm to

2:30 pm

5

Dr. M. M. Niturkar

K.S.P.M.s Vasantrao Kale Hom.

Medical College, Latur (9421522141)

(Hom. Meteria Medica)

Drug Picture - Belladonna

20/04/2020

11:30 am to

12:30 pm

6

Dr. Manjusha Narwadkar

P.D. Jain Homoeopathic Medical College, Parbhani (9422112658)

(Pharmacy) Preparation of Mother Tincture

20/04/2020

1:30 pm to

2:30 pm
Sr.

No.

Name of Faculty

(Subject) Topic

Date and Time

Zoom Meeting ID

7

Dr. Santosh K. Mahanavar, Sonajirao Kshirsagar Hom. Medical College, Beed (9420015559)

(Obstetrics and Gynaecology) Fundamentals of Reproduction

21/04/2020

11:30 am to

12:30 pm

8

Dr. Ajay P. Aserkar

Dhondumama Sathe Hom. Medical College, Pune (9860722334)

(Organon)

Record-Keeping according to Dr J. T. Kent

21/04/2020

1:30 pm to

2:30 pm

9

Dr. Saroj R. Sawant Hausabai Hom. Medical College, Jaisingpur, Kolhapur (9423281119)

(Hom. Meteria Medica)

Drug Picture – Arsenic

22/04/2020

11:30 am to

12:30 pm

10

Dr. Sachin Bhosale

Sawkar Hom. Medical College, Satara (9890740222)

(Organon)

Concept of Miasm

22/04/2020

1:30 pm to

2:30 pm

11

Dr. Kamalesh V. Gholap Anantrao Kanse Hom. Medical College, Alephata, Dist. Pune (9421773740, 9881643730)

(Physiology)

Sensory Tracts and Motor Tracts

23/04/2020

11:30 am to

12:30 pm

12

Dr. Falguni Joshi

Y.M.T. Hom. Medical College, Navi Mumbai

(9833216032)

(Pathology)

Inflammation

23/04/2020

1:30 pm to

2:30 pm

13

Dr. Prashant P. Tamboli

M. L. Dhawale Hom. Medical College, Palghar (9322283197)

Research Design for Homeopathic Research

24/04/2020

11:30 am to

12:30 pm

14

Dr. Anjali B. Lamture

Y.M.T. Hom. Medical College, Navi Mumbai

(9890668770)

(Forensic Medicine)

Forensic Psychiatry

24/04/2020

1:30 pm to

2:30 pm

15

Dr. Ratneshwar R. Dhanure

K.S.P.M.s Vasantrao Kale Hom.

Medical College, Latur (9423777047)

(Anatomy)

Thyroid Gland

25/04/2020

11:30 am to

12:30 pm

16

Dr. Neha Patel

Smt. C. M. Patel Hom. Medical College, Mumbai (9172060710)

(Repertory)

BBCR

25/04/2020

1:30 pm to

2:30 pm

17

Dr. Jaykumar V. Bhanuse Hon'ble R.R. Patil Hom. Medical College, Sangali

(9850950191)

(Anatomy)

Liver with Applied Anatomy

27/04/2020

11:30 am to

12:30 pm

18

Dr. Shital M. Inamdar

Sawkar Hom. Medical College,

Satara (9850493479)

(Obstetrics and Gynaecology) APH (Antepartum Haemorrhage) with Hom.

Therapeutics

27/04/2020

1:30 pm to

2:30 pm

19

Dr. Chintan V. Mehta

Y.M.T. Hom. Medical College, Navi Mumbai (9869021226)

(Hom. Meteria Medica)

Drug Picture – Iodum

28/04/2020

11:30 am to

12:30 pm
Sr.

No.

Name of Faculty

(Subject) Topic

Date and Time

Zoom Meeting ID

20

Dr. Neelesh V. Thorat Anantrao Kanse Hom. Medical College, Alephata, Dist. Pune (9766587711)

(Forensic Medicine)

Early Signs of Death

28/04/2020

1:30 pm to

2:30 pm

21

Dr. Pankaja S. Katekari L.M.Fs Hom. Medical College, Chinchwad, Pune (9422325523)

(Hom. Meteria Medica)

Drug Picture – Platina

29/04/2020

11:30 am to

12:30 pm

22

Dr. Sneha M. Wagh

Shri Bhagwan Hom. Medical College, Aurangabad (8379845227)

(Repertory)

Kent's Repertory

29/04/2020

1:30 pm to

2:30 pm

23

Dr. Rupali P. Ainapure Mahalaxmi Hom. Medical College, Hospital, Satara (9422038037)

(Anatomy)

Internal Capsule and Circle of Willis

30/04/2020

11:30 am to

12:30 pm

24

Dr. Aarti S. Kognole

Dr. J.J. Magdum Hom. Medical College, Jaysingpur, Dist. Kolhapur (9423977570)

(Repertory)

Study of Mind and Generalities Section of Kent's

Repertory

30/04/2020

1:30 pm to

2:30 pm
PDF Link: https://medicaldialogues.in/pdf_upload/pdf_upload-127375.pdf