PostponeNEET trends again: Aspirants cite clash of several exams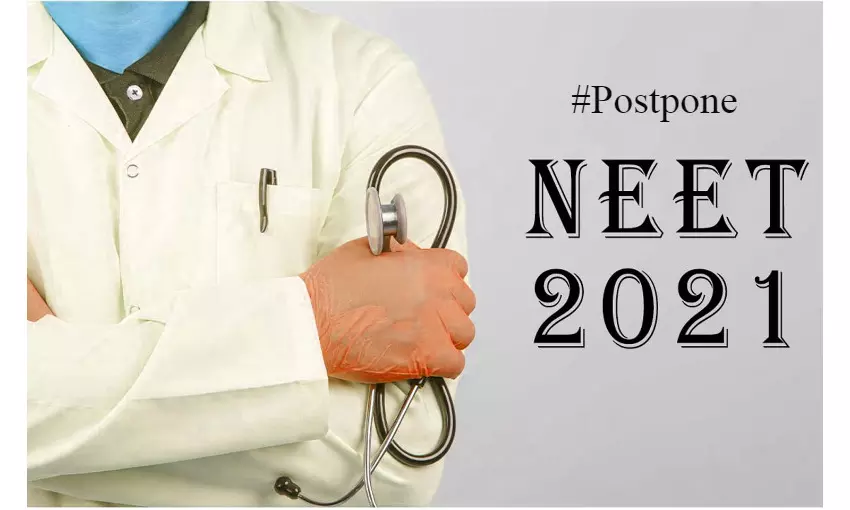 New Delhi: Citing the reason of the clash of dates between several exams, the aspirants for the National Eligibility-cum-Entrance Test (NEET) have started demanding postponement of the exam on social media.

Although the National Testing Agency (NTA) officials and the Union Health Ministry have recently confirmed that there is no plans for postponing the medical entrance test NEET, the hashtags such as #delayNEETUG, #postponeneetUG2021tilloctober have started trending on Twitter.
Demanding that the exam should be postponed till October, the students in their social media posts have mentioned that the NEET entrance examination is clashing with several other examination dates such as CBSE private & improvement and ICAR.
CBSE Class 12 improvement and compartment exams have been scheduled to be held between August 25 to September 15. In fact, the math paper is just the day after the date for NEET UG. Besides, the dates for ICAR AIEEA, the national-level undergraduate entrance exam for BSc courses, OJEE 2021, Maharashtra CET 2021 are also close to NEET UG.
Medical Dialogues had previously reported that NTA had already extended the applications deadline of NEET entrance test, which is scheduled to be held on September 12, up to 09.50 p.m on August 10, 2021.
As NTA has introduced changes in the exam pattern of the exam, giving the candidates the facility of internal choice, the students demanded deferring the exam and give them some time to get accustomed to this new exam pattern.
However, Minister of State, Union Health Ministry, Dr. Bharati Pravin Pawar recently clarified in a written reply in Lok Sabha that "The Union Government does not have any plan to suspend the NEET and other common entrance examinations. The NEET- (PG) & NEET- (UG) 2021 examinations are scheduled to be held on 11th September, 2021 and 12th September, 2021 respectively."
Also Read: NEET 2021 candidates ask for postponement, Health Minister says no such plan

As per the latest media report by DNA India, a similar confirmation came from the side of NTA as well after the testing agency confirmed on August 3 that the date of NEET UG exam would not be postponed.

However, the demand for postponing the exam is still escalating on Twitter and students have cited several reasons for the same. Mentioning that the medical entrance test is clashing with several other examinations and students have too many exams with variety of exams patterns to appear in the month of September, the students have requested the authorities to consider postponing the exam till October.
All India JEE-NEET Students Association in a letter directed to Union Education Minister Shri Dharmendra Pradhan pointed out that the students should be notified about any change in the exam pattern at least six months before the exam. The letter also pointed out that amid severe floods in Madhya Pradesh, if the date for NEET UG registration is not extended, thousands of students of Madhya Pradesh will not be able to appear in the examination.

"Also the exam date is clashing with various other exams of different levels like cbse private & improvement exams. So it'll create a sense of disturbances and confusing situations for the aspirants", pointed out the Association in the letter.
Another letter containing similar content has been directed to the Union Education Minister by NEET-UG Students' Association as well.

"NEET UG exam date is clashing with many other exams. Exam pattern changed suddenly. MBBS session will start late so there is no need to conduct NEET before October," wrote one user on Twitter.
Meanwhile, NTA in a public notice dated 20.08.2021 has notified the candidates about the advance intimation for allotment of examination city for NEET-UG applicants. In that notice, NTA has once again confirmed that the exam is being conducted at different centres located in 202 cities throughout the country and abroad on 12 September 2021 (Sunday) from 02.00 to 05.00 p.m. in Pen and Paper mode.
Pointing towards such notification by NTA, another user wrote on Twitter, "NTA releasing exam location is a clear sign of "stubbornness".They aren't backing off from Sept 12 people. @dpradhanbjp say something to students. For damn sake you're EDUCATION MINISTER and students are literally begging for help."

Tripura Pradesh Youth Congress have also raised their voice on the matter. In a Tweet, they have mentioned, "How can the students appear in NEET UG medical entrance exam in this crisis? It is conducted once only in a year. Every student deserve equal chances to appear exam. Please postpone the date till October."

Source : with inputs