Allopathy Vs Ayurveda Debate erupts as Kerala Doctor Alleges Patient death from Ayurvedic Herbs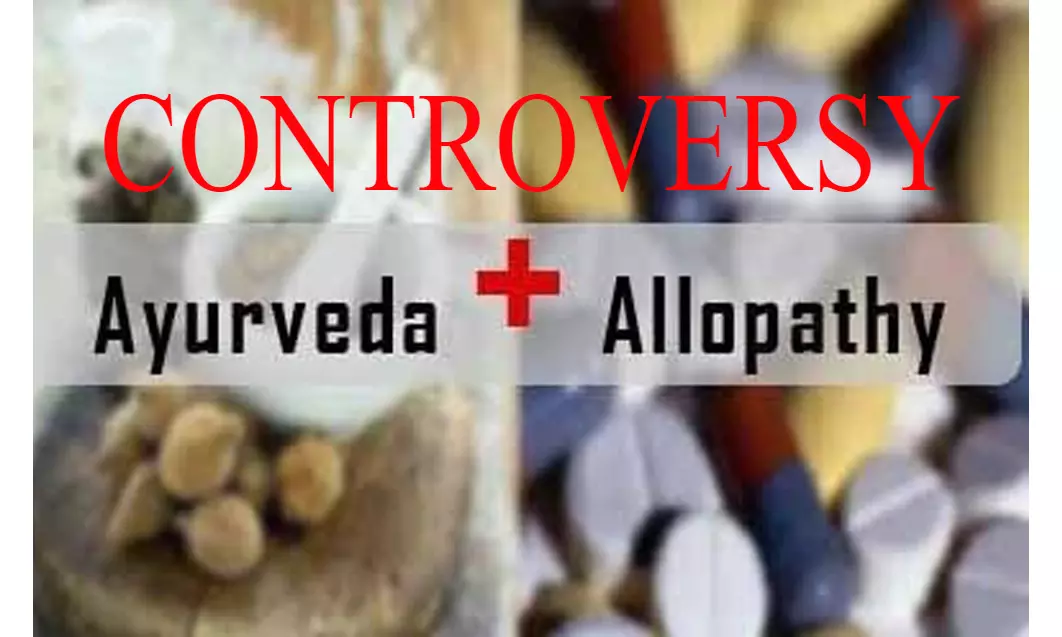 Hyderabad: The controversy surrounding Ayurveda vs Allopathy debate has gained momentum again following a recent Tweet by a Kerala doctor, who alleged that one of his patients died "due to Ayurveda herbals related liver and kidney injury and intercurrent infections, leading to multiple organ failure."

Dr. Cyriac Abby Philips, who is a liver transplant specialist from Kerala, took to Twitter on Tuesday and expressed how a clinically stable person became disoriented and pre-comatose position after consuming some Ayurvedic medicines.
As per the Tweet, the concerned patient was undergoing dialysis, in severe metabolic acidosis (high acid levels in blood), jaundiced and was on mechanic ventilator after consuming some Ayurvedic herbals for 2 months following a prescription made by an Ayush doctor for liver health.
The Tweet also contained pictures of those Ayurvedic herbals which allegedly resulted in the hospitalized condition of the patient.
In an update to the Tweet, on January 12, the doctor further mentioned that the patient died at 4 am "due to Ayurveda herbals related liver and kidney injury and intercurrent infections, leading to multiple organ failure."
Also Read: Submit Original Video, Transcripts of 'allopathy' remark: Supreme Court tells Baba Ramdev

As expected, the tweet made by the Kerala doctor has sparked a lot of discussion and several users even questioned the efficacy of Ayurveda system of medicine in treating patients. Whereas some users claimed that this should be taken before legal platforms, some suggested that it is high time that Ministry of Ayush "stops its Cocktail of #MedicalScience."

"Here is a very sad example of the very real harm that can be caused by alternative medicine. Providers of these treatments like to claim that they are "very safe" or "free of side effects". The reality is often that the side effects are poorly understood but they definitely exist," wrote one Twitter user.
"Many people just feel "natural" "plant based" remedies can't hurt anyone. But anything without study can. May his soul be at peace," read another Tweet.

Meanwhile, while commenting on the matter, a former Additional Director (AYUSH) and Professor in Ayurveda pointed out to Telangana Today that complications are likely to happen both in Ayurveda or Allopathy if the doctor who is prescribing medicines is inefficient.

"I would urge people not to get swayed by claims made by unqualified people on various social media platforms that they can treat any medical condition overnight through a particular Ayurvedic medication. If people decide to try Ayurveda, then they must look for a qualified Ayurveda practitioner and not some quack," the doctor pointed out.
"Any kind of medicine if taken in excess will harm the human body and that's where the role of a qualified and experienced doctor is important. If patients are experiencing a toxic impact of a particular medicine, then it is obvious that the doctor is not qualified and legal action can be taken on such practitioners under the law," he added.
However, in another Tweet, the Kerala doctor clarified that the Prescription was made by a registered Ayurvedic "doc", and not a quack, and the dosing was also as prescribed.
Previously, the debate concerning Ayurveda Vs Allopathy had gained momentum over the Yoga Guru Ramdev's alleged remarks on the efficacy of allopathy in the treatment of COVID-19. This ultimately led to a battle between these two branches of medicines and Medical Dialogues had earlier reported how during the course of this battle, several ugly and defamatory remarks were made, which resulted in a series of FIRs being filed against the "yoga guru" and case proceedings eventually began.
Also Read: Doctors Vs Ramdev: A battle of pathies or Fight for Coronil?
Source : with inputs