Ayurveda doyen Dr P K Warrier dies at 100, PM Modi condoles death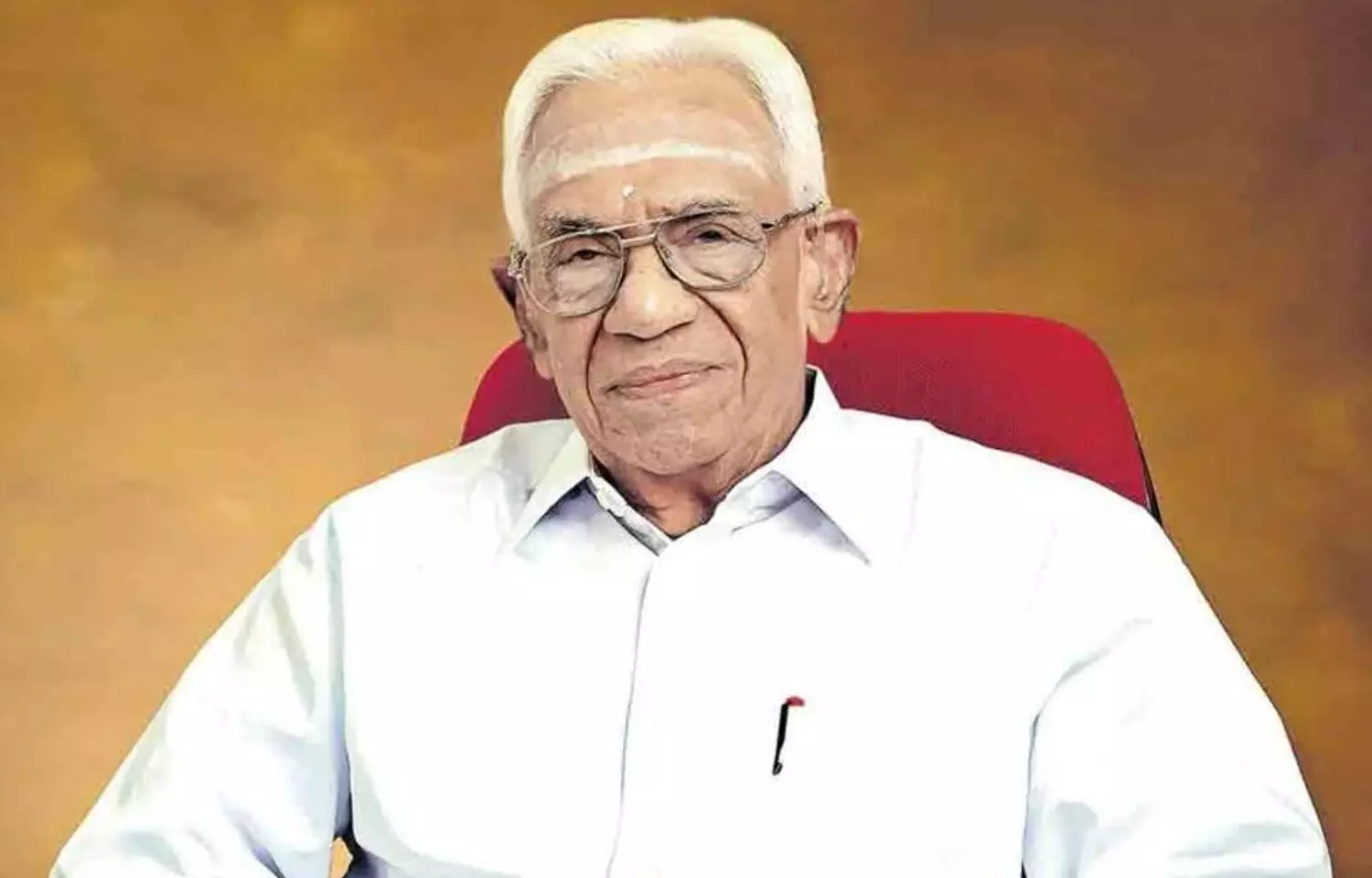 Kottakkal: The doyen of Ayurveda medicines and managing trustee of Kottakkal Arya Vaidya Sala (KAS), Dr Panayambally Krishnakutty Warrier passed away on Saturday at his headquarters at Kottakkal in Malappuram.

KAS sources said Dr Warrier breathed his last around noon. He turned 100 last month and was recovering after a coronavirus infection.
A prominent physician and a visionary who popularized the classical and authentic Ayurveda treatment across the world, Dr Warrier's birth centenary celebrations were held on June 8. In his seven-decade career, the doctor had been instrumental in bringing the renaissance of Ayurveda and the traditional system of medicine.
In his lifetime spanning a century, he treated tens of thousands of patients from across the globe and his patients included former presidents and former prime ministers of India and abroad, reports PTI.
The country had honoured him with the Padma Shree in 1999 and Padma Bhushan in 2010. The renowned Arya Vaidya Sala in Kottakkal and the Ayurveda Medical college flourished and became synonymous with Ayurveda after Dr Warrier took over the reins of the institution decades ago. The doctor was recovering after being infected with coronavirus, reports
The New Indian Express
.
Born to Sreedharan Namboodiri and Panniyampilly Kunhi Warrisyar on June 5, 1921, Panniyampilly Krishnankutty Warrier (PK Warrier) had his schooling in Kottakkal and joined KAS at the age of 20. Initially, Warrier wanted to pursue engineering education, but his family motivated him to learn Ayurveda.
However, in 1942, he was attracted to the freedom struggle during the Quit India movement and abandoned Ayurveda studies under the tutelage of his uncle and founder of KAS Vaidyaratnam P S Warrier. Eventually, Dr Warrier returned to studies after he realized that active politics was not his cup of tea. He joined as a factory manager in 1947 at the centre, which had been founded by his nephew P S Varier in 1902. Soon after completion of his studies, he joined the KAS as a trustee at the age of 24 in 1953 after the death of his elder brother PM Varier in an air crash.
A year later he established a nursing home and introduced Panchakarma and other Kerala special therapies. That care centre, the first of a kind in the traditional healing system, later bloomed into a leading research centre. The traditional system of treatment introduced by him received national attention after then Indian President V V Giri flew all the way to Kottakkal village in 1970 to get ayurvedic treatment under Warrier.
He was an able orator and author, and after modernizing the Indian traditional healing system, Warrier visited all across the globe as a representative of Indian Ayurveda. In 2018, Warrier initiated a clinical research centre at the Vaidya Sala so that Ayurveda can advance to address the future health crises of the country. He also concentrated on the drug manufacturing and advanced cultivation of medicinal plants taking note of the issue of the supply of herbs.
Warrier had been an active member of the Kerala Sasthra Sahitya Parishad (a people's science movement), state library council, and temple protection committee for a long period of time. Acknowledging the contribution of the doctor, Prime Minister Narendra Modi tweeted, "Saddened by the passing away of Dr. PK Warrier. His contributions to popularise Ayurveda will always be remembered. Condolences to his family and friends. Om Shanti."
Governor Shri Arif Mohammed Khan condoled the sad demise of the doyen of Ayurveda. "As a physician, he was committed to the scientific pursuit of Ayurveda. He will be remembered for his matchless contribution to the modernization of Ayurveda. As a humanist, Dr. PKWarrier envisioned a life of good health&dignity for all. His demise is a great loss for medical sciences. My heartfelt condolences to his family&AVS fraternity. May his soul attain Mukti (salvation)."
Source : with agency inputs