Conduct Exams or Grant Promotion: PG Resident doctors to go on indefinite strike in Rajasthan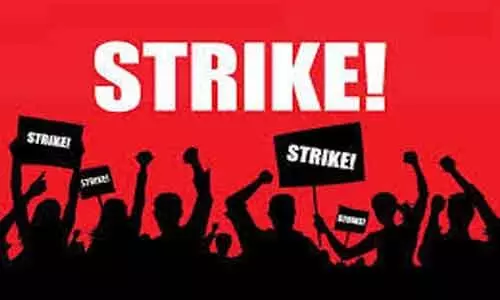 Bikaner: The Post Graduate (PG) Resident Doctors of Sardar Patel Medical College have threatened to start an agitation if the authorities do not consider their series of demands including the grant of one-time relaxation by promoting them or conducting their exams within a month.

The final year PG medicos who have already served 3 years of residency sought that their current service duration should be counted as academic senior residency period so that they don't lose months of their academic calendar.
The doctors have decided to go on a strike if their demands regarding residency issues are not resolved by 17th May. The Resident Doctors Association of SP Medical College has also supported the demands of the doctors who are currently pursuing their final year of MD and MS.
As a part of their agitation, the association members and PG doctors decided to wear a black ribbon to their duties as a symbolic protest from 11 to 13th May. Moreover, they will hold a one-hour long strike from 14 to 16 May. However, if the authorities do not take any step even after the strike, they will go on an indefinite strike from 17th May onwards.

The association has recently submitted a letter to the State Health Secretary and raised a number of demands. The association has demanded that the exams of the PG doctors from batch 2018 should be conducted within the month or the authorities should at least grant them a one-time relaxation by promoting them to ensure that their career does not suffer.
The in-service residents have already completed three years of their residency. Hence, the doctors demanded that the authorities should grand them one-time relaxation and should consider their further work as a part of senior residency so that these few months of their services can be used to appear in UPSC or RPSC assistant professor exams.

The association also pointed out that in service resident doctors, after the completion of three years of residency should be treated as eligible to apply as a senior resident doctor in any medical college of the state so that they can also get six increments as per the norm. Moreover, the association has also urged the authorities to take cognizance of the hardship which the PG residents had to endure in securing a study leave. Highlighting that the resident doctors are working day and night in order to contain the pandemic and are getting themselves infected in the process, the association demanded that they should be given a 7 days quarantine leave.

The resident doctors also requested that their family members should get vaccines free of cost. Moreover, the state government has recently announced a COVID incentive of Rs 5,000 for the resident doctors and it should be issued immediately. The association suggested that hard duty allowance and stipend for the doctors employed in COVID duty should be implemented soon like in the states of Bihar, Orissa, Karnataka, Maharashtra.

Talking to Medical Dialogues, Dr Mahipal Nehra, President, Resident Doctors Associaton, S P Medical College said, " Now that NEET has been postponed for months and a fresh batch of PG residents will not appear any soon, the final year PG residents are most likely to get affected by it. It will have an adverse impact on their career. Hence, we are demanding that they should be promoted as a one-time exception under the current circumstances. Despite serving for 3 years, they are most likely be deprived of their salary for the next 4 months though they will perform, all the duties of resident doctors."

The doctor also pointed out that the system of securing a study leave is so complex that it takes a toll on the resident doctors. Batch 2019 and 2020 residents are suffering to get approval for their study leaves from 2 years. Hence, authorities should properly determine the responsibility and should take action to approve study leaves soon. "As the study leaves are not approved for more than a year, they don't get their salaries also and they had to keep visiting authorities to get their salary. If authorities don't take note of our demands, we will be forced to stage protest", stated the doctor.