FORDA Writes to NMC over Draft Regulations on PG Medical Education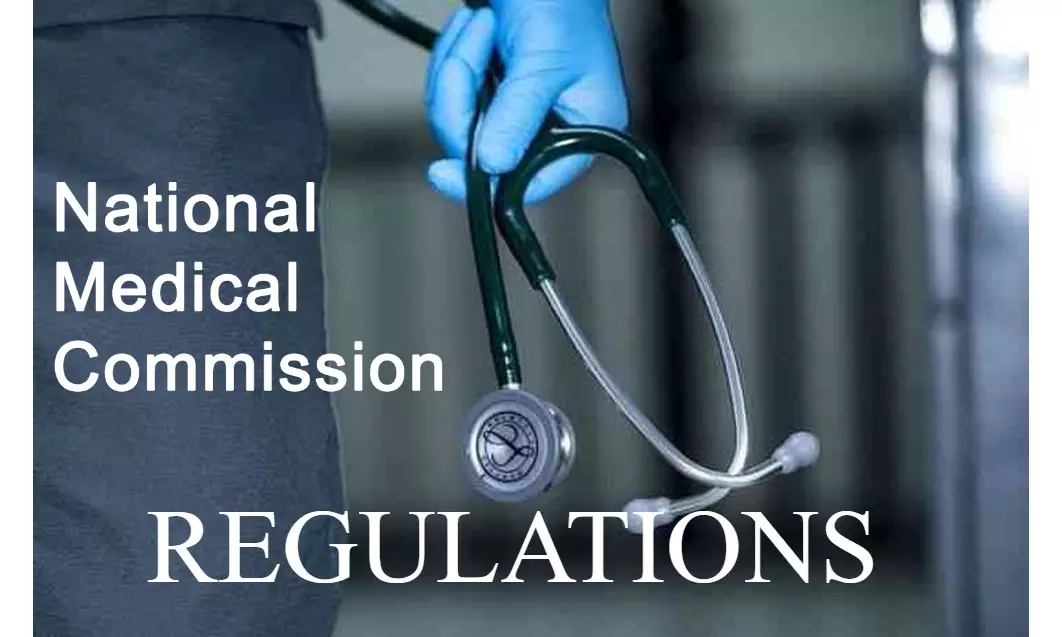 New Delhi: Offering their inputs on the recent Draft Regulations on Postgraduate (PG) Medical Education, the doctors under the umbrella of the Federation of Resident Doctors Association (FORDA) have recently reached out to the National Medical Commission (NMC).

In their letter directed to the Apex Medical Body, NMC, the Association has focused on several points including the National Exit Test (NExT), M.Ch Training Period, Super-Specialty Training, Common Course Work, District Residency Programme, and requirements for pursuing Super-Specialty training.
Medical Dialogues had recently reported that the National Medical Commission (NMC) released the Draft Postgraduate Medical Education Regulations 2021. The Draft focused on several issues including the nomenclature of PG courses, Selection of PG students, Common Counseling process as envisaged by NMC, inclusion of District Residency Programme among others.
Already, Indian Medical Association (IMA) has strongly opposed the Bill and has sought a withdrawal of the same. FORDA too, in its letter directed to NMC, has suggested several inputs on the Draft.
Also Read: IMA demands withdrawal of NMC Draft on PG Medical Education Regulations
National Exit Test:
Referring to the Clause 10.1 D of the Regulations, FORDA has pointed out that even though the section has mentioned that the marks for the test shall remain valid for a period of three years, it hasn't mentioned anything regarding the process of improving the marks within the said timeline.
"The procedure for improving the marks within that period has not been mentioned, if a candidate desires to. The procedure needs to be clarified in the guidelines," FORDA has mentioned in the letter to NMC.
Also Read: NEXT to be gateway to PG medical admissions, score will be valid for 3 years: NMC new draft guidelines

Training Period of M.Ch candidates in Neurology and Neurosurgery:

FORDA has pointed out that Clause 12.2 has mentioned about extending the training period of M.Ch candidates in Neurology and Neurosurgery from 5 years to 6 years.
Unable to find any justification behind such a decision, FORDA has mentioned, "While the curriculum has been designed for 5 years and has been functional since years, no justification has been provided regarding this extra year of training and demands amendment."
Super Specialty Training:
The letter further refers to Clause 17. 9 of the Draft which mentions that the period while pursuing Super Specialty training by Post-Graduate students including in-service Post-Graduates will not be counted in Teaching Experience.
Opposing such a decision, the association has mentioned in its letter, "We strongly oppose this regulation on the ground that Resident Doctors undergoing Super Specialty training, also train Post-Graduate as well as Under-Graduate students. Being involved in academic activities, their training period should be counted as Teaching Experience."
Common Course Work:
Section 17.14 of the Draft mentioned about the Common Course Work. As per the rules, all the PG students are supposed to undertake mandatory Courses in Research Methodology, Ethics, Basic Cardiac Life Support Skills (BCLS) within one year of commencement of the Batch along with training for Awareness in basics of management and audit and certain other courses.
"In order to improve the training quality and to ensure the desired outcomes the timeline for undergoing these Courses needs to be relaxed. Also, it needs to be mentioned that the Institutions should ensure that the Post-Graduate students are relieved timely from their respective Departments for undertaking the prescribed Courses within the stipulated timeline," mentioned FORDA in their letter.
Also Read: New NMC guidelines lay down Common Course Work For PG Medicos

District Residency Programme (DRP):

Regarding the District Residency Programme, as mentioned in the Clause 17.15 of the Draft, the FORDA opined that the responsibility for arranging accommodation and transportation should be shared among the States and the concerned institutes.
"It should also be the responsibility of parent Institution along with State Government and the Posting of students should be done only after ensuring availability of the same," read the letter.
Also Read: NMC Draft Regulations details District Residency Programme for 3 Months, Here is what they say

Requirements of MD/MS Students for Pursuing Super Specialty Training:

Referring to the Annexure 2 of the Draft that mentions the prior requirements of PG (MD/MS) students for pursuing Super Specialty (D.M/Mch) training, FORDA in its letter to NMC has pointed out the shortcomings.
a ) MD Radiation Oncology (Radiotherapy) has not been mentioned as a feeder branch of D.M Medical Oncology and needs amendment. Chemotherapy for malignancy is a part of their curriculum and Radiotherapy Post-Graduates deal with patients of malignancy all throughout their training period. This makes them automatically eligible for pursuing Super Specialty training in Medical Oncology.
b) M.D Pathology and M.D Biochemistry have not been mentioned as feeder branches of D.M Clinical Haematology. While their curriculum justify their inclusion as feeder branches the imparted trainings of Post-Graduate students in Pathology and Biochemistry also build up a strong clinical base. Additionally, Clinical Haematology curriculum includes an extensive understanding of Laboratory Medicine which is already a part of both the aforementioned specialties, clearly rationalizing their inclusion as feeder branches.
c) M.D Cardiology has been mentioned as a feeder branch of D.M Cardiology and needs amendment. Cardiology itself being a Super Specialty branch, no Broad Specialty course in the same exists currently. In fact, MD Pediatrics should be included as a feeder branch along with M.D Medicine.
Offering their inputs, FORDA has requested NMC to consider the suggestions and take necessary measures for amending them before finalizing the Postgraduate Medical Education Regulations 2021.
Speaking to Medical Dialogues regarding the issue, President of FORDA, Dr. Manish said, "While we appreciate NMC's efforts in preparing the Draft, we also feel that there are some of the points in the Draft which need improvisation. Issues like uncertainty over the NExT exam or extended time period for M.Ch training might cause the PG resident doctors anxiety when they are working day and night to fight the pandemic."

Also Read: New NMC Regulations Spell Out DM, MCh Feeder Qualifications, Selection Procedure