Kolkata: Private hospital senior gynaecologist slapped by patient attendants on giving bad news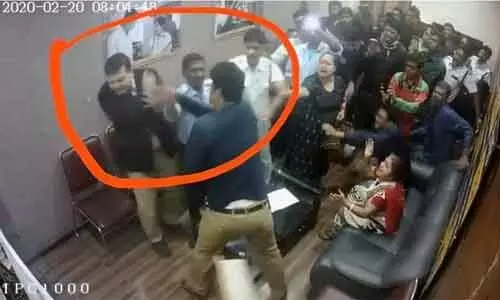 Kolkata: In yet another incident of violence against doctors, a senior gynaecologist at Calcutta Medical Research Institute (CMRI) Hospital was allegedly slapped by the husband of a deceased patient after he conveyed the news of the patient's death to him. The video of the said incident has apparently gone viral on social media platforms, drawing strong opposition from the medical fraternity.

According to hospital sources, the patient was admitted to the hospital under the care of the gynaecologist for C-section. After the procedure, both the mother and the child were in stable condition. However, the patient's health deteriorated early this morning following which she died of cardiac arrest.
The video clearly shows that when the doctor, who tried explaining the situation to them, the husband of the deceased patient got up from his seat, hurled abuses and slapped him in the presence of several people and police personnel. The doctor got pushed back onto a chair.
The Video
Read also: NO STOP to Violence: Now AIIMS Delhi Doctor assaulted for treating High Risk Patient on Priority
"This is an unfortunate incident. The doctor, who tried to explain the situation to the family members and also suggested a postmortem, was assaulted. We express our condolences to the family. However, physical violence is unacceptable," the spokesperson at the hospital told PTI. The hospital staff informed that the kin also created havoc in the hospital premises.
Meanwhile, the family of the deceased patient accused the doctor of medical negligence and decided to take legal action. "We will not seek any compensation, but take the legal route... We will also approach the medical council," they stated.
Read also: Maharashtra: Doctor victims of violence can now record their cases, get help with IMA registry
Assault on medical professionals has proven to be an uncontrolled horrific menace which doesn't seem to stop. These rampant instances of violence portray nothing but the lack of trust of patients on their doctors and that medical professionals are being made the scapegoat of the public frustration.
Source : with inputs