Man arrested for manhandling On duty BMC doctor over Covid-19 testing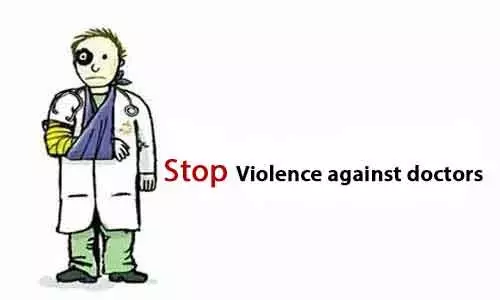 Bandra: A Senior on-duty BMC doctor was manhandled after an altercation broke out between the duo for suggesting the man undergo a Covid-19 test as he showed high temperature and had recently travelled from another state.
The Bandra Government Railway Police (GRP) has already arrested the 22-year-old man for manhandling the medical practitioner.

According to Bandra GRP, the accused returned to Mumbai from Uttar Pradesh along with his family. As he travelled via a long-distance train and came back from another state, following the protocols, the BMC staff appointed at the platform checked him along with the other passengers who were coming from other states.
However, the accused and his family were stopped at the terminus as his body temperature was elevated. According to a recent media report by The Indian Express, the 52 years old doctor who was on duty at that time advised the accused to undergo an RT-PCR test as dictated by the protocols.
Instead of cooperating with the doctor, the accused clearly refused to undergo the test. Following his refusal, a heated argument took place between the doctor and the accused after which he allegedly manhandled the doctor in order to escape the scenario. His kin also got involved in the fight but managed to escape the scene by the time the police arrived. Police placed the accused under arrest for manhandling an on-duty medical practitioner.
Commenting on the case, Vilas Choughale, senior police inspector, Bandra GRP told the
Indian Express
, "The accused is a Ghatkopar resident. He was asked to take a Covid test due to high body temperature but he refused to get tested. This led to the argument. We arrested him and got his custody from magistrate court for two days."
The government already cleared an Ordinance bringing stricter punishment on violence against doctors. The Union cabinet has amended the Epidemic Diseases Act, 1987 through an ordinance in order to ensure the safety of health workers at a time when there has been a spate of attacks on them. Any violence against health workers may now bring steep fines and even imprisonments of up to seven years.
Source : with inputs