MoS Dr Bhagwat Karad attends to medical emergency mid-air, PM Modi lauds gesture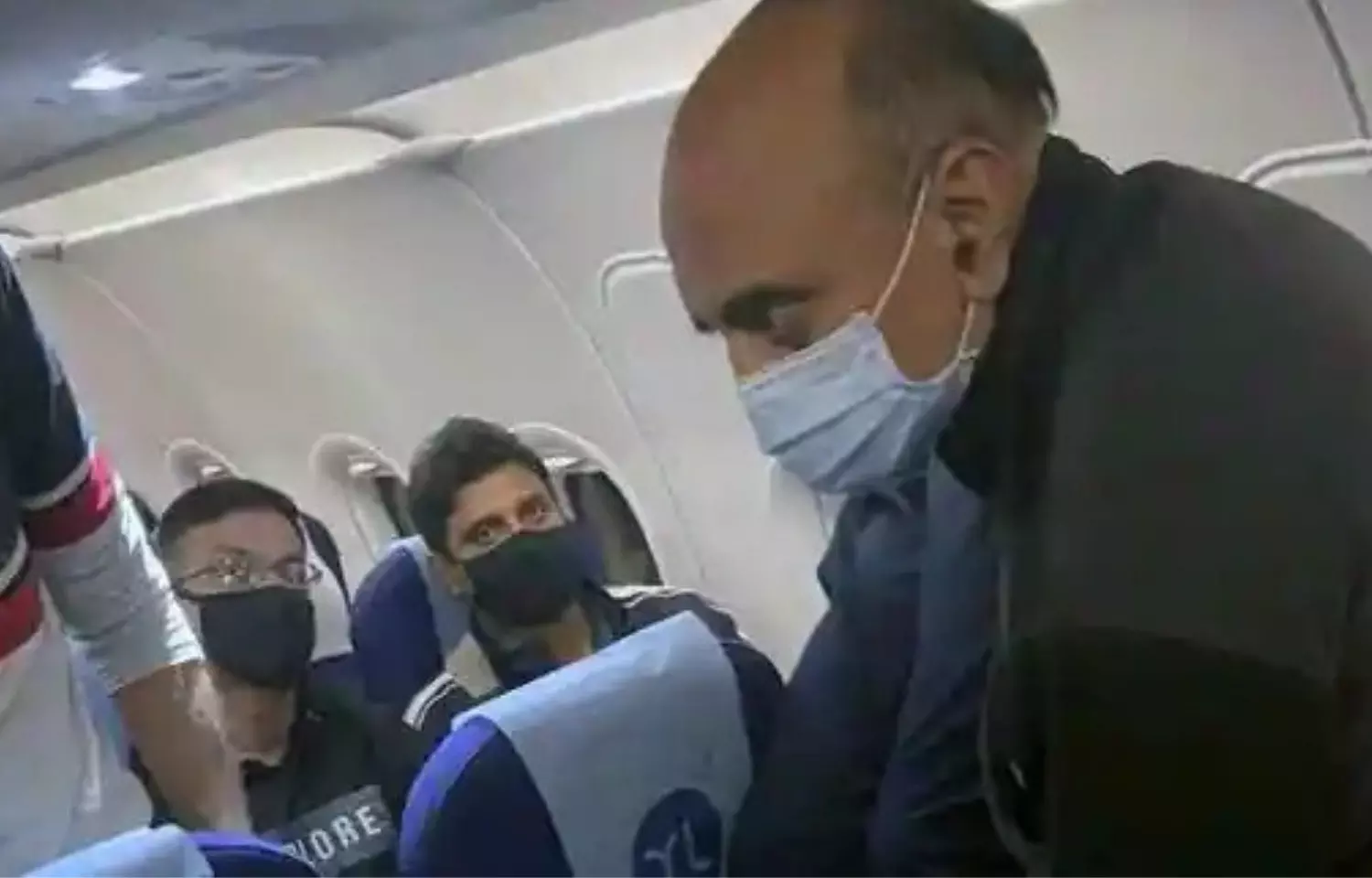 New Delhi: Union Minister Dr Bhagwat Karad, who is a pediatrician by qualification, recently made headlines after he helped a co-passenger who was feeling uneasy on board a Delhi-Mumbai IndiGo flight on Tuesday.
Dr Karad's gesture of providing first aid to a co-passenger on an Indigo flight after the passenger complained of a giddiness mid air was appreciated by netizens and even Prime Minister Narendra Modi lauded him.
Also Read: Doctor, cabin crew help woman deliver Baby mid-air on IndiGo flight

A release from the office of the Union Minister of State (MoS) for Finance mentioned that after the passenger complained of giddiness due to a blood pressure issue, the minister reached out and provided first aid to the passenger, reports the Free Press Journal. The release further added that Dr Karad helped the patient after he fell down.
According to a media report in Live Mint, the minister was travelling from Delhi to Mumbai on IndiGo flight number 6E 171. A passenger's health in the plane started worsening around an hour after the plane had taken off. Following that, the cabin crew asked if there was a doctor in the flight who could help out. The minister responded to this. He gave the patient first-aid and administered injections to the passenger which were available in the emergency kit of the flight.
The passenger was seen stretched out across a row of seats and the Union Minister was seen helping him, in photographs released by the ANI.
Dr Karad was quoted as saying by ANI, "Patient was sweating profusely & had low BP. I removed his clothes, raised his legs, rubbed his chest and gave glucose. He felt better after 30 minutes. "
The minister's action went viral on social media.

The IndiGo airlines issued a statement offering their gratitude and sincere appreciation to the minister. They added that the minister's voluntary support in helping out a fellow passenger is inspiring.
The statement read, "Our heartfelt gratitude and sincere appreciation towards MoS for ministering to his duties non-stop! @DrBhagwatKarad your voluntary support for helping out a fellow passenger is ever so inspiring. "
The minister's action received praises from the Prime Minister, Narendra Modi who said, "A doctor at heart, always! Great gesture by my colleague".
Responding to the PM's tweet, the Dr Karad said, "Thank you, Hon. Prime Minister @narendramodi ji. I am truly humbled and hope to translate your outstanding commitment and dedication to our country and citizens in my own duties. Following your guidance to serve people through "Seva aur Samarpan". Jai Hind. "

Dr. Bhagwat Karad is the Union Minister of State for Finance. He is a Rajya Sabha member from Maharashtra, who also owns several hospitals in Aurangabad and has served in various medical positions.

NDTV reports that the minister served as the mayor of Aurangabad before getting elected to the Rajya Sabha.
Besides the PM, Dr Karad was praised by other union ministers, celebrities and people as well through social media.
Also Read: Announcement on flights, trains to mark 100-crore Covid-19 doses: Mandaviya
Source : with agency inputs