NO exams: FORDA demands direct promotion for MD, MS, DNB final year students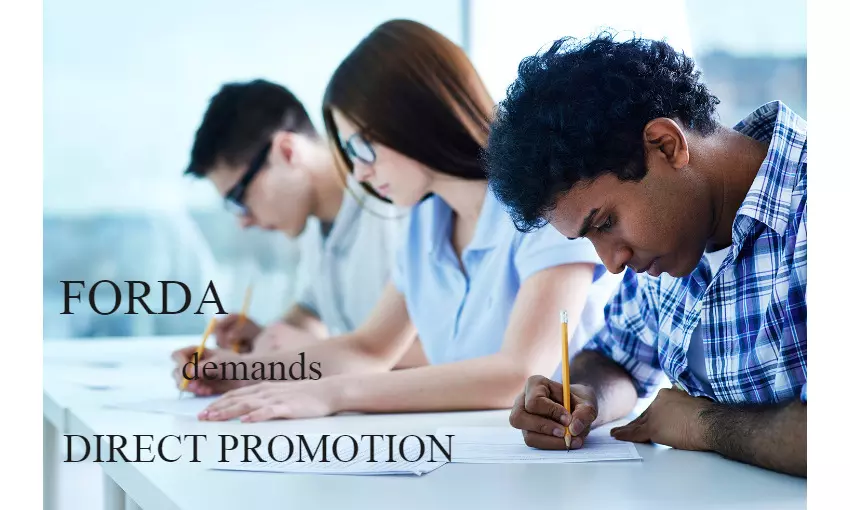 New Delhi: Pointing out the extraordinary circumstances faced by the country due to the second wave of the Covid-19 pandemic, and citing covid duties as the reason for derailed preparations, the Federation of Resident Doctors' Association (FORDA) has recently written to the National Medical Commission (NMC) demanding one-time relaxation and general promotion of the final year PG students, in both theory and practical examinations.

This comes after the National Medical Commission (NMC) notified conducting final year postgraduates (MD/MS/Diploma/DNB) exams at various medical universities in different parts of India.
In the letter dated 28.04.2021, FORDA stated, "The final exams are supposed to evaluate the Theoretical and Practical knowledge of the students. However, the Resident doctors have already shown their competency by serving their Nation in this Epidemic."

"The Medical fraternity stands together in this National response to Covid to the pandemic. Doctors and other Healthcare workers are putting in their best efforts to provide adequate patient care in this testing time. Many of us have contracted the infection in the line of duty and some have even unfortunately succumbed to it. Resident doctors are at the frontline of this war and tirelessly working at the ground level. Amidst this epidemic exam of the final year postgraduates (MD/MS/Diploma/ DNB) are going to be conducted by various Medical Universities in different parts of the Country as per notification of NMC," stated the letter addressed to the chairman of NMC.
In the letter signed by Dr Partha Bora (President of FORDA), the resident doctors cited their inability to prepare for the examination due to Covid-19 duties. "Final year exams require months of rigorous and uninterrupted preparations but this time their preparation is were derailed following posting in covid duties and many have tested Positive for Covid 19."
"Under this extraordinary circumstance for the nation, we hereby humbly request you to provide one-time relaxation and general promotion of the Final year PG students, in both theory and practical exams," pleaded the PG medical students in the letter.
A copy of the letter has been sent to the Honourable Union Minister Health, Dr Harshvardhan, and the Honourable Secretary Health.
Sharing the letter on the Twitter handle, FORDA wrote, "Requesting @NMC_IND @profplal @NBE_DNB for general promotion of FINAL yr PG's(MD/MS/Dip/DNB)in this time of pandemic where rigorous covid duties and service to the nation have already derailed their preparation. It will also strengthen the manpower during this crisis of HCW's."
Also Read:PG Students can continue as Residents until fresh batch joins: NMC