Traumatised after being assaulted by villagers, Doctor decides to quit profession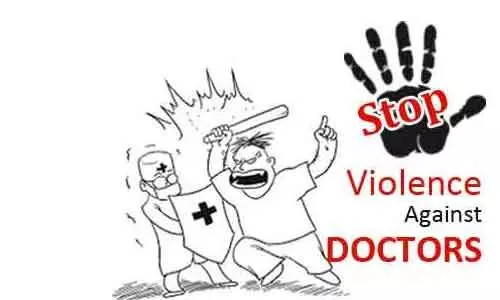 Patiala: An assault by villagers for following COVID protocols has disturbed a 39-year-old medical officer of the Patiala Health Department to the extent that he is considering calling it a day and quit the medical profession.

The medical officer, posted in the Dhudhan Sadhan block was allegedly beaten up during the cremation of a Covid victim at Chahut village on Tuesday afternoon. A timely intervention by a few villagers helped the doctor to flee to safety.
The case has brought back the focus on a "forgotten pandemic" of violence and harassment against Health care workers. The ongoing violence during covid 19 against health care workers in hospitals and the community is proving to be a major detrimental factor in the response of the medical fraternity towards the invisible enemy the country is fighting.
The incident reportedly happened during the cremation of a 55-year-old COVID victim in the village.
According to Senior Medical Officer, Dudhan Sadhan, "The officer was beaten up after he objected to the taking of photos of the dead Covid victim because it is against the protocol."
"I don't want to continue with my job," the medical officer told The Tribune. "I am extremely traumatised. If this is what I have to face while doing my duty, then I better call it a day," added the distraught doctor.

The doctor further mentioned that he was disappointed that no action had been taken so far in the incident despite a complaint to his seniors.
While the SMO maintained that verbal information has been given to the Station House Officer who has assured her of action but the Julkan SHO said he was not aware of the incident and he could take action only after a complaint.
The daily quotes the Patiala Civil Surgeon saying, "The SMO told me he had already filed a complaint."
Source : with inputs