Global Indian Physicians Congress 2021 organized by GAPIO to go Virtual on February 27, 28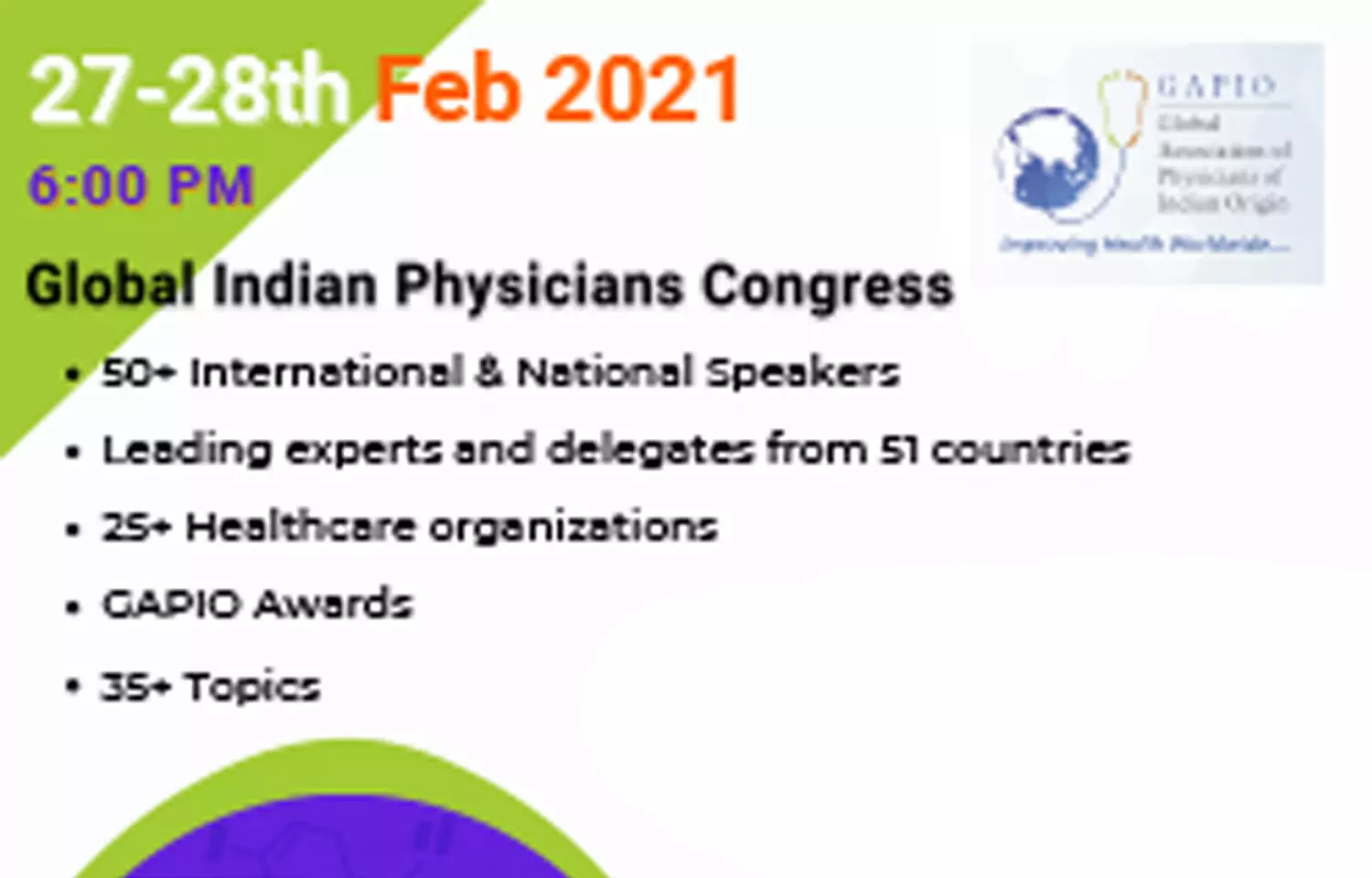 New Delhi: Leading experts and delegates of Indian origin from 51 countries across the fields of medicine will convene virtually this year for the "Global Indian Physicians Congress" organized by the Global Association of Physicians of Indian Origin (GAPIO). Adapting to the present unprecedented times of a raging pandemic, the congress will be held virtually from 27-28th February 2021. Participants will get the opportunity to learn, network, and discuss various developments and tools that will help them achieve the highest professional standards.
Global Association of Physicians of Indian Origin (GAPIO) is a non-profit organization established in 2011. Padma Vibhushan, Dr. Prathap C Reddy, Chairman of Apollo Hospitals Group is the Founder President of GAPIO along with Dr. Sanku Rao – Past President of AAPI, USA and Dr. Ramesh Mehta – President of BAPIO, UK. The organization aims to bring together 1.4 million physicians of Indian origin in the world on one professional platform. This substantial workforce of physicians is a valuable resource, which can help to mobilize significant developments in healthcare globally as well as in India.
GAPIO has a presence in 53 countries with members belonging to various medical specialties and super specialties which includes several Padma awardees, twenty Dr. B C Roy Awardees, recipients of National and International awards.
GAPIO is dedicated to its vision to "Improving Health Worldwide", by organizing various community service projects in different parts of the country. These community service projects are organized to provide free basic healthcare to the poor, needy and deserving. The prime objective of the organization is education, Clinical Knowledge Development, and soft skill enhancement in doctors apart from Charity.
As the world continues to reel under the effects of the pandemic, it's extremely encouraging to witness how the best brains across medical specialties from around the world are adapting to a paradigm shift in healthcare and coming together under the umbrella of GAPIO to continue their efforts towards a shared goal toreduce health inequalities and alleviate suffering globally.
Speaking to Medical Dialogues, Dr. Prathap C Reddy, Chairman Apollo Hospitals Group and Founder President of GAPIO said, "COVID-19 has brought healthcare innovation to the forefront and has taught us many lessons as to how healthcare would be delivered in future. This congress is gratitude to India's invaluable contribution to global healthcare in the form of highly talented doctors who form a valuable resource. Apart from the COVID-19 pandemic, India and the world at large are facing an epidemic of non-communicable diseases - NCDs like diabetes, heart disease, and cancer. We seek the involvement of everyone to overcome this biggest challenge to mankind posed by COVID-19 and NCDs".
Dr. Anupam Sibal, Group Medical Director at Apollo Hospitals, Senior Consultant Paediatric Gastroenterologist and Hepatologist, and President of GAPIO said, "The Indian diaspora has a wealth of healthcare talent. They can contribute to change the healthcare delivery in India to face the challenge of NCDs".
Dr. Nandakumar Jairam, CEO cum Chairman of Columbia Asia Group of Hospitals and Vice President of GAPIO said, "Research and Innovation can improve the delivery of healthcare in India. The country needs to take up-skilling of doctors, nurses, and technicians in a big way to meet the shortage of healthcare workers in India".
Dr. Sudhir Parikh, Chairman and Publisher of Parikh Worldwide Media and ITV Gold 24x7 TV Channel in USA and Secretary-General of GAPIO, said "Together we will make a constructive and tangible way of ensuring that healthcare is affordable and accessible to millions of people in India"
The agenda of the Global Indian Physicians Congress will be spread out over two days which will also feature distinguished keynote speakers from India and abroad:
• Dr. Rakesh Jalali, Radiation oncologist (India) will speak on "Proton Beam Therapy" Dr. Subhash Wangnoo, Endocrinologist (India) will speak on "Breakthroughs in Diabetes"
• Dr. Sai Sathish, Structural Interventional Cardiologist (India) will speak on " Transcatheter Therapies: No Patient Left Behind"
• Dr. Sanjay Patole, Paediatrician (Australia) will speak on "Probiotics in Health and Disease in Newborn"
• Dr. Subhash Wangnoo, Endocrinologist(India) will speak on "Breakthroughs in Diabetes"
"The timings of the congress will be 6:00 PM IST on 27-28th February 2021. The corresponding time in different time zones will be 4:30 AM PST, 6:30 AM CST, 7:30 AM EST, 12:30 PM BST (UK), and 11:30 PM (Australia). Kindly check the corresponding time in the country of your residence" Dr. Tandon said.
The Award Function will be held at 6:00 PM IST on Sunday, 28th February.
Registrations for the Global Indian Physicians Congress will be complimentary but mandatory