Examining remdesivir for treatment for Covid-19: Health Ministry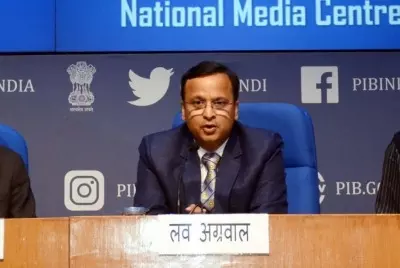 Remdesivir met primary end goal in stage 3 trial
New Delhi:The Health Ministry on Thursday said it is examining remdesivir as one protocol in the treatment for COVID-19.
At the daily media briefing, Joint Secretary, Health, Lav Agarwal said: "As of now, there is no confirmed treatment protocol for Covid-19. Remdesivir is one protocol which is being examined. Even the study on remdesivir by National Institute of Allergy and Infectious Diseases (NIAID) has not conclusively proved its effectiveness. Waiting for larger evidence, to take meaningful action."
The response of the Health Ministry on remdesivir came a day after US-based Gilead Sciences said a closely-watched study of the investigational antiviral remdesivir for the treatment of Covid-19 has "met its primary endpoint". The company said it is aware of positive data emerging from the NIAID study of the investigational antiviral remdesivir for the treatment of Covid-19.
Read also: Breakthrough: Gilead's Investigational Antiviral Remdesivir shows positive results in Stage 3 trial in Patients With Severe COVID-19
NIAID is part of National Institutes of Health, an agency of the United States Department of Health and Human Services.
Gilead Sciences Inc. in a statement said, "We understand that the trial has met its primary endpoint and that NIAID will provide detailed information at an upcoming briefing." It also shared additional remdesivir data from the company's open-label Phase 3 SIMPLE trial in patients with severe Covid-19 disease.
The Phase 3 trial evaluated 5-day and 10-day dosing durations of remdesivir in hospitalised patients with severe manifestations of Covid-19. The study demonstrated that patients receiving a 10-day treatment course of remdesivir achieved similar improvement in clinical status compared with those taking a 5-day treatment course.
Meanwhile, Agarwal, responding to a query on human trials in the process of vaccine development, said that multiple stages have to be passed, to conclude safe and efficacious use of a vaccine by human beings. "As far as India is concerned, we have identified Hydroxychloroquine to begin with as a prophylaxis treatment," he added.
Agarwal noted that multiple organisations in the government are engaged in multiple vaccine trials for Covid-19. "We are also part of WHO's Solidarity Trial. Some candidate vaccines have been identified. Nothing conclusive has come up," he said.
Source : IANS