Viability Gap funding for setting Hospitals, Medical Colleges, more DNB courses: Union Budget Health Highlights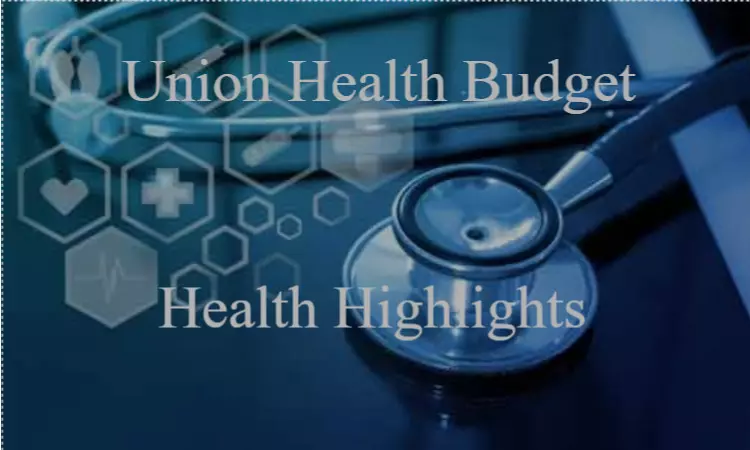 New Delhi: Its that time of the year, that all policymakers as well as general public, are looking to whats happening in the parliament, listening to what new policies the Finance Minister Niramala Sitaraman has brought in and its implications on their business as well as person income and wealth/
At the very start of her speech, the minister spoke about the various themes of the budget, the first being creation of an Aspirational india- in which all sections of society seek better standards of living with acess to health, education and jobs
She talked about reducing the disease burden in India and announced various measures to ensure that healthcare reaches all sections of the country.
Viability gap funding window for setting up hospitals in the PPP mode
Presently under the PM Jan Arogya Yojana, there are more than 20,000 empanelled hospitals who help in Ayushman Bharat. We need more such hospital, to be empaneelled in teir 2 and tier 3 citieis for poor people in these areas to benefit from them.
"It is therefore proposed to set up a viability gap funding window for setting up hospitals in the PPP mode. In the first phase those aspirational districts, will be covered ( currently there are 112 of them) where presently there are no Ayushman Bharat empanelled hospitals will be given priority. This would also provide large scale employment and opportunities, " the minister stated
Proceeds from taxes on Medical Devices will be used to support this vital health infrastructure, she said ( to be explained later). Using machine learning and artificial intelligence health authorities and the medical fraternity in the Ayushman Bharat scheme can target Non-Communicable Diseases with an appropriately defined preventive regime. Highlighting the TB Harega Desh Jeetega campaign, the Minister proposed to expand on the scheme so as to end TB 2025.
The minister also announced the expansion of Jan Aushadhi Kendra Scheme to all districts offering 2000 medicines and 300 surgicals by 2024.
The health sector was provided Rs 69,000 crore, she informed
Besides the health, the minster also talked about stepping up medical education in India to meet shortages of medical professionals
"India should also be a preferred destination for higher education. Therefore under the study India Program, an IND-SAT exam is proposed to be held in Asian and African Countries. It shall be used for benchmarking foreign candidates who recieve scholarship who study in indian higher institutes," the minister said
The minister also proposed setting up of a National Forensic Science University for development of forensic sciences and cyber-forensics
Viability gap funding window for setting up Medical colleges in the PPP mode
The minister noted that there is a shortage of qualfied medical doctors, both general practitioners and specialists. In order to meet this requirement, it is proposed to attach a medical college to an existing district hospital in PPP mode. Those states that fully allow facilities of the hospital to the medical college and wish to provide land at concession would be able to receive viability gap funding from the centre. Details of the scheme would be working out soon.
Hence, for district hospital that wish to engage in medical college training and producing more doctors, viability gap funding would be provided she said
The minister informed the parliament that the National Board of Examinations provides PG medical qualifications through Diploma of National Board and Fellowship National Board that is the DNB and FNB qualifications. The government will therefore encourage large hospitals with sufficient capacity to offer resident doctors DNB and FNB courses under the NBE.
The minister also stressed on creating a special Bridge course to enable nurses and paramedical prepare for careers abroad
"There exists a huge demand for teachers, nurses, paramedical staff and caregivers all abroad. However, their skill set many a times do not match the employers standards and therefore need to be improved. I propose a special bridge course, by the Ministires of Health, Skill Development together with professional bodies to bring in equivalence. Language requirements of various countries need also be included. All these should be achieved through a special training package," she said
Nutrition
The minister stated women are a priority for the government, especially pregnant women and lactating women. More than 6 lakh anganwadi workers are equipped to upload status of more than 10 crore households. This scale is unprecedented. Overall, FM says there are imperatives to lower maternal mortality rates. An allocation of Rs 35,600 crore for nutrition-related programmes in FY21. Further, Rs 28,600 crore will be allocated in FY21 by government for women-linked programmes. -
Health Cess on Medical Device Import.
With an intention of giving a push to Make In India campaign in the field of medical devices, the minister announced a special health cess- taxation by the way of customy duty on the important of various medical devices. The revenue from this tax would be used to develop health infrastructure as she mentioned before . The minister fell ill while making the said announcement and had to cut short her budget speech