SCTIMST develops portable Four Zone deployable MediCAB for COVID-19 management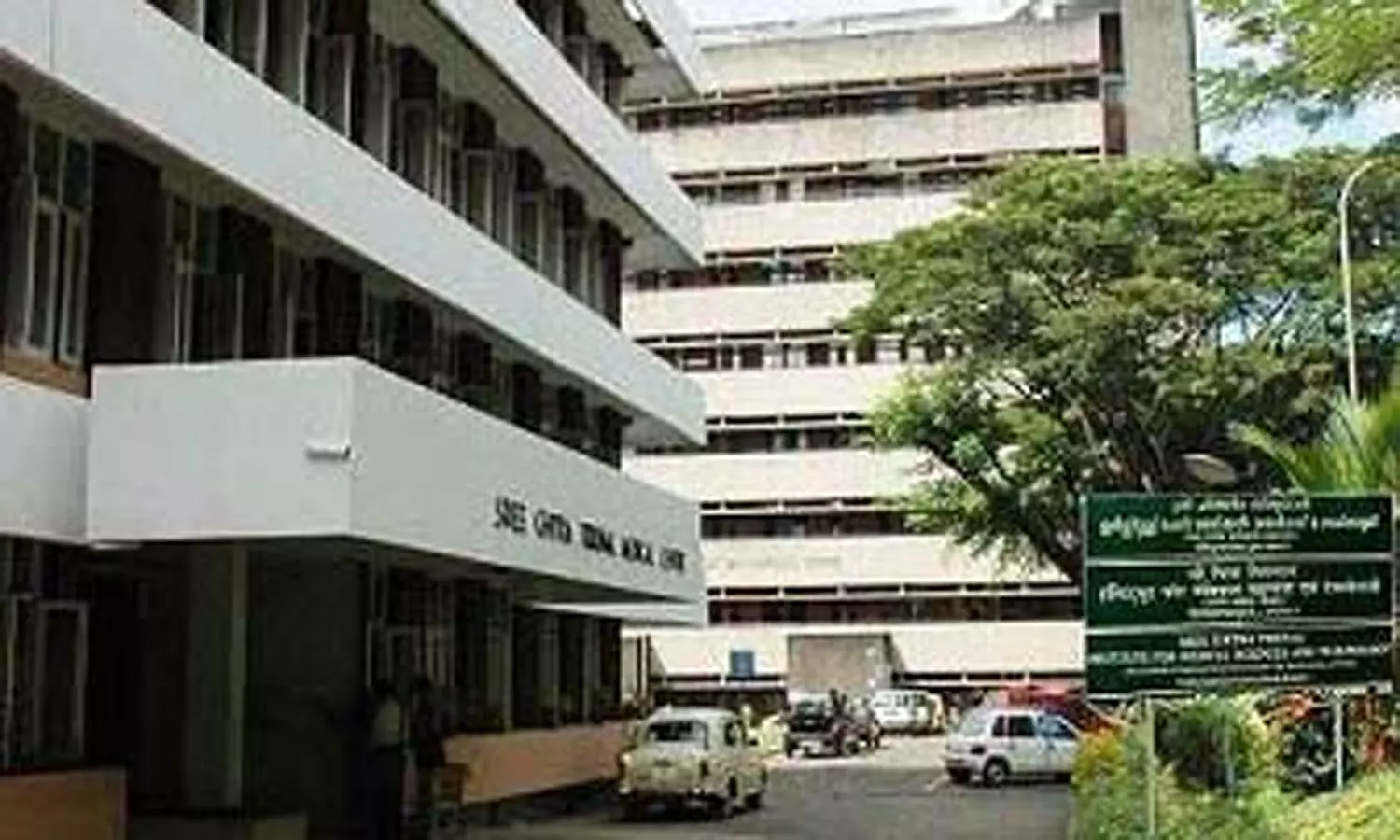 New Delhi - The premier Sree Chitra Tirunal Institute for Medical Sciences and Technology (SCTIMST) and an IIT-Madras startup have recently developed microstructure hospital infrastructures which are modular, portable, and easy to set up for effective management of COVID-19.
The outbreak of COVID19 across India has put immense pressure on the National Health Infrastructure to treat the ever-increasing number of positive cases. Traditional construction methods will be capable of constructing a 50-100 bedded facility from scratch with the state of art facilities within weeks to months. The situation demands unconventional scaling up of health infrastructure.

Given the urgent need, there is a pressing demand for modular or deployable emergency response field units like field wards, ICU, tents, etc. Collectively these factors prompt us to work on a four-zone strategy based deployable field hospital for COVID19 management. Also, a network of such modular micro-hospitals across the country can potentially become the backbone of rural health infrastructure in India post covid19.
Sree Chitra Tirunal Institute for Medical Sciences and Technology (SCTIMST) is an Institution of National Importance under the Department of Science and Technology, Govt. of India stood out with its research, technologies, and innovations to meet the need of the hour in India's fight against COVID-19.

" The engineers of the biomedical technology wing of Sree Chitra came up with the deployable four-zone strategy and design requirements of emergency hospital field units for covid19 management. The design requirements for the negative pressure deployable units were derived from international health facility guidelines (IHFG) and Guidelines for setting upward and isolation facility by Health Ministry, Govt. of India/ The engineering team also got the expert opinion from Dr. Shareek PS, Infectious Diseases and Infection Control at SUT Hospital & PRS Hospital before pilot installation" Dr Asha Kishore, Director, Sree Chitra said.
The portable infrastructure, ''MediCAB'', has four zones -- a doctor''s room, an isolation room, a medical room/ward, and a twin-bed ICU. "It can be easily transported and installed in any geographic locations and can be erected in just two hours with the help of four persons," the statement said.
"Foldable, portable, pre-fab hospitals that are easy to assemble on-site quickly provide a compelling solution in case of pandemics, disasters and other contingencies," DST Secretary Ashutosh Sharma said.
It has been developed by the Thiruvananthapuram-based SCTIMST, an institute under the Department of Science and Technology (DST), in collaboration with ''Modulus Housing'', a startup incubated by IIT-Madras.
It uses decentralised approach to detect, manage and treat COVID-19 patients in local communities through portable microstructures. So far, a 30-bed hospital has been set up at at Chengalpet in Chennai a cost of Rs 34 lakh. Another 12-bed hospital has been set up at a primary health care centre, at Waynad district''s Varadoor in Kerala, the statement said.
The cabins in MediCAB are tightly sealed and dust-proof. It has in-built electricals, which are just plug-n-play. MediCAB can withstand harsh weather and heavy rains. It comes equipped with a prefabrication modular technology and a telescopic frame that allows the model to be shrunk to one-fifth of its original size, making it convenient for storage and transportation. These portable units come in three sizes -- 200, 400, and 800 square feet and can be installed at a car park or the terrace of a hospital.
Features:
The four-zone layout by Sree Chitra helps to separate the suspected, positive and critical patients. The deployable hospital is customizable and can be transported and deployed during emergency and disaster management.
The four zones are
(1) Health workers zone
(2) Suspected Zone
(3) Ward for Positive patients
(4) ICU.
Four zones design requirements
Sl. No.

Zones

Description

1

Health workers zone

In this zone, the healthcare workers like doctors and nurses are accommodated
800 sq.ft in size, once deployed
A standard 40 feet truck (320sqft) can accommodate 1 of such units of 800 sq. ft. of area

2

Suspected Zone

For patient screening and suspected patient care
Is maintained at a negative pressure of -30 Pa with the help of a designated exhaust system. The negative pressure prevents cross-contamination
The room is air-conditioned and all the exhaust air from the room is filtered out before letting out to the atmosphere
An attached bathroom consisting of necessary bathroom utilities like washbasin and toilet closet
The anteroom (-15 Pa), where the healthcare workers treating patients go through before interacting with the patient.

3

Positive ward

For patients who are Covid19 positive
The module is provided with 2 common bathrooms.
The module can accommodate 16-18patients at once with a 1-meter distance between each bed.
The room is maintained at a negative pressure of -30Pa with its own exhaust system.
The exhaust air is filtered before entering the atmosphere.
The module can be fully air conditioned, and 800 sq.ft. in size

4

Intensive Care Unit

The patients whose health deteriorated and requires intensive care are accommodated.
The module is 200 sq. ft. in size.
Provision for negative pressure and air condition
The module is provided with necessary plug points to support all medical equipment
Modulus Housing
Modulus, a start-up in IIT Madras research park, signed MoU with SCTIMST, for a collaborative effort for developing deployable field hospital structures to combat covid19. Followed by that, Modulus successfully fabricated portable and foldable deployable field units, Medicab, based on four zone strategy.
Features:
Rapidly deployable cabins which can be
1. Assembled in few hours by 4 people!
2. The model is a collapsible cabin which when folded the size reduces by 4x to 5x times making it cost-effective to transport.
3. A hospital of 1600 sqft can be folded and transported in just one trailer.
4. mediCAB uses a patent-pending telescopic mechanism by Modulus housing that facilitates the folding mechanism.
Team members
Name

Designation

Roles

Subhash NN

Scientist/Engineer-C, Biomedical Technology Wing, SCTIMST

Principal Investigator

Responsible for

§ Four zone design for covid19 management

§ Design requirements

§ Evaluation requirements

Muraleedharan CV

Scientist G (Senior Grade), Biomedical Technology Wing, SCTIMST

Co-Principal Investigator

Responsible for

§ Four zone design for covid19 management

§ Design requirements

§ Evaluation requirements

Modulus Housing

Start up, IIT Madras Research Park

Industry Partner for Co-Development.

Responsible for

§ Structural design using their existing tried and tested deployable housing platform,

§ Purchase and Procurement,

§ Production Commercialization of four-zone mediCAB for covid19 management
COMMERCIALIZATION AND SOCIETAL IMPACT
Details

Project 1

Project 2

Project location

Sugah health corp Pvt Ltd, Chengalpet, Chennai

Primary health care, Govt. of Kerala, Varadoor, Wayanad, Kerala

Carpet area

1800 sg. ft

800 sq.ft.

No. of Beds

30

12

Type

Ward and ICU

Ward

Project value

INR 33.80 Lakhs

(Including GST, transportation, erection, toilet installation, plumping, AC and wiring.)

INR 16.00 Lakhs

(INR 11.00 lakhs for basic structure + GST, transportation, erection, toilet installation, plumping, wiring.)
ACTIVITIES TILL NOW
PROJECT PICTURES
CENTRAL DRUGS STANDARD ORGANIZATION (CDSCO) REGISTRATION

The product after development and testing has successfully completed registration at CDSCO, Ministry of Health and Family Wellfare, Govt. of India.
File Number: Debriq-Kanch-TN/M/MD/000668
FUTURE COURSE OF ACTION
We are looking for external and CSR funding so that Modulus Housing can scale up the production
Read Also: SCTIMST organizes commercial launch of magnetic nanoparticle-based RNA extraction kit for COVID 19 detection