Telangana Govt issues notice to 64 hospitals over complaints, revokes licenses of 5 COVID facilities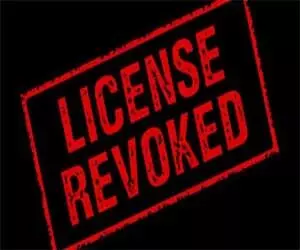 Hyderabad: In stringent action against private hospitals allegedly breaching Covid-19 treatment protocol, the Telangana government has cancelled the licence of 5 private hospitals and they have now been banned from providing COVID treatment.

Telangana's Health Department on Friday revoked the permission granted to Hyderabad's Virinchi Hospital to provide treatment to Covid-19 patients for 'violation of treatment protocols'. Other four hospitals namely Max Health Hospital, TX Hospital, Vinn Hospital and Neelima Hospital have also been barred from COVID treatment.
The licenses of these facilities were revoked after the hospitals failed to reply to the state government's show-cause notice over the allegations levelled of medical negligence by the deceased patients' family.
The Office of Director of Public Health and Family Welfare issued a show-cause notice to 64 private hospitals including 39 in Hyderabad, 22 in Medchal, 15 in Rangareddy and 7 in Warangal (Urban) districts over 88 grievances that the office had received till May 27.

As per a Health Official, multiple complaints were reported against facilities, mainly of excess billing, vaccination, bed occupancy and drug-related issues. Some patients were asked to pay a 1.5 lakh bill for one night stay and another was asked to pay Rs 20 lakh for a 3-week COVID treatment.
The complaints were filed on the WhatsApp number meant for the public to register complaints against private hospitals (9154170960), Director of Public Health Dr G Srinivas Rao stated on Thursday.
Giving a break-up of the complaints received, Dr Rao said that 88 complaints were of inappropriate billing, 130 were regarding vaccination, 65 regarding bed occupancy, and eight regarding the wrong provision of information.
He added that some hospitals had multiple complaints against them, including one in Kukatpally which received six complaints against it and a hospital in Begumpet that had five.
Also Read: Visit by ambassadors, envoys from 100 countries to Pune Pharma units revoked
Dr Rao called for appropriate action against hospitals found to have erred, including cancelling the permission to treat Covid- 1 9 patients and prosecution, reports The New Indian Express.
A show-cause notice was sent to Virinchi Hospital after a complaint was received by the relatives of a deceased person on May 27.
The notice issued to Virinchi Hospital by the Office of Director of Public Health and Family Welfare, stated, "A complaint has been received from the relatives Of Sri Vamsi Krishna, Nalgonda District (Deceased) regarding medical negligence by the doctors and staff of the hospital in treating the Covid-19 patient by violating the treatment protocols for Covid-19."The show-cause notice asked the hospital to submit a detailed explanation to the notice within 24 hours. However, the hospital authorities failed to submit any explanation to the show-cause notice issued regarding medical negligence in treating the Covid-19 patient.
"In view of the circumstances, the Director of Public Health and Family Welfare of Telangana in terms of provisions of Telangana Allopathic Private Medical Care Establishments (RegistrationRegulation) Act -- 2002 and Epidemic Diseases Act -- 1897, hereby revoke the permission given to that Private hospital for providing Covid-19 treatment," stated the order copy.
ANI reports that it further stated that no new Covid-19 patient shall be admitted by the hospital, adding that no inconvenience should be caused to already admitted patients and they have to be treated as per treatment protocols. If it is found that the hospital is not following these orders, then the Government will be compelled to cancel the license issued to the hospital. These orders come into force with immediate effect.
According to a recent media report in the Republic World, the Health authorities are now looking into the complaints posted on Twitter and have guaranteed that the concerned authorities will take immediate action.
Also Read: Private lab's license revoked for mistakenly adding Kolkata COVID-19 cases to Tamil Nadu's tally
Source : with agency inputs