795 applications received by MCI for stating, increasing PG Medical Seats this year, Details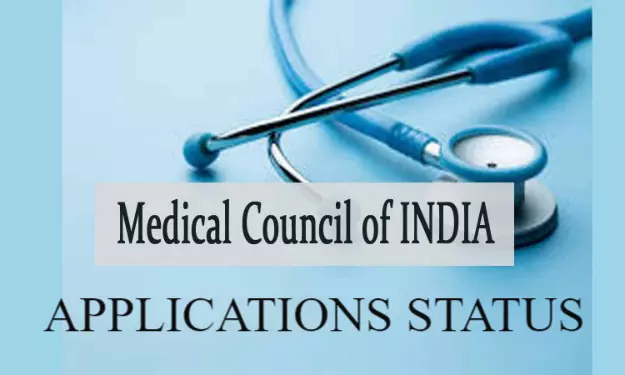 New Delhi: There are a total of 795 applications to either start or increase PG Medical Seats in various medical colleges across the country for the academic year 2021-22, a recent Medical Council of India (MCI) data has suggested.

The Medical Council of India (MCI) has released the status of applications received for starting or increasing seats in PG Medical courses under the section 10 A of Indian Medical Council Act which deals with the permission for establishment of new medical colleges and a new course of study at already existing institutes in India.
As per the list released by the apex medical regulator, 154 many colleges have made 795 applications in various MD, MS courses. For increasing of seats the MCI has received 287 applications and medical colleges which intend to start PG courses have sent a total of 508 applications to the medical council in compliance with the pertinent section mandated by the MCI.

The maximum applications have been made by the states of Tamil Nadu with 102 from 26 medical colleges and Uttar Pradesh for 83 in total from over 16 medical colleges.
Karnataka came third with over 75 applications from 18 medical institutes in the state. While 8 Chhattisgarh based medical institutes have submitted 60 applications. Andhra Pradesh has the count of 54 from 11 institutes and 8 Telangana medical colleges have sent 59 applications to MCI.
MP, Maharashtra and Uttarakhand, each have sent 44 applications. Bihar and West Bengal have sent 42 and 50 applications respectively. Gujarat has submitted 20 and Haryana has submitted 29 applications.
Meanwhile, from Puducherry, the MCI has received 21 submissions from 4 medical colleges.
The least number of applications are sent from Assam (11), Chandigarh (6), Delhi (2) J&K (1), Kerala (8), Odisha (13), Punjab (5), Rajasthan (16), Sikkim (6).
Below attached in the in detail state wise status of applications with the MCI:
Andhra Pradesh
Name of College
Application in type
Application in type
Name of Course
Alluri Sitarama Raju Academy of Medical Sciences, Eluru, Andhra Pradesh
Increase of seats in
MD(General Medicine)
Increase of seats in
MD(Radio-Diagnosis)
Increase of seats in
MS(General Surgery)
Gayatri Vidya Parishad Institute of Health Care and Medical Technology, Visakhapatnam, Andhra Pradesh
Starting of
MD(General Medicine)
Starting of
MD(Paediatrics)
Starting of
MD(Respiratory Medicine)
Starting of
MD(Dermatology, Venerology & Leprosy)
Starting of
MD(Psychiatry)
Starting of
MS(General Surgery)
Starting of
MS(Orthopaedics)
Starting of
MS(Otorhinolaryngolog y)
Starting of
MS(Ophthalmology)
Starting of
MS(Obstetrics & Gynaecology)
Starting of
MD(Anaesthesiology)
Starting of
MD(Radio-Diagnosis)
Starting of
MD(Pathology)
Starting of
MD(Community Medicine)
GITAM Institute of Medical Science and Research, Visakhapatnam
Starting of
MD(Pathology)
Starting of
MD(Community Medicine)
Starting of
MD(General Medicine)
Starting of
MD(Paediatrics)
Starting of
MD(Respiratory Medicine)
Starting of
MD(Dermatology, Venerology & Leprosy)
Starting of
MD(Psychiatry)
Starting of
MS(General Surgery)
Starting of
MS(Ophthalmology)
Starting of
MS(Otorhinolaryngolog y)
Starting of
MS(Orthopaedics)
Starting of
MS(Obstetrics & Gynaecology)
Starting of
MD(Anaesthesiology)
Starting of
MD(Radio-Diagnosis)
Government Medical College, Kadapa (Formerly Rajiv Gandhi Institute of Medical Sciences, Kadapa)
Increase of seats in
MD(Anaesthesiology)
Increase of seats in
MS(General Surgery)
Increase of seats in
MS(Ophthalmology)
Increase of seats in
MS(Otorhinolaryngolog
Starting of
MD(Paediatrics)
Starting of
MS(Orthopaedics)
GSL Medical College & General Hospital, Rajahmundry, Andhra Pradesh
Increase of seats in
MD(Dermatology, Venerology & Leprosy)
Increase of seats in
MS(Ophthalmology)
Increase of seats in
MS(Otorhinolaryngolog
Increase of seats in
MD(Radio-Diagnosis
Increase of seats in
MD(Radiation, Oncology)
Starting of
MD(Emergency Medicine)
Narayana Medical College, Nellore
Increase of seats in
MD(Radio-Diagnosis)
Increase of seats in
MS(General Surgery)
NRI Medical College & General Hospital, Guntur, Andhra Pradesh
Starting of
MD(Emergency,medicine)
P.E.S. Institute of Medical Sciences & Research, Kuppam, Andhra Pradesh
Increase of seats in
MD(General Medicine)
Increase of seats in
MD(Paediatrics)
Increase of seats in
MS(General Surgery)
Sri Venkateshwara Institute of Medical Sciences, Tirupati
Increase of seats in
MD(Pathology)
SVIMS - Sri Padmavathi Medical College for Women, Tirupati
Starting of
MD(Anatomy)
Starting of
MD(Physiology)
Starting of
MD(Community Medicine)
Starting of
MD(Pharmacology)
Assam
Name of College

Application in type

Application in type

Name of Course

Gauhati Medical College, Guwahati, Assam

Starting of

MD (Radiation Oncology)

Jorhat Medical College & Hospital, Jorhat, Assam

Starting of

MD (Psychiatry)

Starting of

MS (Ophthalmology)

Starting of

MD (Dermatology, Venereology & Leprosy)

Increase of seats in

MD (General Medicine)

Increase of seats in

MS (General Surgery)

Increase of seats in

MS (Obstetrics & Gynaecology)

Increase of seats in

MS (Otorhinolaryngology)

Increase of seats in

MD (Paediatrics)

Tezpur Medical College & Hospital, Tezpur, Assam

Starting of

MD (Biochemistry)

Starting of

MD (Paediatrics)
Name of College

Application in type

Application in type

Name of Course

Goveinment Medical College & Hospital, Chandigarh

Increase of seats in

MD(General Medicine)

Increase of seats in

MS(Obstetrics & Gynaecology)

Increase of seats in

MD(Biochemistry)

Increase of seats in

MD(Radio-Therapy)

Increase of seats in

MD(Dermatology)

Increase of seats in

MD(Anaesthesia)
Name of College
Application in type
Application in type
Name of Course
Bharat Raffia Shri Atal Bihari Vajpyee Memorial Med. Col.), Rajnandgaon, Chhattisgarh
Starting of
MS (Obstetrics & Gynaecology)
Starting of
MS (Otorhinolaryngology)
Starting of
MD (Anaesthesiology)
Starting of
MD (Paediatrics)
Starting of
MD (General Medicine)
Starting of
MD (Anatomy)
Starting of
MD (Community Medicine)
Starting of
MD (Physiology)
Starting of
MS (Ophthalmology)
Starting of
MS (Orthopaedics)
Chandulal Chandrakar Memorial Medical College, Durg, Chhattisgarh
Starting of
MD (Anaesthesiology)
Starting of
MD (Dermatology, Venereology & Leprosy)
Starting of
MD (General Medicine)
Starting of
MD (Paediatrics)
Starting of
MD (Pathology)
Starting of
MD (Radio-diagnosis)
Starting of
MD (Respiratory Medicine)
Starting of
MS (General Surgery)
Starting of
MS (Obstetrics & Gynaecology)
Starting of
MS (Ophthalmology)
Starting of
MS (Orthopaedics)
Chhattisgarh Institute of Medical Sciences, Bilaspur, Chhattishgarh
Starting of
MD (Anaesthesiology)
Starting of
MD (Dermatology, Venereology & Leprosy)
Starting of
MD (Physiology)
Starting of
MD (Psychiatry)
Starting of
MD (Respiratory Medicine)
Starting of
MS (General Surgery)
Starting of
MS (Obstetrics & Gynaecology)
Late Shri Baliram Kashyap Memorial NDMC Govt. Medical College, Jagdalpur, Chhatisgarh
Starting of
MS (Obstetrics & Gynaecology)
Late Shri Lakhi Ram Agrawal Memorial Govt. Medical College, Raigarh, Chhattisgarh
Starting of
MD (Anatomy)
Starting of
MD (Biochemistry)
Starting of
MD (Microbiology)
Starting of
MD (Pharmacology)
Starting of
MS (Obstetrics & Gynaecology)
Starting of
MS (Otorhinolaryngology)
Pt. J N M Medical College, Raipur Chhattisgarh
Starting of
MD (Microbiology)
Starting of
MD (Psychiatry)
Raipur Institute of Medical Sciences (RIMS), Raipur, Chhattisgarh
Starting of
MD (Anaesthesiology)
Starting of
MD (Biochemistry)
Starting of
MD (Community Medicine)
Starting of
MD (General Medicine)
Starting of
MD (Microbiology)
Starting of
MD (Pathology)
Starting of
MD (Pharmacology)
Starting of
MS (General Surgery)
Starting of
MS (Obstetrics & Gynaecology)
Starting of
MS (Ophthalmology)
Starting of
MS (Orthopaedics)
Shri Shankaracharya Institute of Medical Sciences, Bhilai, Chhattisgarh
Starting of
MD (Anaesthesiology)
Starting of
MD (Dermatology, Venereology & Leprosy)
Starting of
MD (General Medicine)
Starting of
MD (Paediatrics)
Starting of
MD (Psychiatry)
Starting of
MD (Radio-diagnosis)
Starting of
MD (Respiratory Medicine)
Starting of
MS (General Surgery)
Starting of
MS (Obstetrics & Gynaecology)
Starting of
MS (Ophthalmology)
Starting of
MS (Orthopaedics)
Starling of
MS (Otorhinolaryngology)
Delhi

| | | | |
| --- | --- | --- | --- |
| Name of College | Application in type | Application in type | Name of Course |
| Chacha Nehru Bal Chikitsalaya, Delhi | | Starting of | MD(Paediatrics) |
| Vallabhbhai Patel Chest Institute, Delhi | | Starling of | Diploma in Allergy & Clinical Immunology |
Name of College
Application in type
Application in type
Name of Course
Medical College, Baroda, Gujarat
Starting of
MD(Radio-Therapy)
Parul Institute of Medical Sciences & Research, Vadodara, Gujarat
Starting of
MD(General Medicine)
Starting of
MD(Physiology)
Starting of
MD(Radio-Diagnosis)
Starting of
MD(Dermatology, Venerology & Leprosy)
Starting of
MD(Psychiatry)
Starting of
MS(Orthopaedics)
Starting of
MS(Otorhinolaryngoogy)
Starting of
MS(Ophthalmology)
Starting of
MD(Anaesthesiology)
Starting of
MD(Community Medicine)
Starting of
MD(Microbiology)
Starting of
MD(Biochemistry)
Starting of
MS(Obstetrics & Gynaecology)
Starting of
MD(Anatomy)
Starting of
MD(Pharmacology)
Starting of
MD(Pathology)
Starting of
MD(Paediatrics)
Starting of
MD(Pulmonary Medicine)
Starting of
MS(General Surgery)
Name of College
Application in type
Application in type
Name of Course
Command Hospital (WC), Chandimandir, Haryana
Increase of seats in
MS(Ophthalmology)
Employees' State Insurance Corporation Medical College & Hospital, Faridabad, Haryana
Starting of
MD(Respiratory Medicine)
Starting of
MD(Anaesthesia)
Starting of
MD(Biochemistry)
Starting of
MD(Community Medicine)
Starting of
MD(Dermatology)
Starting of
MD(General Medicine)
Starting of
MS(General Surgery)
Starting of
MD(Microbiology)
Starting of
MS(Obstetrics & Gynaecology)
Starting of
MS(Orthopaedics)
Starting of
MS(Otorhinolaryngolog y)
Starting of
MS(Ophthalmology)
Starting of
MD(Pathology)
Starting of
MD(Paediatrics)
Starting of
MD(Psychiatry)
Starting of
MD(Radiology)
Maharaja Agrasen Medical College, Agroha, Hisar, Haryana
Starting of
MD(Microbiology)
N.C. Medical College & Hospital, Israna (Panipat), Haryana
Starting of
MS(Ophthalmology)
Starting of
MD(Microbiology)
Starting of
MD(Anaesthesia)
Starting of
MD(Radio-Diagnosis)
Starting of
MS(General Surgery)
Starting of
MS(Orthopaedics)
Starting of
MD(Pathology)
Starting of
MD(Paediatrics)
Starting of
MD(General Medicine)
Starting of
MS(Otorhinolaryngolog y)
Starting of
MS(Obstetrics & Gynaecology)
| | | | |
| --- | --- | --- | --- |
| Name of College | Application in type | Application in type | Name of Course |
| Government Medical College, Srinagar | Increase of seats in | | MD(Physiology) |
Name of College
Application in type
Application in type
Name of Course
Adichunchanagiri Institute of Medical Sciences, Mandya, Karnataka
Increase of seats in
MD(Dermatology, Venerology & Leprosy)
Increase of seats in
MS(Ophthalmology)
Belagavi Institute of Medical Sciences, Belagavi
Starting of
MD(General Medicine)
Starting of
MS(General Surgery)
Starting of
MS(Obstetrics & Gynaecology)
Starting of
MS(Otorhinolaryngolog y)
Starting of
MS(Orthopaedics)
Starting of
MD(Anaesthesiology)
Starling of
MD(Respiratory Medicine)
Starting of
MD(Radio-Diagnosis)
East Point College of Medical Sciences & Research Centre, Bangalore, Karnataka
Starting of
MD(Pathology)
Starting of
MD(Community Medicine)
Employees' State Insurance Corporation Medical College and Postgraduate Institute of Medical Sciences & Research, Bangalore, Karnataka
Starting of
MS(Orthopaedics)
Starting of
MD(Radio-Diagnosis)
Gadag Institute of Medical Sciences, Gadag, Karnataka
Starting of
MS(Ophthalmology)
Starting of
MD(Dermatology, Venerology & Leprosy)
Hassan Institute of Medical Sciences, Hassan
Starting of
MS(Obstetrics & Gynaecology)
Starting of
MD(Anaesthesiology)
Starting of
MD(Psychiatry)
Starting of
MD(Respiratory Medicine)
Starting of
MD(Biochemistry)
JIM Medical College, Davangere, Karnataka
Increase of seats in
MD(Anaesthesiology)
Increase of seats in
MD(Dermatology, Venerology & Leprosy)
Increase of seats in
MD(General Medicine)
Increase of seats in
MD(Paediatrics)
Increase of seats in
MD(Pathology)
Increase of seats in
MD(Radio-Diagnosis)
Increase of seats in
MD(Respiratory Medicine)
Increase of seats in
MS(General Surgery)
Increase of seats in
MS(Obstetrics & Gynaecology)
Increase of seats in
MS(Ophthalmology)
Increase of seats in
MS(Orthopaedics)
Increase of seats in
MS(Otorhinolaryngoog y)
JSS Medical College, Mysore
Starting of
MD(Geriatrics)
Kasturba Medical College, Mangalore
Increase of seats in
MD(Dermatology, Venerology & Leprosy)
Increase of seats in
MS(Obstetrics & Gynaecology)
Increase of seats in
MS(General Surgery)
Increase of seats in
MS(Orthopaedics)
Increase of seats in
MD(General Medicine)
Starting of
MD(Psychiatry)
Starting of
MD(Respiratory Medicine)
Kasturba Medical College, Manipal
Starting of
MD(Palliative Medicine)
Increase of seats in
MD(Immuno Haematology & Blood Transfusion)
M.S. Ramaiah Medical College, Bangalore, Karnataka
Increase of seats in
MS(General Surgery)
Increase of seats in
MD(Dermatology, Venerology & Leprosy)
Increase of seats in
MD(Psychiatry)
Increase of seats in
MS(Ophthalmology)
Rajarajeswari Medical College & Hospital, Bangalore
Increase of seats in
MD(Anaesthesiology)
S.D.M. College of Medical Sciences & Hospital, Dharwad, Karnataka
Increase of seats in
MD(Radio-Diagnosis)
S.S. Institute of Medical Sciences & Research Centre, Davangere, Karnataka
Increase of seats in
MD(Anaesthesiology)
Increase of seats in
MD(General Medicine)
Increase of seats in
MD(Paediatrics)
Increase of seats in
MD(Pathology)
Increase of seats in
MD(Radio-Diagnosis)
Increase of seats in
MD(Respiratory Medicine)
Increase of seats in
MS(General Surgery)
Increase of seats in
MS(Obstetrics & Gynaecology)
Increase of seats in
MS(Ophthalmology)
Increase of seats in
MS(Orthopaedics)
Shimoga Institute of Medical Sciences, Shimoga (Karnataka)
Starting of
MS(Ophtha mo ogy)
Shri B.M. Patil Medical College, Hospital and Research Centre, Vijayapura, Karnataka
Starting of
MD(Geriatrics)
Sri Siddhartha Medical College, Tumkur, Karnataka
Increase of seats in
MD(Pathology)
Increase of seats in
MD(General Medicine)
Increase of seats in
MD(Paediatrics)
Increase of seats in
MD(Psychiatry)
Increase of seats in
MD(Dermatology, Venerology & Leprosy)
Increase of seats in
MS(General Surgery)
Increase of seats in
MS(Orthopaedics)
Increase of seats in
MS(Ophthalmology)
Increase of seats in
MS(Otorhinolaryngolog y)
Increase of seats in
MD(Anaesthesiology)
Increase of seats in
MD(Radio-Diagnosis)
Increase of seats in
MS(OBG)
Yenepoya Medical College, Mangalore
Starting of
MD(Geriatrics)
Increase of seats in
MD(Paediatrics)
Name of College
Application in type
Application in type
Name of Course
Believers Church Medical College Hospital, Thiruvalla, Kerala
Starting of
MD (Anaesthesiology)
Starting of
MD (General Medicine)
Starting of
MS (Obstetrics & Gynaecology)
Starting of
MS (Ophthalmology)
M E S Medical College , Perintalmanna Malappuram, Kerala
Starting of
MD (Emergency Medicine)
Pushpagiri Institute Of Medical Sciences and Research Centre, Tiruvalla, Kerala
Starting of
MD (Biochemistry)
Sree Narayana Instt. of Medical Sciences, Chalakka,Ernakulam, Kerala
Starting of
MS (Otorhinolaryngology)
Thoothukudi Medical College, Thoothukudi, Tamilnadu
Starting of
MD (Forensic Medicine)
Name of College
Application in type
Application in type
Name of Course
Gandhi Medical College, Bhopal
Increase of seats in
MD(Anatomy)
Increase of seats in
MD(Physiology)
Starting of
MD(Biochemistry)
Increase of seats in
MD(Pharmacology)
Increase of seats in
MD(Pathology)
Increase of seats in
MD(Microbiology)
Increase of seats in
MD(Community Medicine)
Increase of seats in
MD(Forensic Medicine)
Increase of seats in
MD(General Medicine)
Increase of seats in
MD(Paediatrics)
Increase of seats in
MD(Respiratory Medicine)
Starting of
MD(Psychiatry)
Increase of seats in
MS(General Surgery)
Increase of seats in
MS(Orthopaedics)
Increase of seats in
MS(Otorhinolaryngolog y)
Increase of seats in
MS(Ophthalmology)
Increase of seats in
MS(Obstetrics & Gynaecology)
Increase of seats in
MD(Anaesthesiology)
Increase of seats in
MD(Radio-Diagnosis)
Starting of
MD(Dermatology, Venerology & Leprosy)
Index Medical College, Hospital & Research Centre, Indore, Madhya Pradesh
Increase of seats in
MD(Anaesthesiology)
Increase of seats in
MD(Psychiatry)
Increase of seats in
MD(Paediatrics)
L.N. Medical College & Research Centre, Bhopal, Madhya Pradesh
Starting of
MD(Psychiatry)
Increase of seats in
MD(Pathology)
Increase of seats in
MD(Physiology)
People's College of Medical Sciences and Research Centre, Bhopal
Increase of seats in
MD(General Medicine)
Increase of seats in
MD(DVL)
Increase of seats in
MD(Respiratory Medicine)
Increase of seats in
MD(Psychiatry)
Increase of seats in
MD(Paediatrics)
Increase of seats in
MS(General Surgery)
Increase of seats in
MS(Orthopaedics)
Increase of seats in
MS(Ophthalmology)
Increase of seats in
MS(ENT)
Increase of seats in
MS(Obstetrics & Gynaecology)
Increase of seats in
MD(Radio-Diagnosis)
Increase of seats in
MD(Anaesthesiology)
Shyam Shah Medical College, Rewa
Increase of seats in
MS(Orthopaedics)
Increase of seats in
MD(General Medicine)
Increase of seats in
MD(Paediatrics)
Increase of seats in
MS(General Surgery)
Increase of seats in
MD(Anaesthesiology)
Increase of seats in
MS(Obstetrics & Gynaecology)
Name of College
Application in type
Application in type
Name of Course
Armed Forces Medical College, Pune, Maharashtra
Starting of
MD (Geriatrics)
Bharati Vidyapeeth Deemed University Medical College & Hospital, Sangli, Maharashtra
Increase of seats in
MD (Anaesthesiology)
Starting of
MD (Biochemistry)
Increase of seats in
MD (Dermatology, Venereology & Leprosy)
Increase of seats in
MD (General Medicine)
Increase of seats in
MS (General Surgery)
Increase of seats in
MS (Orthopaedics)
Bharati Vidyapeeth University Medical College, Pune, Maharashtra
Starting of
MD (Immunohaematology and Blood Transfusion)
Starting of
MD (Respiratory Medicine)
Increase of seats in
MS (Orthopaedics)
Increase of seats in
MS (Otorhinolaryngology)
Dr. D Y Patil Medical College, Hospital and Research Centre, Pimpri, Pune, Maharashtra
Increase of seats in
MD (Emergency Medicine)
Government Medical College, Latur, Maharasthra
Starting of
MD (Dermatology, Venereology & Leprosy)
Indira Gandhi Medical College & Hospital, Nagpur, Maharashtra
Increase of seats in
MD (Paediatrics)
Increase of seats in
MD (Radio-diagnosis)
Krishna Institute of Medical Sciences, Karad, Maharashtra
Increase of seats in
MD (Anaesthesiology)
Increase of seats in
MD (Dermatology, Venereology & Leprosy)
Increase of seats in
MD (General Medicine)
Starting of
MD (Psychiatry)
Increase of seats in
MD (Radio-diagnosis)
Increase of seats in
MS (Obstetrics & Gynaecology)
Increase of seats in
MS (Otorhinolaryngology)
Mahatma Gandhi Missions Medical College, Aurangabad, Maharashtra
Increase of seats in
MD (Paediatrics)
Increase of seats in
MD (Anaesthesiology)
Increase of seats in
MS (Orthopaedics)
Increase of seats in
MD (Radio-diagnosis)
N. K. P. Salve Instt. of Medical Sciences and Research Centre and Lata Mangeshkar Hospital, Nagpur, Maharashtra
Increase of seats in
MS (General Surgery)
Rajashree Chatrapati Shahu Maharaj Government Medical College, Kolhapur, Maharasthra
Starting of
MS (Otorhinolaryngology)
Starting of
MS (Ophthalmology)
Starting of
MD (Pathology)
Starting of
MD (Anaesthesiology)
Starting of
MD (Biochemistry)
Starting of
MD (Microbiology)
Starting of
MD (General Medicine)
Starting of
MD (Respiratory Medicine)
Starting of
MD (Pharmacology)
Starting of
MS (Obstetrics & Gynaecology)
Starting of
MS (General Surgery)
Rural Medical College, Loni, Maharashtra
Increase of seats in
MD (General Medicine)
Increase of seats in
MD (Paediatrics)
Starting of
MD (Psychiatry)
Increase of seats in
MS (Orthopaedics)
Shri Vasant Rao Naik Govt. Medical College, Yavatmal, Maharasthra
Starting of
MD (Anaesthesiology)
Tata Memorial centre, Mumbai, Maharashtra
Starting of
MD (Radiation Oncology)
Name of College
Application in type
Application in type
Name of Course
Hi-Tech Medical College & Hospital, Bhubaneswar, Odisha
Starting of
MD(Dermatology, Venerology & Leprosy)
Starting of
MD(Respiratory Medicine)
Starting of
MD(General Medicine)
Starting of
MD(Psychiatry)
Starting of
MD(Radio-Diagnosis)
Hi-Tech Medical College & Hospital, Rourkela, Odisha
Starting of
MS(Orthopaedics)
Starting of
MD(Microbiology)
Starting of
MD(Pathology)
Starting of
MS(Ophthalmology)
Starting of
MS(Obstetrics & Gynaecology)
Institute of Medical Sciences & SUM Hospital, Bhubaneswar, Odisha
Increase of seats in
MD(Respiratory Medicine)
Starting of
MD(Emergency Medicine)
M.K.C.G. Medical College, Berhampur, Odisha
Starting of
MD(Respiratory Medicine)
Name of College
Application in type
Application in type
Name of Course
Aarupadai Veedu Medical College & Hospital, Puducherry
Increase of seats in
MS(Obstetrics & Gynaecology)
Increase of seats in
MS(Orthopaedics)
Starting of
MD(Pathology)
Starting of
MD(Respiratory Medicine)
Sri Lakshmi Narayana Institute of Medical Sciences, Puducherry
Increase of seats in
MD(Radio-Diagnosis)
Increase of seats in
MD(Dermatology, Venerology & Leprosy)
Starting of
MD(Anaesthesiology)
Starting of
MD(Tuberculosis & Respiratory Disease)
Starting of
MS(Obstetrics & Gynaecology)
Starting of
MD(Paediatrics)
Sri Venkateshwaraa Medical College Hospital & Research Centre, Puducherry
Increase of seats in
MS(Otorhinolaryngolog y)
Increase of seats in
MD(Paediatrics)
Increase of seats in
MD(Psychiatry)
Increase of seats in
MS(Obstetrics & Gynaecology)
Increase of seats in
MS(Orthopaedics)
Vinayaka Mission's Medical College & Hospital, Karaikal, Puducherry
Increase of seats in
MS(General Surgery)
Increase of seats in
MD(Anaesthesiology)
Increase of seats in
MS(Orthopaedics)
Increase of seats in
MS(Obstetrics & Gynaecology)
Starting of
MD(Community Medicine)
Starting of
MD(Forensic Medicine
Name of College
Application in type
Application in type
Name of Course
Adesh Institute of Medical Sciences & Research, Bathinda, Punjab
Starting of
MD(General Medicine)
Starting of
MD(Dermatology, Venerology & Leprosy)
Starting of
MD(Paediatrics)
Starting of
MD(Immuno Haematology & Blood Transfusion)
Homi Bhabha Cancer Hospital, Sangrur, Punjab
Starting of
MD(Radio-Therapy)
Name of College
Application in type
Application in type
Name of Course
Dr S N Medical College, Jodhpur, Rajasthan
Increase of seats in
MD (General Medicine)
Increase of seats in
MD (Radiation Oncology)
Mahatma Gandhi Medical College and Hospital, Sitapur, Jaipur, Rajasthan
Starting of
MD (Family Medicine)
Starting of
MD (Immunohaematology and Blood Transfusion)
Starting of
MD (Nuclear Medicine)
Starting of
MD (Palliative Medicine)
Starting of
MD (Physical Medicine & Rehabilitation)
Increase of seats in
MD (Radio-diagnosis)
Starting of
MS (Trama ology & Surgery)
National Institute of Medical Science & Research, Jaipur, Rajasthan
Increase of seats in
MD (Paediatrics)
Increase of seats in
MD (Radio-diagnosis)
Increase of seats in
MS (General Surgery)
Increase of seats in
MS (Obstetrics & Gynaecology)
Increase of seats in
MS (Orthopaedics)
Pacific Institute of Medical Sciences, Umarda, Udaipur, Rajasthan
Starting of
MD (Emergency Medicine)
Starting of
MS (Obstetrics & Gynaecology)
Name of College
Application in type
Application in type
Name of Course
Sikkim Manipal Institute of Medical Sciences, Gangtok, Sikkim
Starting of
MD (Anaesthesiology)
Starting of
MD (Pathology)
Starting of
MD (Radio-diagnosis)
Starting of
MS (General Surgery)
Increase of seats in
MS (Obstetrics & Gynaecology)
Starting of
MS (Orthopaedics)
Name of College
Application in type
Application in type
Name of Course
ACS Medical College and Hospital, Chennai, Tamilnadu
Starting of
MD (Anaesthesiology)
Starting of
MD (Dermatology, Venereology & Leprosy)
Starting of
MD (General Medicine)
Starting of
MD (Paediatrics)
Starting of
MD (Psychiatry)
Starting of
MD (Radio-diagnosis)
Starting of
MD (Respiratory Medicine)
Starting of
MS (General Surgery)
Starting of
MS (Obstetrics & Gynaecology)
Starling of
MS (Ophthalmology)
Starting of
MS (Orthopaedics)
Starting of
MS (Otorhinolaryngology)
Chengalpattu Medical College, Chengalpattu, Tamilnadu
Starting of
MD (Respiratory Medicine)
Dhanalakshmi Srinivasan Medical College and Hospital,Perambalur, Tamilnadu
Increase of seats in
MD (Community Medicine)
Increase o seats in
MD (Pathology)
Government Erode Medical College and Hospital (IRT Perundurai Medical ollege Perundurai)
Starting of
MD (Dermatology, Venereology Leprosy)
Starfing of
MS (General Surgery)
Government Medical College Omandurar, Tamilnadu
Starting of
MS (General Surgery)
Starting of
MD (General Medicine)
Starting of
MS (Obstetrics & Gynaecology)
Starting of
MS Orthopaedics)
Starting of
MD Paediatrics)
Starting of
MD Anaesthesiology}
Government Sivagangai Medical College, Sivagangai, Tamilnadu
Starting of
MD Anaesthesiology}
Starting of
MD General Medicine}
Starting of
MD Paediatrics)
Starting of
MS General Surgery}
Starting of
MS Obstetrics & Gynaecology)
Government Thiruvannamalai Medica College, Thiruvannamalai, Tamilnadu
Starting of
MD Anaesthesiology)
Starting of
MD General Medicine}
Starfing of
MD Paediatrics}
Starting of
MS (Genera Surgery
Starting of
MS (Obstetrics Gynaecology)
Government Vellore Medical College, Vellore, Tamilnadu
Starfing of
MD (Dermatology, Venereology Leprosy)
Starfing of
MS (Ophthalmology)
Starting of
MS (Otorhinolaryngology)
K A P Viswanathan Government Medical College, Trichy, Tamilnadu
Starting of
MD (Dermatology, Venereology & Leprosy)
Starting of
MD (Radio-diagnosis)
KanyaKumari Government Medical College, Asaripallam, Tamilnadu
Starting of
MS (Ophthalmology)
Karpagam Faculty of Medical Sciences & Research, Coimbatore, Tamilnadu
Starting of
MD (Anaesthesiology)
Starting of
MD (Dermatology, Venereology & Leprosy)
Starting of
MD (General Medicine)
Starting of
MD (Paediatrics)
Starting of
MS (General Surgery)
Starting of
MS (Obstetrics & Gynaecology)
Starting of
MS (Ophthalmology)
Starting of
MS (Orthopaedics)
Starting of
MS (Otorhinolaryngology)
Kilpauk Medical College, Chennai, Tamilnadu
Increase of seats in
MD (Orthopaedics)
Increase of seats in
MD (Orthopaedics)
Increase of seats in
MS (Obstetrics & Gynaecology)
Madras Medical College, Chennai, Tamilnadu
Starting of
MD (Immunohaematology and Blood Transfusion)
Increase of seats in
MD (Radio-diagnosis)
Madurai Medical College, Madurai, Tamilnadu
Increase of seats in
MD (Anaesthesiology)
Starting of
MD (Biochemistry)
Increase of seats in
MD (Forensic Medicine)
Increase of seats in
MD (Pathology)
Increase of seats in
MD (Psychiatry)
Increase of seats in
MS (Obstetrics & Gynaecology)
Increase of seats in
MS (Orthopaedics)
Melntaruvathur Adiparasakthi Instt. Medical Sciences and Research, Tamilnadu
Starting of
MD (Community Medicine)
Starting of
MD (General Medicine)
Starting of
MS (Otorhinolaryngology)
Mohan Kumaramangalam Medical College, Salem, Tamilnadu
Increase of seats in
MD (Anaesthesiology)
Saveetha Medical College and Hospital, Kanchipuram, Tamilnadu
Starting of
MD (Emergency Medicine)
Sree Mookambika Institute of Medical Sciences, Kanyakumari, Tamilnadu
Increase of seats in
MD (Anaesthesiology)
Increase of seats in
MD (Dermatology, Venereology & Leprosy)
Increase of seats in
MD (General Medicine)
Increase of seats in
MD (Paediatrics)
Increase of seats in
MD (Radio-diagnosis)
Increase of seats in
MS (General Surgery)
Increase of seats in
MS (Obstetrics & Gynaecology)
Increase of seats in
MS (Ophthalmology)
Increase of seats in
MS (Orthopaedics)
Increase of seats in
MS (Otorhinolaryngology)
Sri Muthukumaran Medical College,Chennai, Tamilnadu'
Starting of
MD (Anaesthesiology)
Starting of
MD (Community Medicine)
Starting of
MD (Psychiatry)
Starting of
MS (General Surgery)
Starting of
MS (Ophthalmology)
Sri Ramachandra Medical College & Research Institute, Chennai, Tamilnadu
Increase of seats in
MD (Emergency Medicine)
Increase of seats in
MD (Forensic Medicine)
Increase of seats in
MD (Sports Medicine)
SRM Medical College Hospital & Research Centre, Kancheepuram, Tamilnadu
Increase of seats in
MD (Paediatrics)
Increase of seats in
MS (Ophthalmology)
Increase of seats in
MS (Orthopaedics)
Thanjavur Medical College,Thanjavur, Tamilnadu
Increase of seats in
MD (Anaesthesiology)
Increase of seats in
MD (Paediatrics)
Increase of seats in
MS (Orthopaedics)
Theni Government Medical College,Theni, Tamilnadu
Starting of
MD (Psychiatry)
Starting of
MS (Orthopaedics)
Velammal Medical College Hospital and Research Institute, Madurai, Tamilnadu
Starting of
MD (Psychiatry)
Starting of
MD (Paediatrics)
Starting of
MS (Obstetrics & Gynaecology)
Vinayaka Missions Kirupananda Variyar Medical College, Salem, Tamilnadu
Starting of
MD (Community Medicine)
Increase of seats in
MD (Dermatology, Venereology & Leprosy)
Increase of seats in
MD (Emergency Medicine)
Increase of seats in
MS (Obstetrics & Gynaecology)
Increase of seats in
MS (Otorhinolaryngology)
Tagore Medical College and Hospital, Chennai, Tamilnadu
Starting of
MD (Anaesthesiology)
Starting of
MD (Radio-diagnosis)
Starting of
MS (Otorhinolaryngology)
Name of College
Application in type
Application in type
Name of Course
Bhaskar Medical College, Yenkapally, Telangana
Increase of seats in
MD(Paediatrics)
Increase of seats in
MS(Ophthalmology)
Chalmeda Anand Rao Institute of Medical Sciences, Karimnagar, Telangana
Increase of seats in
MD(General Medicine)
Increase of seats in
MS(General Surgery)
Employees' State Insurance Corporation Medical College, Sanathnagar, Hyderabad
Starting of
MD(Anaesthesiology)
Starting of
MS(General Surgery)
Starting of
MS(Ophthalmology)
Starting of
MD(Psychiatry)
Starting of
MS(Obstetrics & Gynaecology)
Starting of
MD(Microbiology)
Starting of
MD(Biochemistry)
Starting of
MS(Orthopaedics)
Starting of
MD(Paediatrics)
Starting of
MD(Respiratory Medicine)
Government Medical College, Mahabubnagar, Telangana
Starting of
MD(Pathology)
Starting of
MD(Biochemistry)
Mahavir Institute of Medical Sciences, Vikarabad, Telangana
Starting of
MD(Anatomy)
Starting of
MD(Physiology)
Starting of
MD(Biochemistry)
Starting of
MD(Community Medicine)
Mediciti Institute of Medical Sciences, Ghanpur, Telangana
Increase of seats in
MD(General Medicine)
Increase of seats in
MD(Paediatrics)
Increase of seats in
MD(Respiratory Medicine)
Increase of seats in
MD(Radio-Diagnosis)
Increase of seats in
MD(Dermatology, Venerology & Leprosy)
Increase of seats in
MS(Ophthalmology)
Increase of seats in
MS(General Surgery)
Increase of seats in
MS(Obstetrics & Gynaecology)
Increase of seats in
MS(Orthopaedics)
Increase of seats in
MS(Otorhinolaryngolog y)
MNR Medical College & Hospital, Sangareddy, Telangana
Increase of seats in
MD(General Medicine)
Increase of seats in
MS(General Surgery)
Increase of seats in
MS(Obstetrics & Gynaecology)
Increase of seats in
MD(Paediatrics)
Increase of seats in
MS(Orthopaedics)
Increase of seats in
MS(Otorhinolaryngolog y)
Increase of seats in
MS(Ophthalmology)
Increase of seats in
MD(Dermatology, Venerology & Leprosy)
Increase of seats in
MD(Anaesthesiology)
Increase of seats in
MD(Radio-Diagnosis)
Starting of
MD(Psychiatry)
R.V.M. Institute of Medical Sciences & Research Centre, Siddipet, Telangana
Starting of
MD(Anatomy)
Starting of
MD(Physiology)
Starting of
MD(Biochemistry)
Starting of
MD(Pharmacology)
Starting of
MD(Microbiology)
Starting of
MD(General Medicine)
Starting of
MS(General Surgery)
Starting of
MD(Anaesthesiology)
Starting of
MS(Obstetrics & Gynaecology)
Starting of
MD(Radio-Diagnosis)
Starting of
MD(Paediatrics)
Starting of
MS€Otorhinolaryngolog y)
Starting of
MD(Dermatology, Venerology & Leprosy)
Starting of
MD(Psychiatry)
Starting of
MD(Respiratory Medicine)
Starting of
MS(Ophthalmology)
Starting of
MS(Orthopaedics)
Starting of
MD(Emergency Medicine)
Name of College
Application in type
Application in type
Name of Course
Career Institute of Medical Sciences & Hospital, Lucknow, Uttar Pradesh
Starting of
MS (Obstetrics & Gynaecology)
Dr Ram Manohar Lohia Institute of Medical Sciences, Lucknow
Starting of
MD (Anatomy)
Starting of
MD (Community Medicine)
Increase of seats in
MD (Pathology)
Starting of
MD (Pharmacology)
Starting of
MD (Physiology)
Government Medical College & Super facility Hospital, Azamgarh, Uttar Pradesh
Starting of
MD (Anatomy)
Starting of
MD (Community Medicine)
Starting of
MD (Pharmacology)
Starting of
MD (Physiology)
Government Medical College, Kannauj, Uttar Pradesh
Starting of
MD (Biochemistry)
Starting of
MD (Community Medicine)
Starting of
MD (General Medicine)
Starting of
MD (Paediatrics)
Starting of
MD (Pharmacology)
Starting of
MD (Physiology)
Starting of
MS (General Surgery)
Starting of
MS (Obstetrics & Gynaecology)
Starting of
MS (Otorhinolaryngology)
Homi Bhabha Cancer Hospital, Varanasi, Uttar Pradesh
Starting of
MD (Radiation Oncology)
King George Medical University, Lucknow, Uttar Pradesh
Starting of
MD (Biochemistry)
Increase of seats in
MD (Radio-diagnosis)
Starting of
MS (Tramatology & Surgery)
LLRM Medical College, Meerut, Uttar Pradesh
Increase of seats in
MD (Anatomy)
Increase of seats in
MD (Physiology)
Increase of seats in
MD (Pharmacology)
Increase of seats in
MD (Community Medicine)
Increase of seats in
MD (Anaesthesiology)
Increase of seats in
MD (Dermatology, Venereology & Leprosy)
Increase of seats in
MS (Obstetrics & Gynaecology)
Increase of seats in
MS (Ophthalmology)
Increase of seats in
MS (General Surgery)
Starting of
MD (Microbiology)
Starting of
MD (Biochemistry)
Starting of
MS (Otorhinolaryngology)
Mahamaya Rajkiya Allopathic Medical College, Ambedkarnagar, Uttar Pradesh
Starting of
MD (Community Medicine)
Starting of
MD (General Medicine)
Starting of
MD (Pathology)
Starting of
MS (General Surgery)
Starting of
MS (Obstetrics & Gynaecology)
Maharani Laxmi Bai Medical College, Jhansi, Uttar Pradesh
Increase of seats in
MS (Orthopaedics)
Starting of
MD (Psychiatry)
Mulayam Singh Yadav Medical College & Hospital, Meerut, Uttar Pradesh
Starting of
MD (Community Medicine)
Starting of
MD (Pathology)
Rohilkhand Medical College & Hospital, Bareilly, Uttar Pradesh
Increase of seats in
MD (Anaesthesiology)
Increase of seats in
MD (Paediatrics)
Increase of seats in
MD (Radio-diagnosis)
Increase of seats in
MD (Respiratory Medicine)
Increase of seats in
MS (General Surgery)
Increase of seats in
MS (Obstetrics & Gynaecology)
Increase of seats in
MS (Ophthalmology)
Increase of seats in
MS (Orthopaedics)
Sanjay Gandhi Postgraduate Institute of Medical Sciences, Lucknow, Uttar Pradesh
Starting of
MD (Emergency Medicine)
Starting of
MS (Ophthalmology)
School of Medical Sciences & Research, Greater Noida, Uttar Pradesh
Increase of seats in
MD (Anaesthesiology)
Increase of seats in
MD (Psychiatry)
Increase of seats in
MS (Otorhinolaryngology)
Sheikh-ul-Hind Maulana Mehmood Hasan Medical College (Government Medical College, Shahjahanpur) Uttar Pradesh
Starting of
MD (Anatomy)
Starting of
MD (Physiology)
Starting of
MD (Biochemistry)
Starting of
MD (Pathology)
Starting of
MD (Pharmacology)
Starting of
MD (Forensic Medicine)
Starting of
MD (Community Medicine)
Shri Ram Murti Smarak Institute of Medical Sciences, Bareilly, Uttar Pradesh
Increase of seats in
MD (Dermatology, Venereology & Leprosy)
Starting of
MD (Emergency Medicine)
Starting of
MD (Immunohaematology and Blood Transfusion)
Increase of seats in
MS (Orthopaedics)
Varun Arjun Medical College & Rohilkhand Hospital, Uttar Pradesh
Starting of
MD (Anaesthesiology)
Starting of
MD (Community Medicine)
Starting of
MD (Dermatology, Venereology & Leprosy)
Starting of
MD (General Medicine)
Starting of
MD (Microbiology)
Starting of
MD (Paediatrics)
Starting of
MD (Pathology)
Starting of
MD (Psychiatry)
Starting of
MD (Radio-diagnosis)
Starting of
MD (Respiratory Medicine)
Starting of
MS (General Surgery)
Starting of
MS (Obstetrics & Gynaecology)
Starting of
MS (Ophthalmology)
Starting of
MS (Orthopaedics)
Starting of
MS (Otorhinolaryngology)
uttrakhand
Name of College
Application in type
Application in type
Name of Course
Doon Medical College, Dehradun, Uttarakhand
Starting of
MD (Anaesthesiology)
Starting of
MD (Biochemistry)
Starting of
MD (General Medicine)
Starting of
MD (Pathology)
Starting of
MS (General Surgery)
Starting of
MS (Obstetrics & Gynaecology)
Starting of
MS (Otorhinolaryngology)
Veer Chandra Singh Garhwali Govt. Medical Science & Research Instt, Srinagar, Pauri Garhwal
Starting of
MD (Anaesthesiology)
Starting of
MD (Biochemistry)
Starting of
MD (Community Medicine)
Starting of
MD (Dermatology, Venereology & Leprosy)
Starting of
MD (Forensic Medicine)
Starting of
MD (General Medicine)
Starting of
MD (Microbiology)
Starting of
MD (Pathology)
Starting of
MD (Pharmacology)
Starting of
MD (Physiology)
Starting of
MS (General Surgery)
Starting of
MS (Obstetrics & Gynaecology)
Starting of
MS (Ophthalmology)
Starting of
MS (Orthopaedics)
Himalayan Institute of Medical Sciences, Dehradun, Uttarakhand
Increase of seats in
MD (Dermatology, Venereology & Leprosy)
Increase of seats in
MD (Psychiatry)
Increase of seats in
MD (Respiratory Medicine)
Increase of seats in
MS (Ophthalmology)
Shri Guru Ram Rai Institute of Medical & Health Sciences, Dehradun, Uttarakhand
Increase of seats in
MD (Anatomy)
Increase of seats in
MD (Physiology)
Increase of seats in
MD (Biochemistry)
Increase of seats in
MD (Microbiology)
Increase of seats in
MD (Pharmacology)
Increase of seats in
MD (Community Medicine)
Increase of seats in
MD (Pathology)
Increase of seats in
MD (General Medicine)
Increase of seats in
MS (General Surgery)
Increase of seats in
MD (Paediatrics)
Increase of seats in
MS (Obstetrics & Gynaecology)
Increase of seats in
MD (Psychiatry)
Increase of seats in
MS (Ophthalmology)
Increase of seats in
MD (Respiratory Medicine)
Increase of seats in
MD (Dermatology, Venereology & Leprosy)
Increase of seats in
MD (Anaesthesiology)
Increase of seats in
MD (Radio-diagnosis)
Increase of seats in
MS (Orthopaedics)
Increase of seats in
MS (Otorhinolaryngology)
Name of College
Application in type
Application in type
Name of Course
Doon Medical College, Dehradun, Uttarakhand
Starting of
MD (Anaesthesiology)
Starting of
MD (Biochemistry)
Starting of
MD (General Medicine)
Starting of
MD (Pathology)
Starting of
MS (General Surgery)
Starting of
MS (Obstetrics & Gynaecology)
Starting of
MS (Otorhinolaryngology)
Veer Chandra Singh Garhwali Govt. Medical Science & Research Instt, Srinagar, Pauri Garhwal
Starting of
MD (Anaesthesiology)
Starting of
MD (Biochemistry)
Starting of
MD (Community Medicine)
Starting of
MD (Dermatology, Venereology & Leprosy)
Starting of
MD (Forensic Medicine)
Starting of
MD (General Medicine)
Starting of
MD (Microbiology)
Starting of
MD (Pathology)
Starting of
MD (Pharmacology)
Starting of
MD (Physiology)
Starting of
MS (General Surgery)
Starting of
MS (Obstetrics & Gynaecology)
Starting of
MS (Ophthalmology)
Starting of
MS (Orthopaedics)
Himalayan Institute of Medical Sciences, Dehradun, Uttarakhand
Increase of seats in
MD (Dermatology, Venereology & Leprosy)
Increase of seats in
MD (Psychiatry)
Increase of seats in
MD (Respiratory Medicine)
Increase of seats in
MS (Ophthalmology)
Shri Guru Ram Rai Institute of Medical & Health Sciences, Dehradun, Uttarakhand
Increase of seats in
MD (Anatomy)
Increase of seats in
MD (Physiology)
Increase of seats in
MD (Biochemistry)
Increase of seats in
MD (Microbiology)
Increase of seats in
MD (Pharmacology)
Increase of seats in
MD (Community Medicine)
Increase of seats in
MD (Pathology)
Increase of seats in
MD (General Medicine)
Increase of seats in
MS (General Surgery)
Increase of seats in
MD (Paediatrics)
Increase of seats in
MS (Obstetrics & Gynaecology)
Increase of seats in
MD (Psychiatry)
Increase of seats in
MS (Ophthalmology)
Increase of seats in
MD (Respiratory Medicine)
Increase of seats in
MD (Dermatology, Venereology & Leprosy)
Increase of seats in
MD (Anaesthesiology)
Increase of seats in
MD (Radio-diagnosis)
Increase of seats in
MS (Orthopaedics)
Increase of seats in
MS (Otorhinolaryngology)
Name of College
Application in type
Application in type
Name of Course
College of Medicine and JNM Hospital,Kalyani,Nadia, West Bengal
Starting of
MD (Anaesthesiology)
Starting of
MD (Anatomy)
Starting of
MD (Biochemistry)
Starting of
MD (Community Medicine)
Starting of
MD (Forensic Medicine)
Starting of
MD (General Medicine)
Starting of
MD (Microbiology)
Starting of
MD (Paediatrics)
Starting of
MD (Pathology)
Starting of
MD (Pharmacology)
Starting of
MD (Physiology)
Starting of
MD (Psychiatry)
Starting of
MD (Respiratory Medicine)
Starting of
MS (General Surgery)
Starting of
MS (Ophthalmology)
Starting of
MS (Orthopaedics)
Starting of
MS (Otorhinolaryngology)
College of Medicine and Sagore Dutta Hospital, Kolkata West Bengal
Starting of
MD (Dermatology, Venereology & Leprosy)
Starting of
MD (Forensic Medicine)
Starting of
MD (General Medicine)
Starting of
MD (Microbiology)
Starting of
MD (Pathology)
Starting of
MD (Radio-diagnosis)
Starting of
MS (General Surgery)
Employees State Insurance Corporation Medical College, Joka, Kolkata
Starting of
MD (Anaesthesiology)
Starting of
MD (General Medicine)
Starting of
MD (Paediatrics}
Starting of
MD (Pathology)
Starting of
MS (General Surgery)
Starting of
MS (Orthopaedics)
Starting of
MS (Otorhinolaryngology)
ICARE Institute of Medical Sciences & Research & Dr. Bidhan Chandra Roy Hospital, Haldia, West Bengal
Starting of
MD (General Medicine)
Starting of
MD (Paediatrics)
Starting of
MS €General Surgery)
Starting of
MS (Obstetrics & Gynaecology)
Starting of
MS (Orthopaedics)
Starting of
MS (Otorhinolaryngology)
Murshidabad Medical College & Hospitals, Murshidabad, West Bengal
Starting of
MD (Anaesthesiology)
Starting of
MS (Ophthalmology)
Starting of
MS (Orthopaedics)
North Bengal Medical College, Darjeeling, West Bengal
Increase of seats in
MD (General Medicine)
Vivekananda Institute of Medical Sciences, Kolkata, West Bengal
Increase of seats in
MD (Anaesthesiology)
Increase of seats in
MD (General Medicine)
Increase of seats in
MD (Paediatrics)
Increase of seats in
MD (Radio-diagnosis)
Increase of seats in
MS (General Surgery)
Increase of seats in
MS (Obstetrics & Gynaecology)
Increase of seats in
MS (Ophthalmology)
Increase of seats in
MS (Orthopaedics)
Increase of seats in
MS (Otorhinolaryngology)