New MBBS Curriculum: MCI releases new Pandemic Management Module for medical students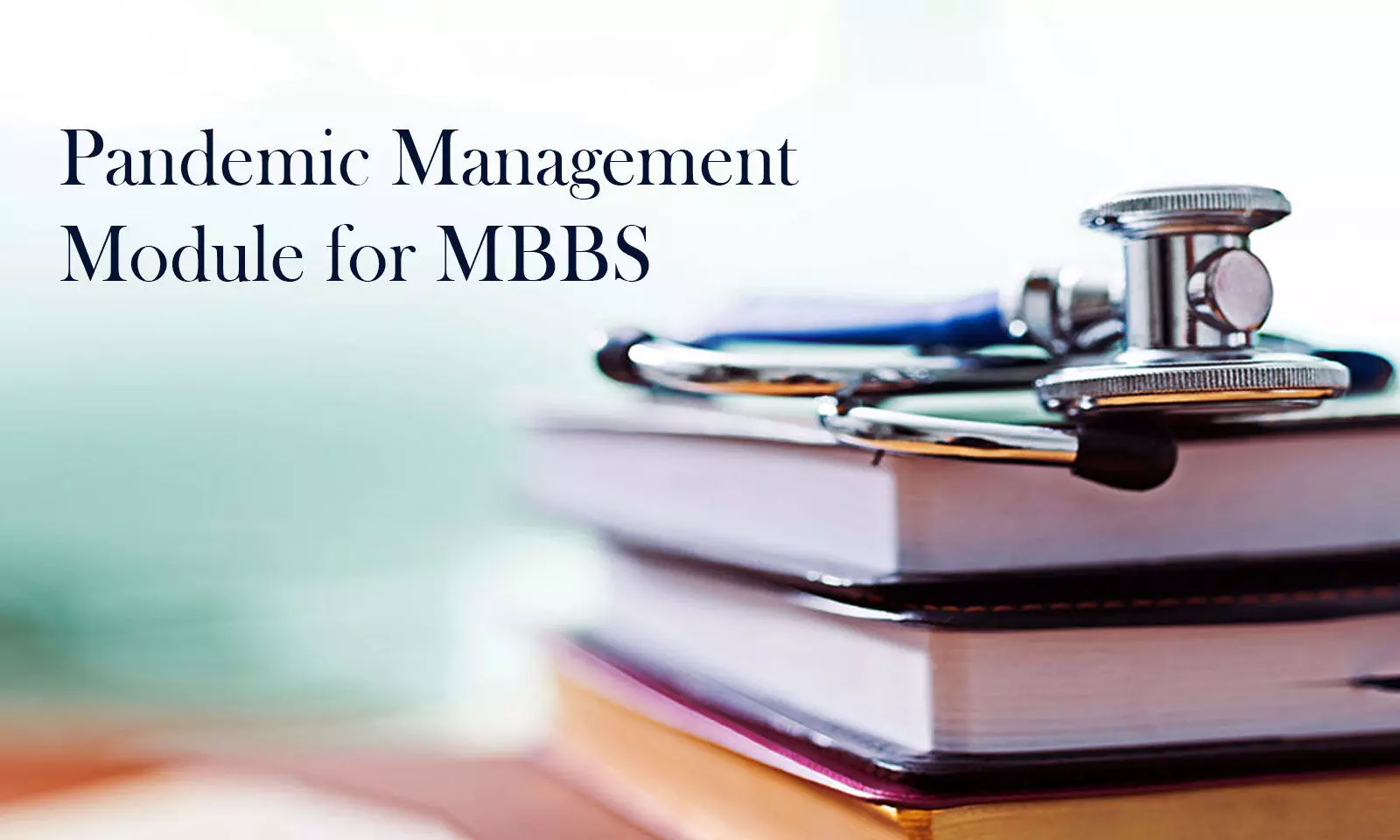 New Delhi: In order to equip and empower the young MBBS medicos, in the matter of handling pandemic situations, the Medical Council of India has now introduced a specific module on pandemic management in the MBBS curriculum.
Medical Dialogues team had earlier reported that the MCI had introduced a new MBBS syllabus from this year- A competency-based undergraduate curriculum that has been designed to equip MBBS students in meeting the newer challenges in the field of medicine. One of the greatest challenges that the medical fraternity across the world is currently facing is the Coronavirus Pandemic, in the light of which the apex medical regulator decided to bring in this new module.
" This Pandemic Management module is designed to ensure that the MBBS student acquires competencies in handling not only the illness but also the social, legal and other issues arising from such disease outbreaks. A pandemic or disease outbreak calls in to play all the five roles envisaged for the Indian Medical Graduate viz. clinician, communicator, leader and member of health care team, professional, life-long learner, and committed to excellence, is ethical, responsive and accountable to patients. It is expected that this longitudinal module extending from Foundation Course to the final year undergraduate program will help in ensuring the creation of an IMG who will serve humanity as a doctor, leader and healer in bleak times such as the occurrence of a pandemic," stated Dr VK Paul, Chairman, MCI BOG in his foreword
" The Competency-based undergraduate curriculum was designed to enable the Indian Medical Graduate to be prepared to meet new challenges -to be able to recognise, diagnose, investigate, and treat newly emerging diseases as a clinician and community health leader; the Covid-19 pandemic outbreak has provided this opportunity. The longitudinal module on Pandemic Management extending from Foundation Course to the final year undergraduate program prepared by the Academic Cell and Expert Group is designed to provide year-wise detailed protocols in training the students to fulfil their role as a doctor, leader and healer during this difficult period of a rampaging pandemic," added Dr RK Vats Secretary MCI
The module has been created by a team of experts led by Dr. Avinash Supe, Former Director (ME and MH) and Dean, Emeritus Professor, Departments of G I Surgery and Medical Education GS Seth Medical College and KEM Hospital, and having other members including Dr. Krishna G. Seshadri, Visiting Professor, Departments of Endocrinology, Diabetes and Medical Education, Member, Board of Management Sri Balaji Vidyapeeth, Dr. R. Sajith Kumar, Professor and Head, Departments of Infectious Disease and Medical Education, Convener, MCI Nodal Centre for Faculty Development, Government Medical College, Kottayam, Dr. Praveen Singh, Professor and Head, Departments of Anatomy and Medical Education Convener, MCI Nodal Centre for Faculty Development, Pramukhswami Medical College, Karamsad, Gujara, Dr. P.V. Vijayaraghavan, Vice Chancellor and Professor of Orthopedics,, Convener, MCI Nodal Centre, Sri Ramachandra Medical College and Research Institute, Dr. P.V. Chalam, Principal and Professor, Department of Surgery Bhaskar Medical College, Dr. Tejinder Singh, Professor, Department of Medical Education Sri Guru Ram Das Institute of Medical Sciences and Research, Dr.Subir K. Maulik, Former Professor, Department of Pharmacology, AIIMS and Dr. M. Rajalakshmi, Chief Consultant, Academic Cell, MCI
The module would be an 80-hour module, which would be taught during the entire course of MBBS in different professionals years and would aim to develop the following skill sets in the medical students

1. Infection Control related
a. Hand washing
b. PPE Donning & Doffing
c. Disinfection
2. Diagnostic
a. Sample collection
b. Sample transportation & storage
c. Choose the appropriate test based on performance parameters
3. Disease Management
a. Pharmaco-vigilance measures
b. Protocol based Management
c. Therapeutic decision making
d. Terminal care including CPR, ALS, PALS
4. Epidemic Management
a. Outbreak investigation
b. Contact tracing, Quarantine and Isolation
c. Surveillance
d. Documentation
5. Research
a. Operational research
b. Clinical trial protocol preparation including Vaccine trials
c. Ethical considerations
6. Communication
a. To the media
b. Use of Telemedicine
c. Patient & stakeholder communication
7. Intensive Care
8. Palliative care during pandemic
To read the full module, click on the following link
https://mciindia.org/MCIRest/open/getDocument?path=/Documents/Public/Portal/LatestNews/Pandemic-MGT-Module-UG.pdf