Pathologists up against MCI decision allowing Medical Msc to sign Technical Lab reports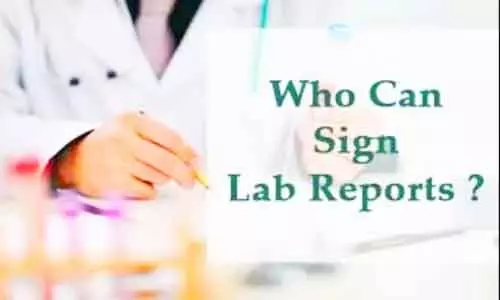 New Delhi: The recent decision of the Medical Council of India (MCI) has met with severe opposition from pathologists across the country, who have questioned the council's use of the term "technical report" while allowing Medical Mscs to sign these reports.
Medical Dialogues team had earlier reported about the MCI decision on the matter, whether Medical Mscs can sign lab reports or not. The decision stated
A technical report stating test result without recording any medical opinion thereon can be signed by a qualified person with an M.Sc. in Medical Biochemistry/Medical microbiology or with Ph.D. degree in relevant subjects such as Biochemistry, Microbiology, Biotechnology and Genetics etc..Further, all test reports generated by such persons must necessarily bear a disclaimer to the effect that the reports are strictly for the use of medical practitioners are not medical diagnosis(s) as such.

Medical laboratory reports which contain medical diagnosis(s) and/or a medical opinion on the basis of the test results are to signed by medically qualified professionals only having qualification duly registered as per IMC Act"
The move, however, has met with strong opposition from pathologists who have questioned on the definition and validity of " technical report" and condemned the MCI decision stating that it goes against the Supreme Court judgement as well as is going to promote quackery.
Speaking to Medical Dialogues team, Dr Rohit Jain, Secretary, Pathologist Practicing Society Rajasthan stated, " From a public health and consumer point of view, creating a category of a technical report (which do not exist in medical lexicon) will a) create an unnecessary chain of command leading to more corruption and quackery (b) mislead the consumer (c) lead to late diagnosis or misdiagnosis which may lead to dangerous health consequences.Any test performed on any sample, is with the understanding that result will be used in diagnosing, monitoring or ruling out medical conditions and needs to be interpreted by someone who is trained in identifying possible diagnoses based on those results. The purpose of those tests is not to generate mere numbers. Hence, the term "Technical report" seems meaningless."

"Various judgments in the past have clearly stated that Laboratory Technicians/M.Sc./Ph.D.s can take such readings/ analyze samples for the purpose of presenting it to a Pathologist where such reports have to be countersigned by a Pathologist for it to be consumable or usable by a patient. Allowing these people to generate and sign reports in the name of "technical reports" will only create confusion and promote quackery," he said.
Further opposing the decision of the council Dr Sandeep Yadav, President, Maharashtra Association of Practicing Pathologists and Microbiologists said " We strongly condemn the letter dated 03.02.2020 regarding Signing and Clinical interpretation of Laboratory Reports sent by Secretary General, Board of Governors (in supersession of MCI) in the LARGER PUBLIC INTEREST, upholding Honorable Supreme Court Judgment(s) and Article 14,21 & 47 of the Constitution of India. MCI in making such an interpretation what it has made, is itself going against the Indian Medical Council Act, 1956 which clearly does not allow medical practice by those who are not registered under the act. By allowing medical Mscs to sign these so called "technical- reports", the council is basically allowing them to practice. We strongly oppose this decision and will challenge this in court if need arises."