200 resident doctors felicitated in COVID Felicitation ceremony organized by FAIMA and Doctors for You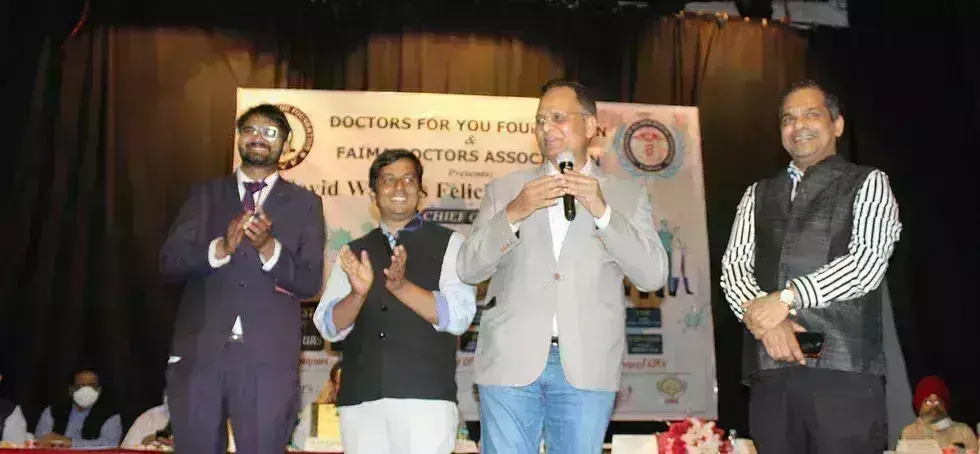 New Delhi: The Doctors For You Foundation joined hands with the FAIMA Doctors Association and organized "COVID FELICITATION CEREMONY" in an effort to identify and award 200 of India's COVID Soldiers across the country. The event was suppported by MedX

While the ongoing pandemic is taking an unprecedented toll around the world, our frontline healthcare workers are at the forefront, heroically fighting the invisible enemy, putting others before themselves. COVID-19 reminded all of us of the critical role played by the health workers. Every day we witness how the bravest and kindest among us are stepping in to relieve suffering and misery.
In a first of its kind event to honor these unsung heroes and support them in their valiant efforts, the Doctors For You Foundation and FAIMA Doctors Association felicitated the resident doctors who have worked against all odds during the COVID-19 pandemic.
The Resident doctors nominated by the Directors and Resident Doctors Associations were felicitated in a grand ceremony on 14th March 2021. The event was held from 4:30 pm onwards at Pyarelal Bhavan, ITO, New Delhi.
The event was attended by doctors from across the country.
The chief guest for the event was Mr. Satyendra Kumar Jain, Health Minister, Govt. of NCT Delhi. Prominent personalities in the medical field graced the event on the day. The list of dignitaries included Dr. N.N. Mathur ADD. DGHS, Director LHMC New Delhi, Dr. Rajeev Sood, Founder Dean ABVIMS & RML Hospital, Dr. Nimesh G Desai, Director IHBAS Hospital, among others.
Mr. Jain shared his experiences as the health minister of Delhi in Covid-era and applauded the selfless efforts of doctors in the fight against covid-19.
Speaking to Medical Dialogues, Dr. Manish Jangra, Founder FAIMA said, "Doctor For You Foundation in collaboration with FAIMA Doctors Association is organizing "Covid Felicitation Ceremony" to recognize the hard work done by Our Young Doctors in COVID ERA. We feel there is a lack of recognition of our COVID Warriors. Our aim behind organizing the COVID warrior felicitation ceremony is to honor their hard work and selfless service in these difficult times. A total of 200 Doctors were felicitated by our Honourable Health Minister of Delhi Govt Mr. Satyender Jain."
Dr. Krishan Rajbhar, National in-charge, Academics, FAIMA, said "it is our small effort towards recognizing the tremendous hard work and sacrifices of our health care workers during the ongoing pandemic. Our health warriors are working in high-demand settings under constant threat to their own well-being. With Covid warrior felicitation ceremony, we wish to be a morale booster for our brave medical fraternity."
The criteria for selection was a minimum of three months of duty in covid-19 care.
The applicants had to submit their COVID-19 duty roster along with a recommendation letter for the COVID warriors award from the resident doctors association/ Faculty/ COVID in charge.
The winners of the COVID warrior award were given certificates and mementoes.
List of winners include
| | | |
| --- | --- | --- |
| Sr NO | Name | State |
| 1. | Dr Pranav Jadhav | Maharashtra |
| 2. | Dr. Sohank G Mewda | Maharashtra |
| 3. | Dr. Yash Banait | Maharashtra |
| 4. | Dr Akshay Yadav | Maharashtra |
| 5. | Dr Avinash K Shankure | Maharashtra |
| 6. | Dr Darun Prasad | Maharashtra |
| 7. | Dr Prasanna Nene | Maharashtra |
| 8. | Dr Zubair Rashid | Maharashtra |
| 9. | Dr Preeti Ajapuje | Maharashtra |
| 10. | Dr Suranjana Basak | Maharashtra |
| 11. | Dr Poonam K Gedam | Maharashtra |
| 12. | Dr Pradeep Kaswan | Maharashtra |
| 13. | Dr Vishwadeep Balerao | Maharashtra |
| 14. | Dr Neel Sharma | Maharashtra |
| 15. | Dr Manish Singh | Maharashtra |
| 16 | Dr Harshad Sharma | Rajasthan |
| 17 | Dr Ram Narayan Yadav | Rajasthan |
| 18 | Dr Santosh Kumar Gupta | Rajasthan |
| 19 | Dr Ranajite Naik | Rajasthan |
| 20 | Dr Rupendra Kumar | UP |
| 21 | Dr Anju Rani | UP |
| 22 | Dr Ayushi Garg | UP |
| 23 | Dr Garima Sahoo | MP |
| 24 | Dr Sanket Site | MP |
| 25 | Dr Umesh Pathak | MP |
| 26 | Dr Chetan Choudhary | MP |
| 27 | Dr Janhvi Mishra | MP |
| 28 | Dr Anurag | MP |
| 29 | Dr Saumay Sharma | MP |
| 30 | Dr Manikant | Bihar |
| 31 | Dr Ajit Kumar | Bihar |
| 32 | Dr Tarkeshwar | Bihar |
| 33 | Dr Rajeev Kumar | Bihar |
| 34 | Dr Rajesh Kumar | Bihar |
| 35 | Dr Rahul Kumar Shukla | Bihar |
| 36 | Dr Sachin Bharti | Bihar |
| 37 | Dr Ravish Kumar | Bihar |
| 38 | Dr Ravikant Kumar | Bihar |
| 39 | Dr Siddhant Kumar | Bihar |
| 40 | Dr Sarita Kumari | Bihar |
| 41 | Dr Saurav Kumar | Bihar |
| 42 | Dr Himanshu | Bihar |
| 43 | Dr Bhushan Kumar | Bihar |
| 44 | Dr Rajeev R Gupta | Bihar |
| 45 | Dr Shaheen Siddiqua Amrin | Telangana |
| 46 | Dr Anitesh K Gupta | Jharkhand |
| 47 | Dr Anup Kumar Mahto | Jharkhand |
| 48 | Dr Owvass Hamid Darr | Jammu & Kashmir |
| 49 | Dr Raghav Dhingra | Karnataka |
| 50 | Dr Umashankar U S | Tamil Nadu |
| 51 | Dr Gurwant Kaur | Punjab |
| 52 | Dr Krishna Kumar Markam | Punjab |
| 53 | Dr Gagandeep Kaur | Punjab |
| 54 | Dr Seema | Punjab |
| 55 | Dr Ankita | Punjab |
| 56 | Dr Arshdeep Singh | Punjab |
| 57 | Dr Harpreet Kaur | Punjab |
| 58 | Dr Gurarpan Singh Bedi | Punjab |
| 59 | Dr Naina | Punjab |
| 60 | Dr Venkatesh U | Delhi |
| 61 | Dr Balvinder Arora | Delhi |
| 62 | Dr Anand Vardhan | Delhi |
| 63 | Dr Arthan Chandran | Delhi |
| 64 | Dr Kumar Ashish Bharat | Delhi |
| 66 | Dr Dhruv Kumar | Delhi |
| 67 | Dr Abhishek Sharma | Delhi |
| 68 | Dr Parnika Mehta | Delhi |
| 69 | Dr Swanil Sangle | Delhi |
| 70 | Dr Ayush Jain | Delhi |
| 71 | Dr Prashanth HT | Delhi |
| 72 | Dr Ajeet Kumar | Delhi |
| 73 | Dr Abhishek Yadav | Delhi |
| 74 | Dr Nitin Arora | Delhi |
| 75 | Dr Rahul Choudhry | Delhi |
| 76 | Dr Ankit OM | Delhi |
| 77 | Dr Geetu Arora | Delhi |
| 78 | Dr Aishwarya Shrivastava | Delhi |
| 79 | Dr Ahmadullah Shaikh | Delhi |
| 80 | Dr Amit Matte | Delhi |
| 81 | Dr Eram Khan | Delhi |
| 82 | Dr Ruoider Kalra Yadav | Delhi |
| 83 | Dr Mittal Chauhan | Delhi |
| 84 | Dr Yatendra Kumar | Delhi |
| 85 | Dr Sheetal Yadav | Delhi |
| 85 | Dr Adarsh Pratap Singh | Delhi |
| 86 | Dr Jaiveer Singh | Delhi |
| 87 | Dr Pawan Kumar Meena | Delhi |
| 88 | Dr Ujjawala Anand | Delhi |
| 89 | Dr Asha Gupta | Delhi |
| 90 | Dr Pankaj Sehrawat | Delhi |
| 91 | Dr Shubhasha Shree | Delhi |
| 92 | Dr Aden Durre | Delhi |
| 93 | Dr Nitin Yadav | Delhi |
| 94 | Dr Mohammed Adnan Khan | Delhi |
| 95 | Dr Barun Kumar | Delhi |
| 96 | Dr Bhabani Prasad Acharya | Delhi |
| 97 | Dr Jeevan Jyoti Meena | Delhi |
| 98 | Dr Atul Krishan Tripathi | Delhi |
| 99 | Dr Srikanth | Delhi |
| 100 | Dr Neelima Verma | Delhi |
| | | |
| Sr No | Name | State |
| 101 | Dr Arsh Deep Singh | Punjab |
| 102. | Dr Vinay KumarYadav | Bihar |
| 103. | Dr Daljeet Singh | Delhi |
| 104. | Dr.Mdarif Anwar | Delhi |
| 105. | Dr Sunil Duchania | Delhi |
| 106. | Dr.Brotin Mukherjee | Delhi |
| 107. | Dr Amita Sodhi | Punjab |
| 108. | Dr Rohan Krishnan | Delhi |
| 109. | Dr Manish Jain | Delhi |
| 110. | Dr.Lubna Patel | Delhi |
| 111. | Dr Sumit Chahar | Delhi |
| 112. | Dr Ayush Jain | Delhi |
| 113. | Dr Sachin Raghuvanshi | Delhi |
| 114. | Dr Barun Kumar | Delhi |
| 115. | Dr Pankaj Sherawat | Delhi |
| 116. | Dr Jaiveer Yadav | Delhi |
| 117. | Dr Heli | Delhi |
| 118. | Dr Anurag Singh | UP |
| 119. | Dr Mithali Chauhan | Delhi |
| 120. | Dr Desh Raj | Delhi |
| 121. | Dr Md Adanan Khan | Delhi |
| 122. | Dr Nitin Yadav | Delhi |
| 123. | Dr Siddhartth Taara | Delhi |
| 124. | Dr Naresh Chawla | Delhi* |
| 125. | Dr Pankul Mangla | Delhi |
| 126. | Dr Megha Bhargava | Delhi |
| 127. | Dr Noahyesuraj | Delhi |
| 128. | Dr Chandrika | Delhi |
| 129. | Dr Naveen Kumar | Delhi |
| 130. | Dr Khrushit Patel | Delhi |
| 131. | Dr Vineet Bhardwaj | Delhi |
| 132. | Dr Shivjot Sharma | Delhi |
| 133. | Dr Shashank Kumar Srivastava | J &K |
| 134. | Dr Dr.Mamta Kumari | Delhi |
| 135. | Dr Santosh Kumar Gupta | Delhi |
| 136. | Dr Nitin Arora | Delhi |
| 137. | Dr Rimy Dey | Assam |
| 138. | Dr Rajeev Ranjan | Delhi |
| 139. | Dr faryad Hussain | Delhi |
| 140. | Dr Mangesh Vitthal Rao Pathade | Delhi |
| 141 | Dr. Aman Kumar | Delhi |
| 142 | Dr. Nikhil Ranjan | Delhi |
| 143 | Dr.Aastha Chawla | Delhi |
| 144 | Dr.Sarfraz Nawaz | Delhi |
| 145 | Dr.Jyotika | Delhi |
| 146 | Dr.Hafiza Rahaman | Delhi |
| 147 | Dr.Shubham Soni | Delhi |
| 148 | Dr.Syed Mustafiz Ahmad | Delhi |
| 149 | Dr.Abhishek Kumar | Delhi |
| 150 | Dr.Abdul Qadir | Delhi |
| 151 | Dr.Romil Lotta | Delhi |
| 152 | Dr.Lakshman | Delhi |
| 153 | Dr.Aseem Verma * | Delhi |
| 154 | Dr.Pooja Gautam * | Delhi |
| 155 | Dr.Srishtee Gautam * | Delhi |
| 156 | Dr.Sourav Kumar | Delhi |
| 157 | Dr.Rahguraj Chawla | Delhi |
| 158 | Dr.Ashwani Kumar * | Delhi |
| 159 | Dr.Mukesh Tripura | Delhi |
| 160 | Dr.Sayed Kashif Raza | Delhi |
| 161 | Dr.Sachin Goel * | Delhi |
| 162 | Dr.Gaurav Kumar | Delhi |
| 163 | Dr.Saurav Mohan | Delhi |
| 164 | Dr.Sushil Prajapati | Delhi |
| 165 | Dr.Sweata Singh | Delhi |
| 167 | Dr.Vishnu Mudgal | Delhi |
| 168 | Dr.Ishwar Singh | Delhi |
| 169 | Dr.Priti Dahiya * | Delhi |
| 170 | Dr.Rishabh Nayak | Delhi |
| 171 | Dr.Nitish Kumar | Delhi |
| 172 | Dr.Azeem Raza | Delhi |
| 173 | Dr.Pynroibor Mawblei | Delhi |
| 174 | Dr.Prabha Singh | Delhi |
| 175 | Dr.Ashish Bandil | Delhi |
| 176 | Dr.Archana Singh | Delhi |
| 177 | Dr.Mohd Dullha | Delhi |
| 178 | Dr.Saif Anis | Delhi |
| 179 | Dr.Anantika Mittal | Delhi |
| 180 | Dr.Pooja Gait | Delhi |
| 181 | Dr.Surbhi Batra | Delhi |
| 182 | Dr.Hemant Joshi | Delhi |
| 183 | Dr.Siddhart Priyadarshi | Delhi |
| 184 | Dr.Sagar Singh | Delhi |
| 185 | Dr.Manoj Kumar | Delhi |
| 186 | Dr.Vijeta Grewal | Delhi |
| 186 | Dr.Bhartendu Vimal | Delhi |
| 187 | Dr.Avinash K Saknure | Delhi |
| 188 | Dr.Shubham Goel5 | P a g e | Delhi |
| 189 | Dr.Sant Kumar | Delhi |
| 190 | Dr.Rishbhak Gupta | Delhi |
| 191 | Dr.Amir Jilani Bin Abrar | Delhi |
| 192 | Dr.Ravish Chandra | Delhi |
| 193 | Dr.Amrita Singh * | Delhi |
| 194 | Dr.Benjamin Leroy Passah | Delhi |
| 195 | Dr.Snkalp Sharma | Delhi |
| 196 | Dr.Anushree Debbarma | Delhi |
| 197 | Dr.Anuj Kumar Singh | Delhi |
| 198 | Dr.Ayush Dahiya | Delhi |
| 199 | Dr.Amrendra Kumar | Delhi |
| 200 | Dr.Prantik Barman | Delhi |