NBE releases vacancies for Deputy Director Medical, Other posts; Details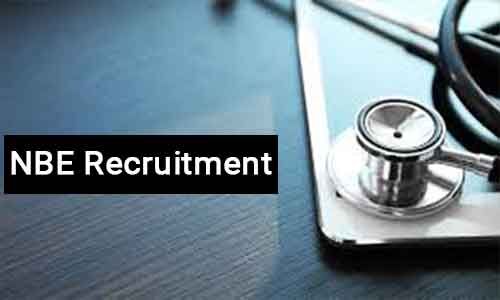 New Delhi: The National Board of Examinations (NBE) has invited applications from the eligible candidates for filling up the 3 vacancies in medical and non-medical departments
The vacancies have been released for Deputy Director (Medical), Assistant Director (Non-Medical) and law officer on Direct Recruitment basis. To apply for these posts, go to the application form link and view the details regarding the recruitment attached below as uploaded by the NBE.
The National Board of Examinations is an autonomous body established by the Ministry of Health & Family Welfare, Government of India, which conducts Post Graduate Examinations of high standards in the field of Modern Medicine and allied specialities at National level.
Vacancies
Sl.

No.

Name of the post

Pay Matrix Level

No. of vacancies*

Reservation

UR

SC

OBC

1.

Deputy Director

(Medical)

Level 11

07

05

01

01

2.

Assistant Director (Non-Medical)

Level 10

07

05

01

01

3.

Law Officer

Level 10

01

01

0

0
REMUNERATION AND SERVICE CONDITION:
Recruited candidates will get Pay at Levels mentioned in Col. 4 of table 1.1 as per 7 th CPC Pay Matrix as per Govt. of India rules and other benefits include dearness allowance, house rent allowance, transport allowance, children education allowance, leave travel concession, etc. as per NBE Rules as amended from time to time. The recruited candidates will be covered under National Pension System (NPS) of the government unless provided otherwise as per extant Govt. of India rules. The selected candidates will be appointed on probation as per NBE Rules.
NO OBJECTION CERTIFICATE (NOC):
Candidates serving in Govt., PSU, Autonomous organisations, Armed Forces and Departmental candidates must apply through proper channel. Candidate should obtain NOC from the present employer and attach alongwith application form.
Note:
i) Candidates should ensure that they fulfill all the eligibility criteria before applying the post. Their admission at all stages of the selection process will be purely provisional, subject to fulfilling prescribed eligibility criteria. If, on verification, at any point of time during or after the selection process, it is found that, they do not fulfill any of the eligibility criteria, their candidature/appointment will be cancelled ab-initio without notice, and no representation in this regard will be entertained under any circumstances.
ii) Provisional shortlisting/selection at any stage of the process or success in the examination confers no right of appointment, unless the NBE is satisfied, after such enquiry as may be considered necessary, that the candidate is suitable in all respects for appointment to the service/post.
Iii) The decision of NBE in all matters related to eligibility, acceptance or rejection of the applications, mode of selection, conduct of examination(s), allotment of examination centres and nomination of provisionally shortlisted candidates to a specific office/city will be final & binding on the candidates and no request / representation will be entertained in this regard.
HOW TO APPLY
Candidates must satisfy themselves, before applying, about their eligibility for the post. Candidates are, therefore, urged to carefully read the advertisement and complete the application form and submit the same as per the instructions to avoid rejection at later stage.
A) All applicants must submit their applications through "SPEED POST" only. No application will be accepted by Hand or any other mode and will be treated as NOT RECEIVED
B) Candidates are advised in their own interest to submit applications much before the closing date and not to wait till last date to avoid the possibility of any unforeseen contingency. NBE will not be responsible for any delay in receipt of applications due to any reason.
C) The candidate must fill their name, date of birth, father's name & mother's name as given in matriculation/secondary/ITI/Any other examination certificate; otherwise their candidature may be cancelled.
D) Candidates should give their own functional mobile number and valid & active personal email id. NBE will not entertain any request for change of mobile number & email address after submission of applications.
E) Self-attested copies of the following documents must be attached along with the application:
(i) 10th Class Certificate for age proof & EQR.
(ii) 12th Class Certificate.
(iii) Graduation Degree.
(iv) Graduation Marks sheet.
(v) Post-Graduation Degree.
(vi) Registration certificate with the Medical Council / Bar Council.
(vii) Experience Certificate.
(viii) NOC, if applicable.
(ix) Caste /PwD/EWS/ESM certificate, if applicable issued by competent authority.
(x) Passport size Photograph – pasted on application form and one extra attached. (Use only recent colour photograph taken within last 30 days. Keep sufficient copies of the same photograph for future use.)
(xi) Identity proof (ID) (e.g. Aadhaar/Printout of E-Aadhaar, Passport, Voter ID, PAN, Driving License, Original 10th Certificate etc.) which must also be carried during the examination & document verification.
(xii) Demand Draft for fee payable.
F) Contact details such as e-mail, mobile number, correspondence & permanent address etc. must be correct & active during the recruitment cycle. Post receipt of applications there will be no written or telephonic communication from NBE. All details will be uploaded on the website and the candidates must visit the website regularly to get an update of the events and activities related to recruitment process.
G) Candidates are required to submit all the acquired qualification as on date of eligibility.
Duly filled application along with copies of self-attested testimonials should reach the undersigned on or before 28th February 2020 with the superscription "Application for the post of ___________''.
FOR MORE DETAILS CLICK ON THE LINK BELOW